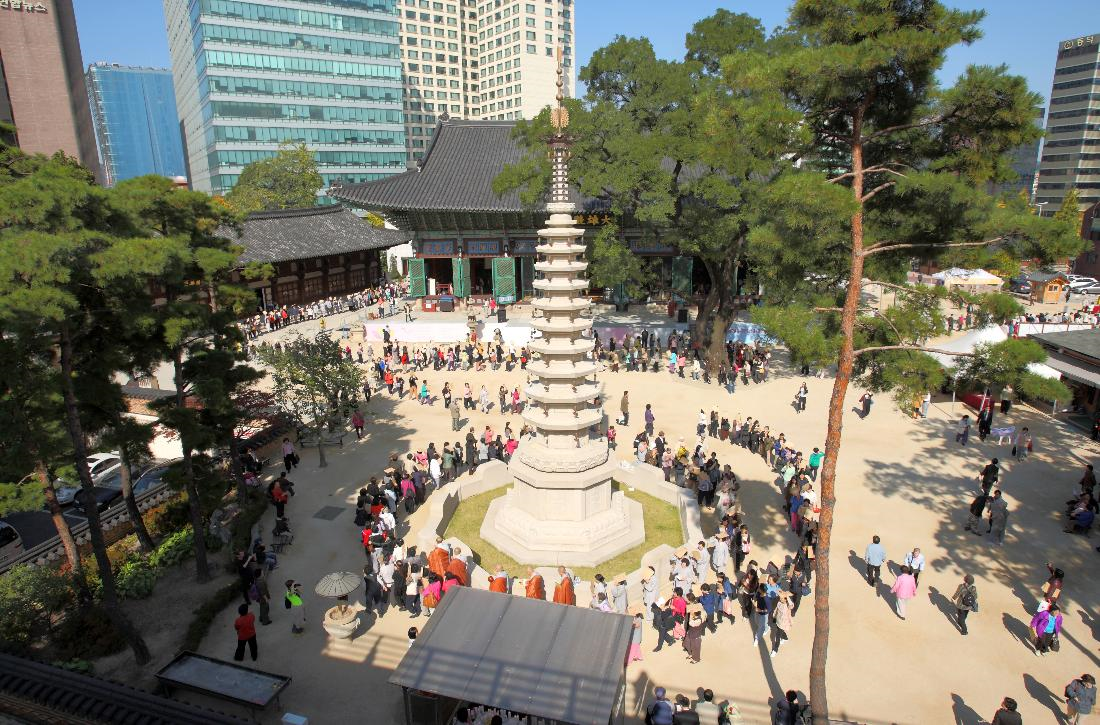 This program runs from 13:00 to 16:00 every Tuesday (3 hours).
A uniform (a vest) is provided during the program. You can put the vest over your shirt.
Remember that a sleeveless shirt or flip-flops are not recommended.
[About Jogyesa Temple]
As the main temple as well as the district head temple of Jogye order in Seoul, Jogyesa Temple is the center of Korean Buddhism. The temple was built in the late 14th century during the Goryeo period and was once turned into ashes due to fire and was rebuilt under the name of Gackhwangsa Temple in 1910 with the effort of many respectful monks, namely Han Yong-un and Lee Hee-gwang. The temple was given a role as the head temple of Korea's Buddhism and renamed to Tegosa Temple in 1936. In 1954, a purification drive took place to eliminate Japanese influence and revive traditional Buddhism, which established the present day Jogyesa Temple as a result.
Jogyesa is the chief temple of the Jogye Order which is the largest order of Korean Buddhism, Located in the very heart of Seoul, Jongno, it is open 24 hours a day and serves not only as a religious place but a cultural space for citizens. The three large Buddha statues enshrined in the Main Buddha Hall exude dignity and valor. The annual lantern festival in celebration of Buddhist's birthday also takes place at this temple.
| | |
| --- | --- |
| Time | Title |
| 13:00~13:10 | Wearing a uniform |
| 13:10~14:00 | Temple tour |
| 14:00~15:00 | The wish mobile making |
| 15:00~15:50 | The Korean traditional tea ceremony |
| 15:50~16:00 | Taking group photos, Answering survey |