The best season to visit South Korea is probably autumn. Everywhere in the country trees take on their beautiful autumn color and these are some magical and picturesque landscapes that appear. Red, orange, brown, yellow, and green, here are the best places to admire the foliage of this amazing season and fill your head of great memories with these magical sceneries.
Gyeongbokgung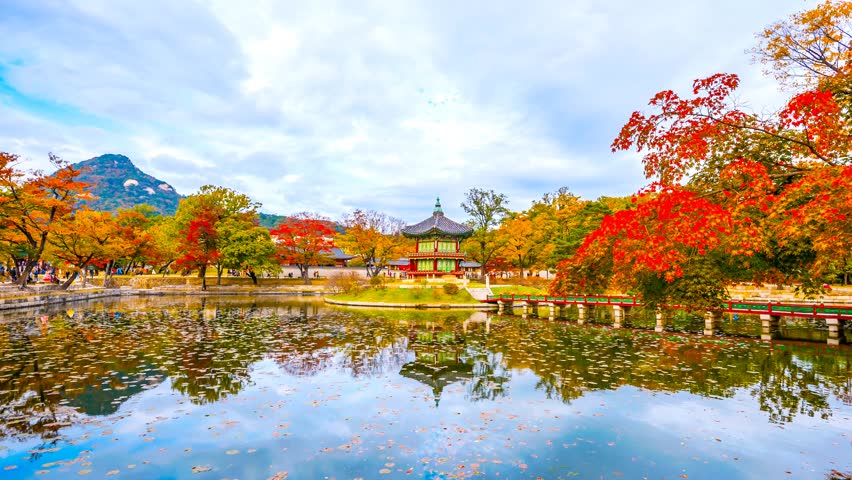 Gyeongbokgung
We always present you the Gyeongbok Palace as a great place to discover the Joseon Dynasty but with its numerous trees, its pond and paths, the castle becomes an amazing place to admire the foliage. It's time to take great pictures while wearing a Hanbok !
Bukhansan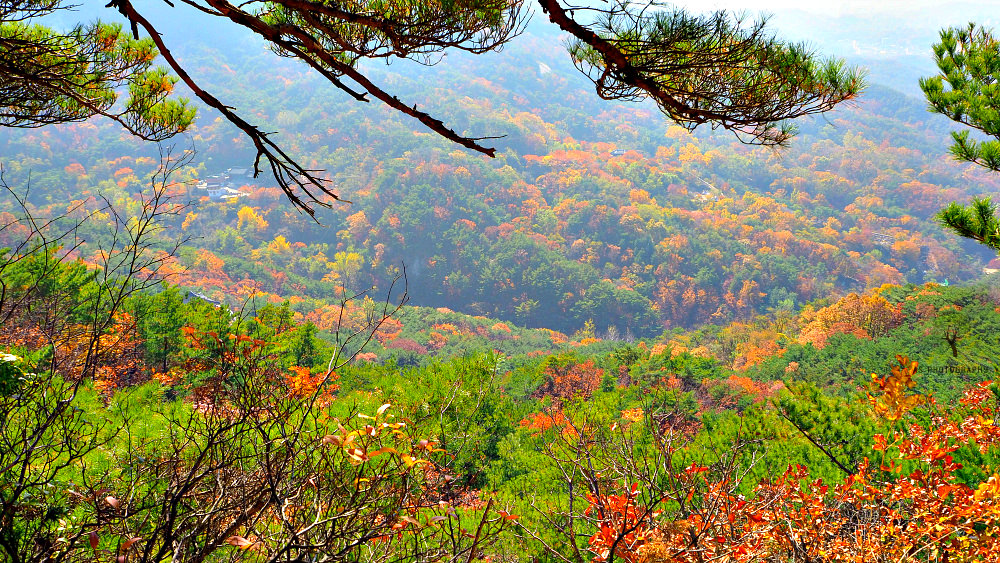 Bukhansan 
Located is the north of the City, Bukhansan or Bukhan Mountain will offer you  great hikings between trees and leaves. You will find there the park and of course the mountain and its different peaks you will need to climb. Once you will be on top, you will be able to observe all the forest of the Mountain and Seoul. That's worth going out of your way to see !
Secret Garden - Changdeokgung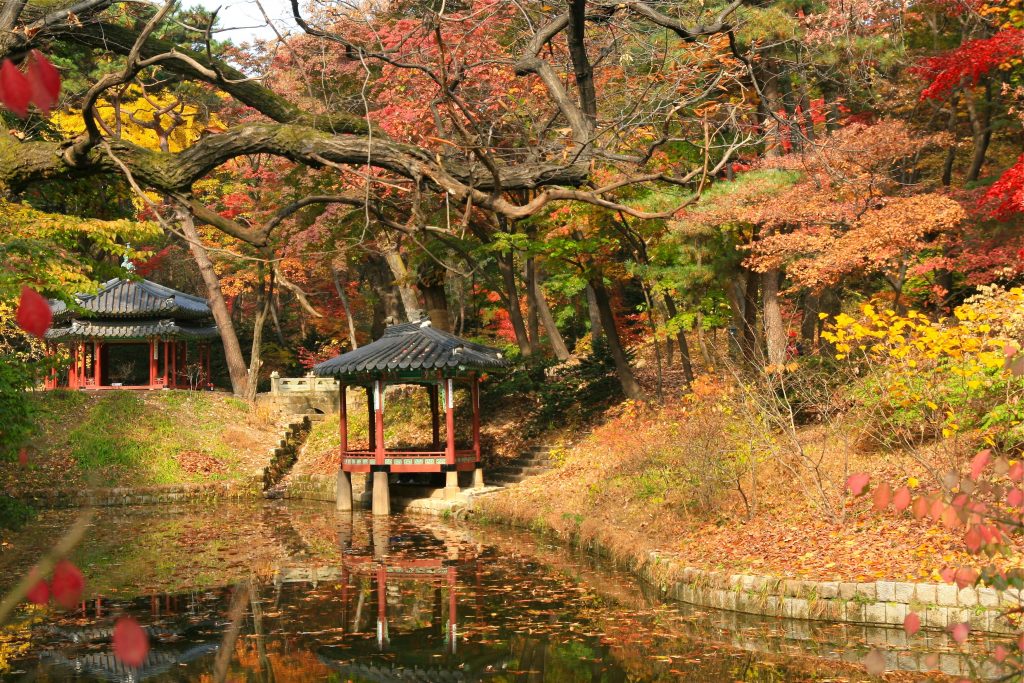 Changdeokgung
Changdeokgung or Changdeok Palace is on one of the Joseon Dynasty. As its big brother, Gyeonbokgung will offer you nice places to visit. But it has something more : the Secret Garden !
It was the royal garden built by king Taejong. The best moment to visit this garden is in autumn where the trees take on a warm and colorful coat. A moment worthy of a painting ! But be careful, to visite you will have to book the guided tour, you can't enter by yourself !
Deoksugung Stonewall Walkway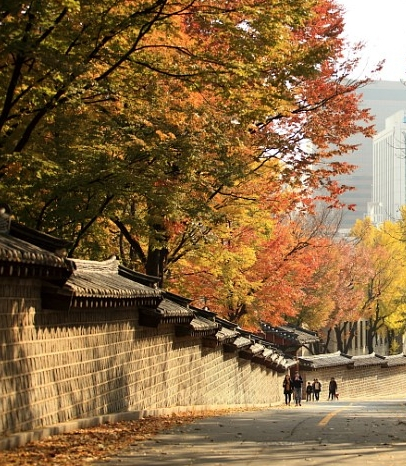 Deoksugung Stonewall Walkway
It's a 1,100 km long pedestrian path that runs next to the Deoksun Palace. While along this path you will be able to admire the picturesque autumn scenery. Even if this place is not really well-known, it's a must to do during Fall. It's time for you to go hiking !
Samcheongdong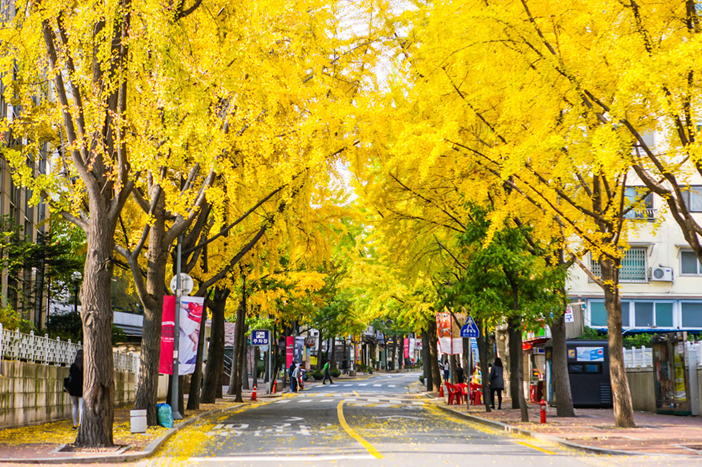 Samcheongdong or Bukchon Hanok Village
What about visiting the Bukchon hanok village ? Traditional villages are always full of trees. Nothing's better than traditional Korean houses surrounded by colorful trees for cameras and eyes.
Seokchon Lake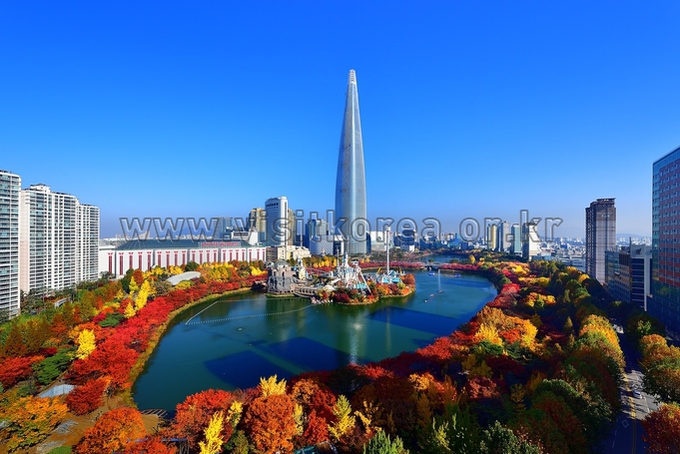 Seokchon lake
If this lake is very famous for the Cherry Blossom Festival in April, all the trees around the lake will change their white colors to an autumn motley to entertain your eyes.
Bridge in Olympic park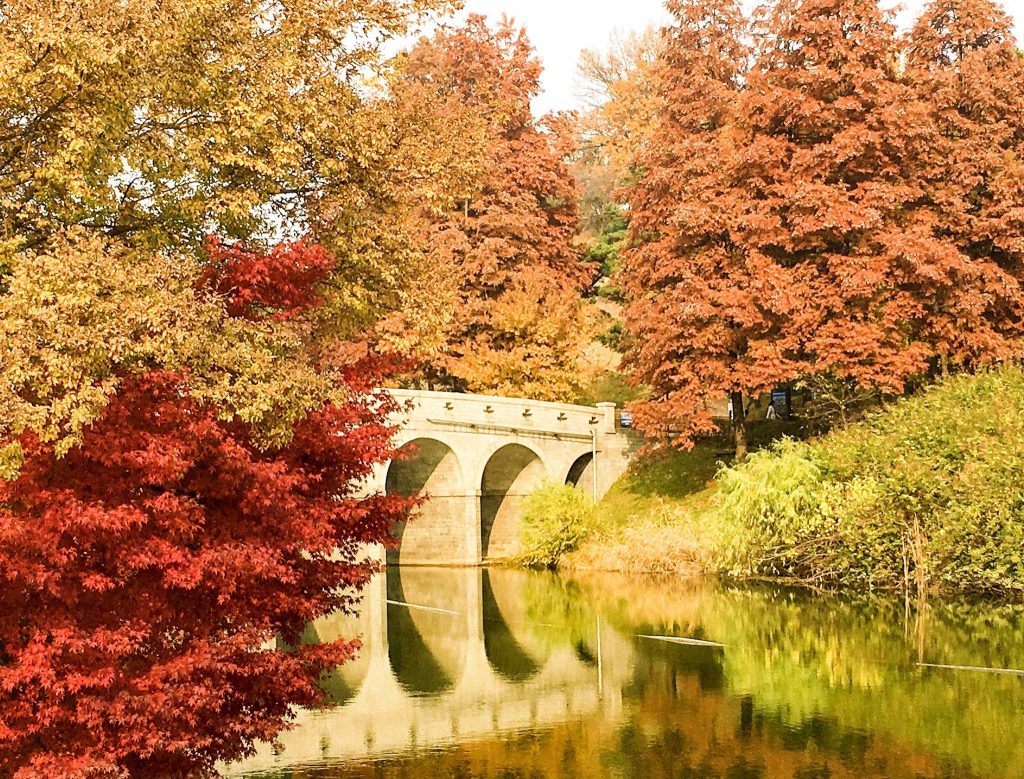 There are many others park and places you can visit in Seoul like,the Seoul Forest,the Olympic park, Namsan and Namsangol hanok village and of course more !
Namsan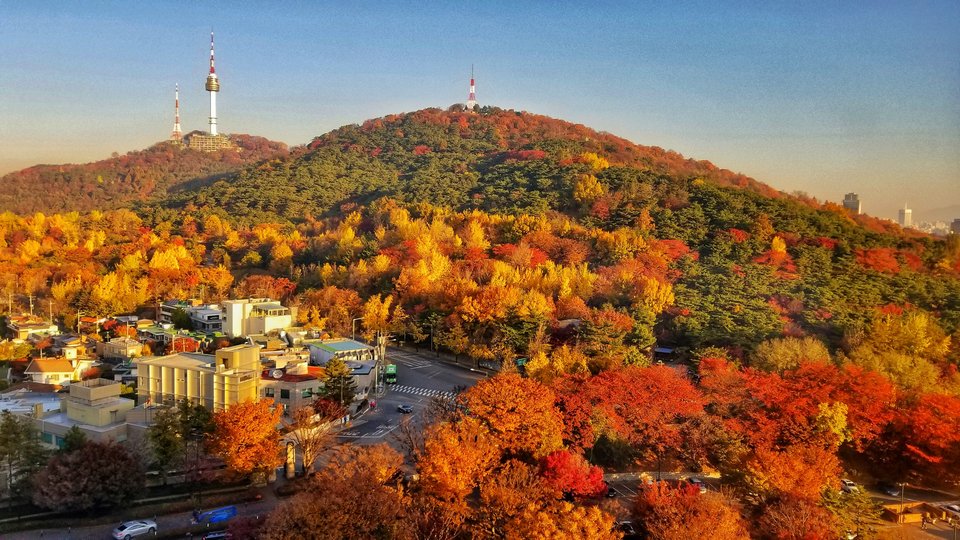 Mountain
Hiking in Mountain is one of the best way to catch nature with its camera. Plenty of trees on our ascent and a summit that makes you able to give glaze at the nature from a high point ! From the heights, it's not trees and leave you will be able to admire but a lovely autumn color palette !
Here some Mountain where you can enjoy it
Seoraksan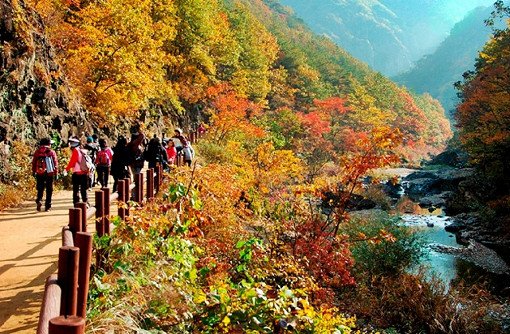 Seoraksan
Near from Sokchon a North-Easter (Gangwon province) city, you will find Seoraksan, probably one of the most famous Mountain in the country. It will take you few hours to complete but the sceneries will worth it : cliffs, waterfalls, temple and more.
Everything to enjoy a great fall.
Naejangsan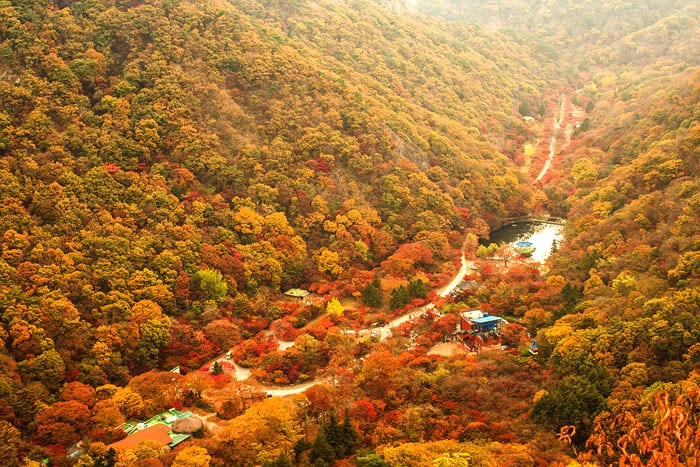 Naejangsan
Naejangsan is a famous Mountain located in the province of Jeollabuk (or Norther Jeolla). This mountain will give you the best view to observe the autumn crimson leaves that blanket the mountain. If you are a Autumn lover, it's a must-to-do !
Jirisan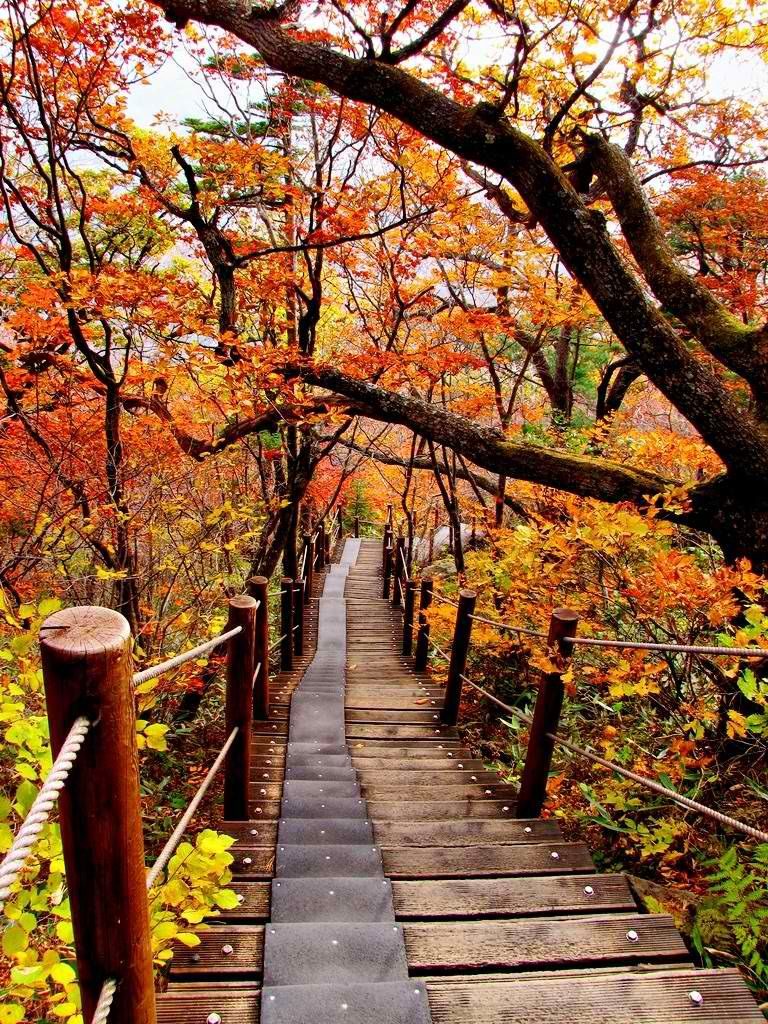 Jirisan
Jirisan is the biggest mountain-type national park of the country which cover 4 provinces ! You can find there 22 national parks but that's not all : temples, waterfalls, falls and even camping are waiting for you.
Odaesan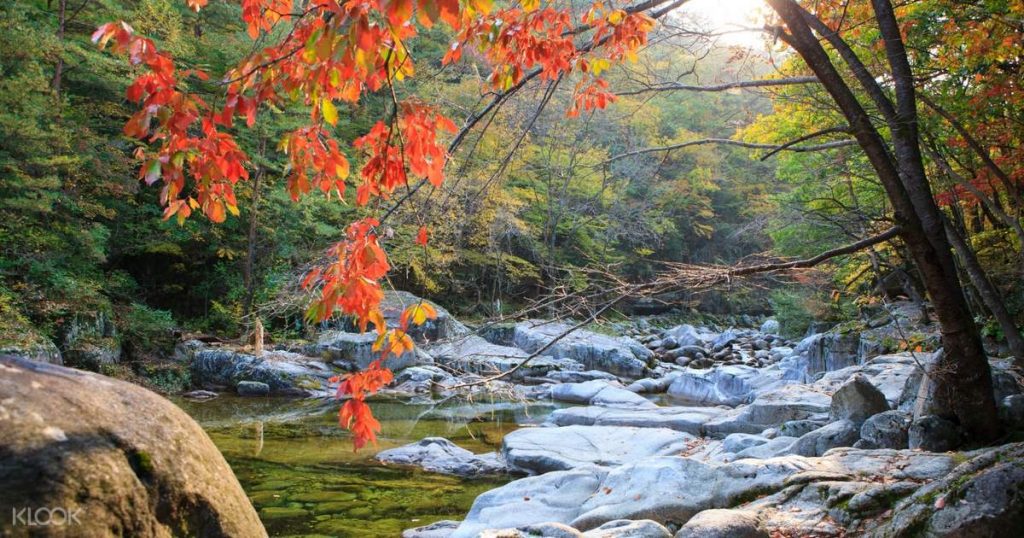 Odaesan
In the center of Gangwon province you will find Odaesan. This mountain and national park has the largest natural forest of Korea that homes many wild animals and plants.  The area of Birobong Peak is famous for its Nuncheunkbaek and Yew tree forests. But if it's animals your are looking for, you'd better go on the Durobong Peak to Sangwangbong Peak. There you will maybe be able to see nimals such as boars, musk deer, turtledoves and colorful woodpeckers living here.
Daedunsan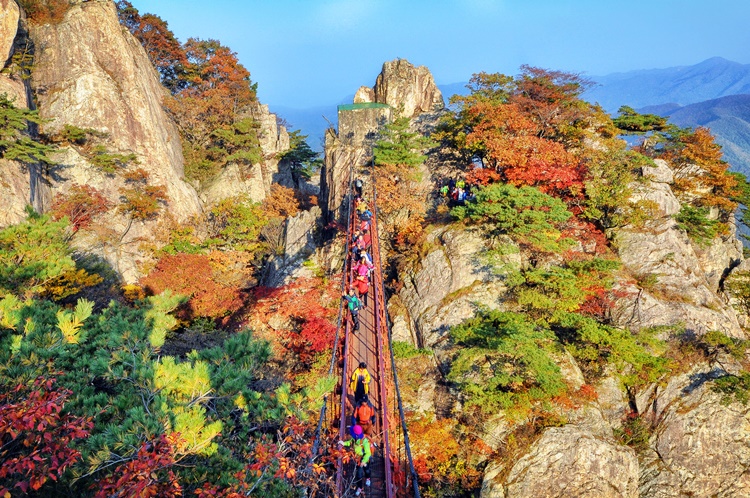 Daedunsan
Daedunsan Mountain is located between the cities of Daejeon and Jeonju in the North Jeolla province. After having climbed a part of the mountain or taken the cable (to win one hour) you won't arrive at the peak.
Indeed, the two main attractions of the mountain are its two suspension bridges : Geunggang Gureum bridge and Samseon overpass (or cloud bridge).  If the Geumgang bridge is a 40 meters longs suspension bridge the Cloud Bridge is a bit more special : it has an angle of around 70 degrees to connects two peaks. Do not worry, it has stairs, 127.
It's probably one of the most spectacular mountains in Korea.
Hallasan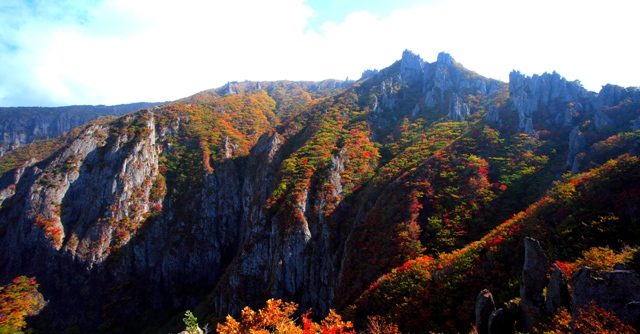 Hallasan
 Hallasan is a mountain that stand in the center of Jeju-do and has maybe the most memorable landscapes of the island. As a volcano, the mountain is a home of many varities of plants and species of animals.
Catching autumn in plenty of nature place is guaranted amazing memories.
Since South Korea is full of natural sites or historical building surrounded by nature you will able to catch the autumn foliage not only on mountain.
Jeonju hanok village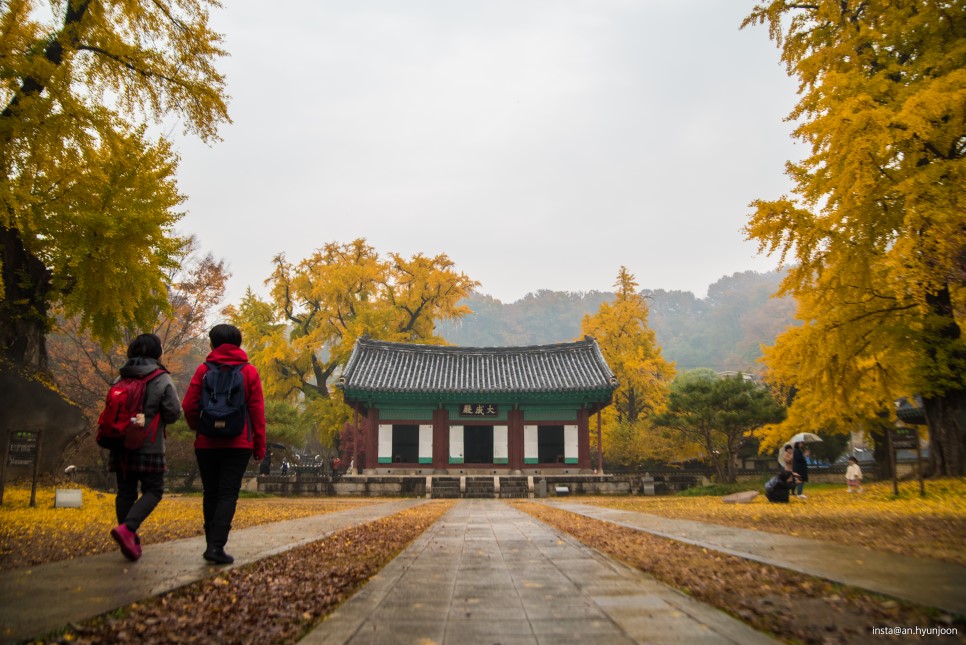 Jeonju Hanok Village
The Jeonju hanok village located in Jeonju (Jellabuk province), is one the hanok village you can still find in Korea. More than that, you will find the Omokdae observatory. You will need to climb a hill plenty of nature. Once you will be on, take time to watch the hanok village and the city in front of you.
.
Nami Island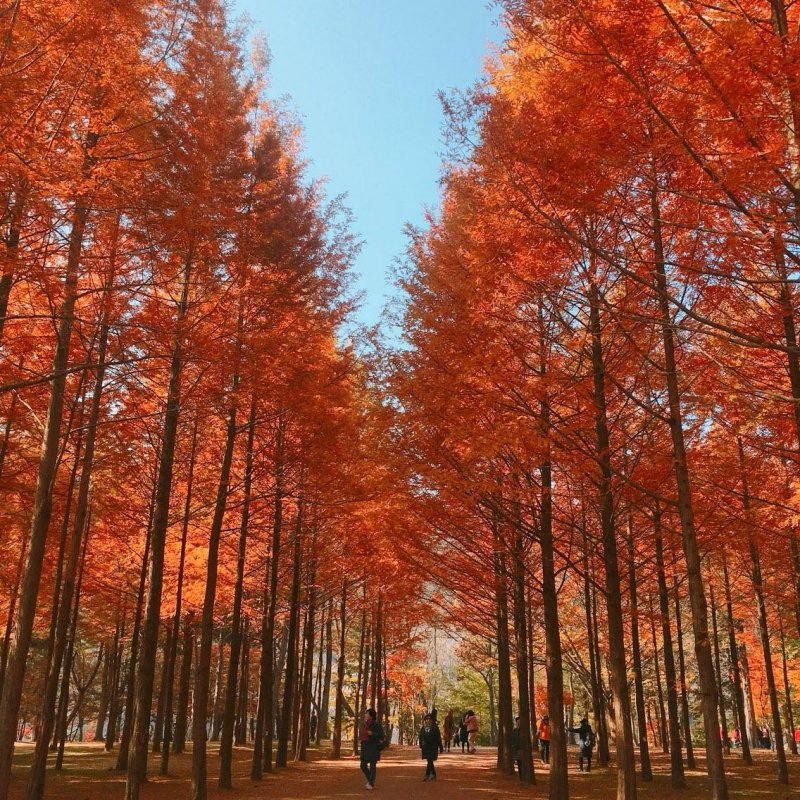 Nami Island
Nami Island is probably one of the most famous spots in Korea. Since the island is open all the year, each season offer you a different ambiance. The numerous trees of the island will fill your eyes and your autumn appétit.
Beomeosa Temple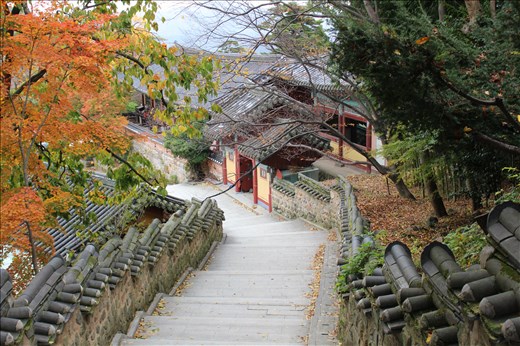 Beomeosa temple
In the eastern edge of Geungjeongsan, a mountain of Busan (san which means mountain) you will find Beomeosa temple. Thanks to its location, you will be able to watch the side of the mountain and take into the foliage.
Asan Ginko Tree Road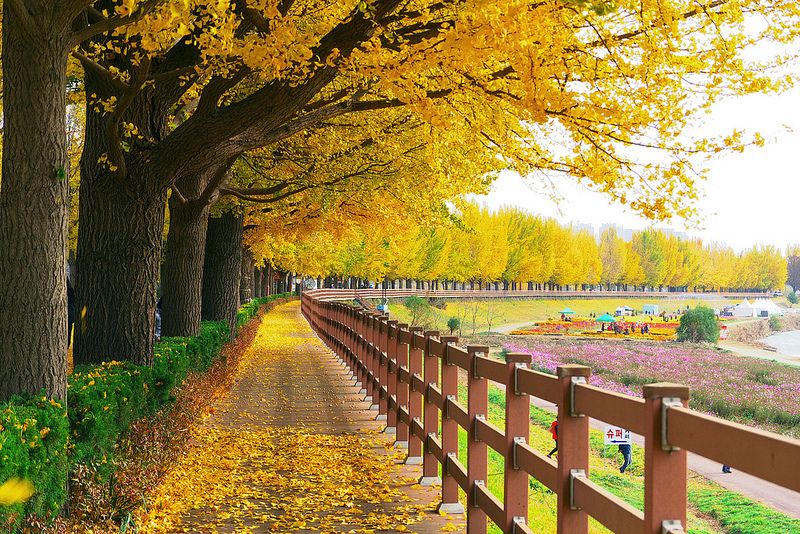 Asan Ginko tree road (Chungcheongnam)
this  road is lined with ginkgo trees which stand next to a river. . The Ginkgo trees change their color to bright golden yellow from early November. It's a popular place among Korean people.
it wil  take about 2.5 hours from Seoul by car.
Pocheon art valley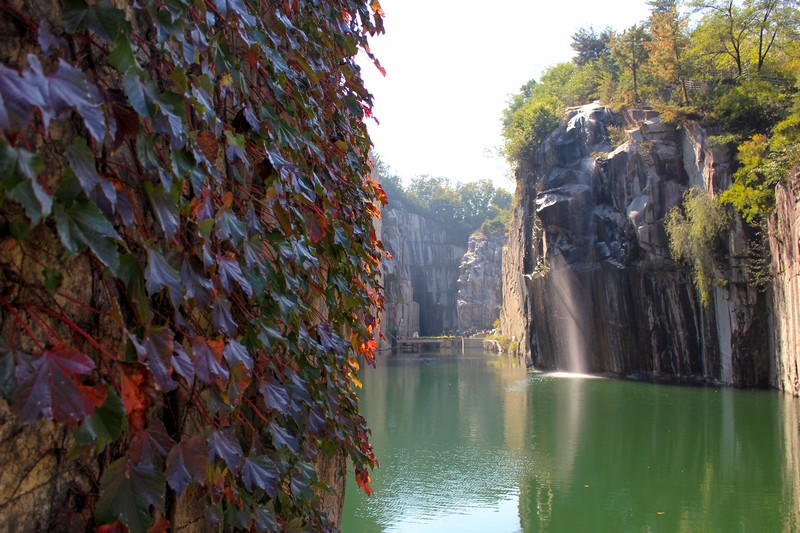 Pocheon art valley
Pocheon Art Valley used to be a granite quarry that became an amazing tourists attraction. One of the most scenic points is Cheonjuho Lake. A amazing breathtaking scenery is waiting for you there : a harmony between the emerald waters of this natural reservoir and the razor straight cliffs.
The lake also grew in popularity after being featured in Korean drama, "Moon Lovers: Scarlet Heart Ryeo (2016)."
Seonunsa Temple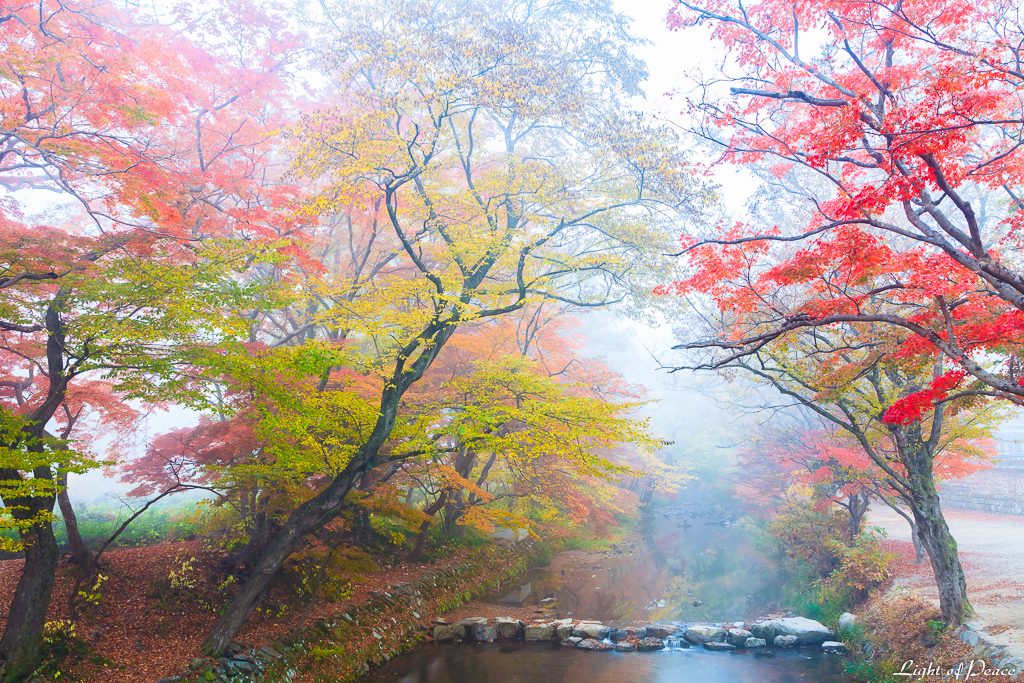 Seonunsa Temple
Seonunsa temple is a head temple of the Jogye Order of Korean Buddhism. it is located on the slopes of the Dosolsan Mountain of Gochang country. The temple name means the place where an ascetic devotee practicing seon meditation with the evening cloud with dwells in the blazing red of the setting sun.
Its location will enables you to take into a pictoresque Fall landscape.
Gangchon Rail Bike park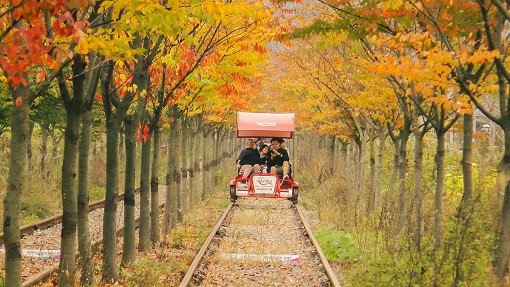 Gangchon Rail Bike park
Pedaling while admiring the landscapes Gangchon will fit to every nature lover. Since the weather is getting colder, riding bike could keep your body warm and let you having great time watching a pictoresque autumn in front of you.
Garden of Morning Calm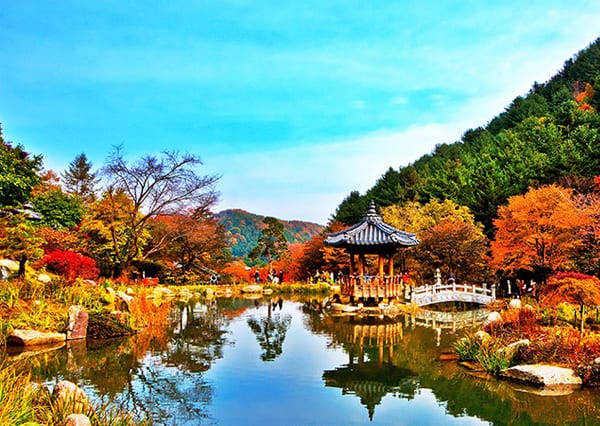 Garden of Morning Calm
Even if the garden is made with artificials flowers, there is plenty of natural trees and plants that will put on their fall coat to give you a beautilful real painting.
Bulguksa Temple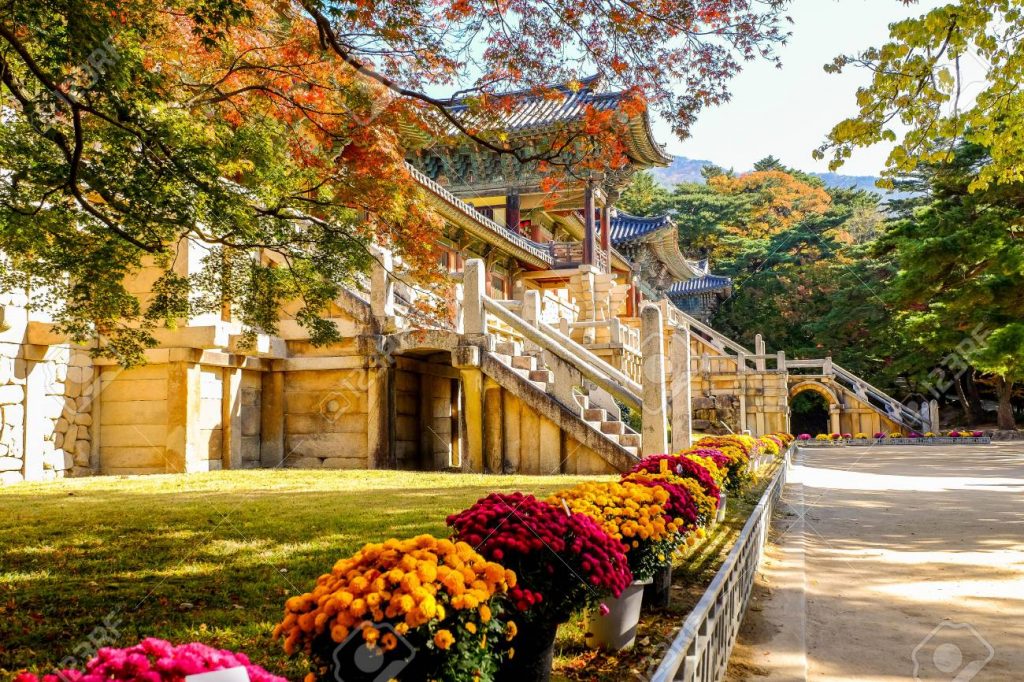 Gyeongju
Gyeongju used to be the capital city of the Silla Kingdom which used to rule an important part of the country (one millions of inhabitants during Silla !).
A lot of buildings and parks survived in time that makes of the city a full historical museum. In autumn, the place you can't skip is the Bulguksa temple.
It is the main representative of the Bouddhist culture of Silla
I hope this articles convinced you that Autumn is the best season to visit South Korea and will help you to plan your interary !
Written by Morgane GABRIEL