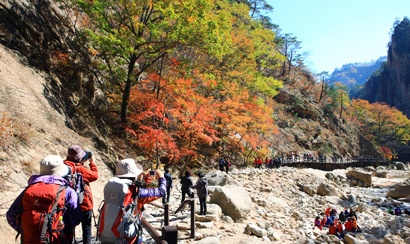 With its highest point, Daecheongbong Peak, located 1,708 m above ground, Seoraksan Mountain is one of the most beautiful mountains in Korea, boasting a variety of colorful flowers in spring, refreshing clear water streams in summer, vibrant autumn foliage in fall, and a scenic snow-covered landscape in winter. With the mountain changing in color according to each season, a visit to Seoraksan Mountain guarantees a picturesque landscape any time of the year.
Homepage: english.knps.or.kr/Knp/Seoraksan (Korean, English, Japanese, Chinese)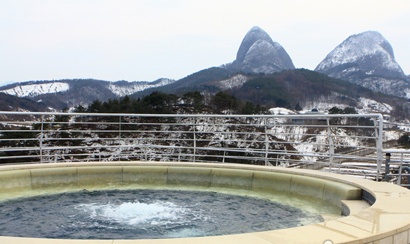 The Jinan Red Ginseng Spa is a spacious spa (B1-3F, 7,720 square meters) offering an unusual assortment of health facilities and programs. Treatments use the systematic and scientific use of red ginseng, Oriental medicinal herbs, and the principles of yin and yang and the five natural elements to give spa-goers an indulgent experience that relaxes both the mind and body. Read on to learn more about some of the treatments and facilities available at the spa.
Homepage: www.redginsengspa.kr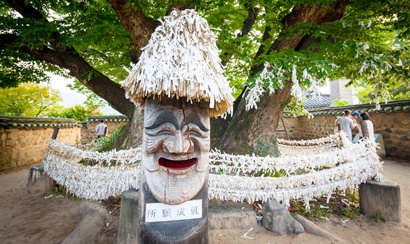 Hahoe Village is home to descendants of the Ryu clan of Pungsan and is well-known for its traditional houses. Birthplace of renowned scholars of the Joseon Period such as Gyeomam Ryu Un-ryong and Seoae Ryu Seong-ryong, the village became even more famous after Queen Elizabeth of England visited on April 21, 1999. In addition to breathtaking scenery, Hahoe Village offers delectable local delicacies. Try the Andong Soju (distilled alcoholic beverage), Heotjesabap (a type of Bibimbap eaten by the nobles), Andong Gangodeungeo (salted mackerel), and Andong Guksu (a kind of noodle dish). Hahoe Village, along with Yangdong Village in Gyeongju, was added to the UNESCO World Heritage List under the category of "Historic Villages in Korea" on July 31, 2010.
Homepage: www.hahoe.or.kr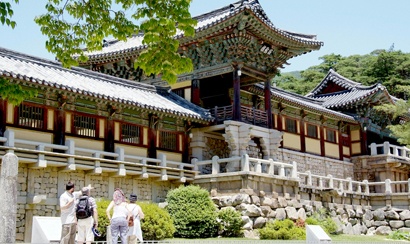 Bulguksa Temple is the representative relic of Gyeongju and was designated as a World Cultural Asset by UNESCO in 1995. The beauty of the temple itself and the artistic touch of the stone relics are known throughout the world. Even today, Bulguksa Temple is home to many important cultural relics such as Dabotap Pagoda (National Treasure No. 20), Seokgatap Pagoda (National Treasure No. 21), Yeonhwa-gyo & Chilbo-gyo Bridges (National Treasure No. 22), Cheongun-gyo & Baegun-gyo Bridges (National Treasure No. 23), Seokguram Grotto (National Treasure No. 24), the Golden Seated Vairocana Buddhist Figure (National Treasure No. 26), the Golden Seated Amita Figure (National Treasure No. 27), and Saritap Pagoda (Treasure No. 61).
Homepage: www.templestay.com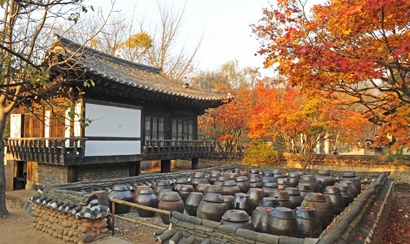 Korean Folk Village introduces traditional culture from the late Joseon period to both local and international visitors through cultural classes experience, shaman faith, seasonal customs and others. Also, the village shows various places with unique features such as a farming village, private house, official districts, Confucian academy, seodang (village school), and a village street in realistic descriptions, as well as, a nobleman's house and traditional workshop. Performances including nongak (farmer's music), martial art on horseback, traditional wedding ceremony, and other special events are available by season. Visitors can enjoy Korean traditional rice cake like jeungpyeon (steamed and fermented rice cake), injeolmi (rice cake coated with bean powder), bukeo-gui (grilled dried pollack), or pajeon (green onion pancake) along with dongdongju (traditional Korean liquor).
Homepage: www.koreanfolk.co.kr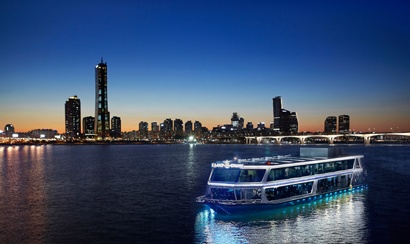 Hangang River Ferry Cruise began operations on October 26, 1986, traversing the heart of Seoul between east and west. The operation company, E-Land Cruise, aims to develop a cruise theme park at Hangang River as the iconic attraction representing Seoul. There are diverse options for you to choose from: Story cruise, Music cruise, Moonlight cruise, Lunch Buffet cruise, Dinner Buffet cruise and Fireworks dinner buffet cruise.
Homepage: www.elandcruise.com (Korean, English, Japanese, Chinese, Taiwanese)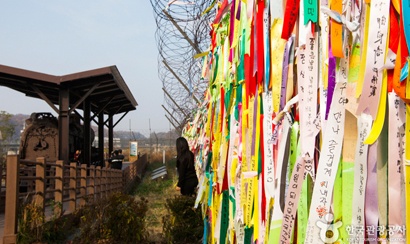 The Demilitarized Zone (DMZ) is a weapons-free buffer zone between North and South Korea. The area was established on July 27, 1953 when the Armistice Agreement was signed during the Korean War, and includes the 2km-wide stretch of land both north and south of the line. The DMZ extends largely from Gyeonggi-do to Gangwon-do, including seven different cities and smaller counties of Paju, Yeoncheon, Cheorwon, Hwacheon, Yanggu, Inje and Goseong. The zone has been protected from human disturbance for about 6 decades and has unintentionally become a haven for wildlife, making it a popular destination for nature lovers.
Homepage: www.paju.go.kr ,  www.dmz.go.kr
8. Medi Flower Oriental hospital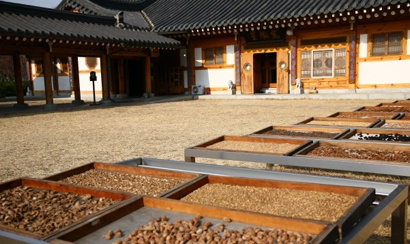 Gyeongju Mediflower Oriental Hospital is a place that combines personal health with travel and tourism. The hospital and its facilities are located in a traditional hanok-style building that covers an area of 3,404.97m (1,030 pyeong). The hospital plays a central role in the government's "Health Tour to Korea" campaign, and is supported by a passionate staff. Visitors can receive treatments from a range of departments, which include oriental internal medicine, oriental obstetrics and gynecology, oriental pediatrics, acupuncture, and the conmaul clinic.
Homepage: www.conmaulkj.co.kr (Korean, English, Japanese, Chinese, Russian)
$

2,622.1 –

$

4,069.9
4 stars ★★★★ (Jinan 3 stars ★★★)
6 Pax
5 Pax
4 Pax

$ 2,622.1

/pax

$ 2,963.2

/pax

$ 2,984.1

/pax
3 Pax
2 Pax
–

$ 3,673.2

/pax

$ 4,069.9

/pax
–
This is for FOREIGNERS ONLY
The price is same for adults and children
No charge for under 24 months

(ID verification)

For 1 Pax & more than 7 Pax, please contact us via email