The number of ARMY around the world is constantly increasing, and among the many dreams they may want to accomplish as ARMY, visiting Korea is certainly in the TOP 3. After a day of visiting beautiful places Korea has to offer, you will probably want a break, right? What about a restaurant or coffee shop? Or even a store to look around? Wouldn't that be wonderful if it was a place that BTS had been to? We will help let you know the "5 Must-Visit Restaurants and Filming Locations" in Seoul.
Yoojung Sikdang
Let's start from the beginning of everything. Yoojung Sikdang is that restaurant the members used to visit after practicing at their dance studio. The restaurant, now decorated with lots of BTS's banners and stickers, was even featured on an episode of Rookie King. They were even close with the owner and the place must hold a special place in their hearts. The restaurant offers a certain variety of food but its specialty is Jeju black pork. If you plan on eating one of their favorite dishes though, Dolsot Bibimbap is the best option. You must visit this restaurant if you are a true fan.
The place is located close to Hakdong Station, Exit 7. (Picture from: SBS MTV)
Address: 14, Dosan-daero 28-gil, Gangnam-gu, Seoul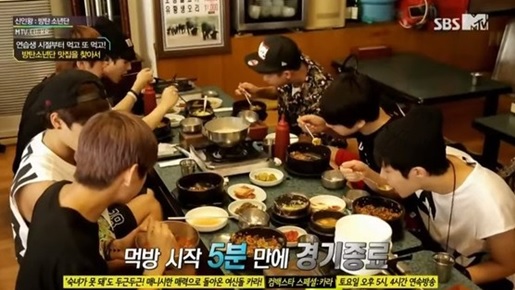 The Min's
  Being frequent visitors, The Min's can be considered one of, if not their favorite cafe. Located in Apgujeong, it has autographs and pictures of BTS, attracting a lot of their fans. Therefore, of course it would be a good place to visit in Seoul if you are a BTS fan. If you want to go BTS all the day, you should order Cherryade and lemonade, some of their favorite drinks.
Address: 330 Apgujeong-ro, Sinsa-dong, Gangnam-gu, Seoul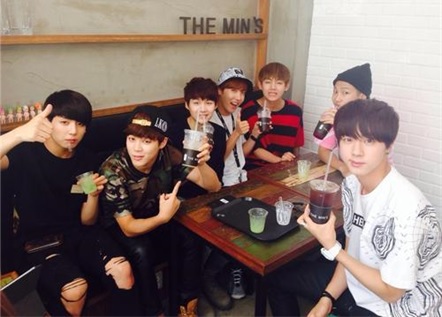 Hamkyeongdo Chapssalsundae
What about another restaurant option? Although it may be hard to pronounce, Hamkyeongdo Chapssalsundae is a restaurant that specialize in sundaeguk (Korean blood sausage soup). It is actually a restaurant that both Jin and Jungkook love. (Picture from: member's SNS).
Address: 32 Songpa-daero 28-gil, Songpa-gu, Seoul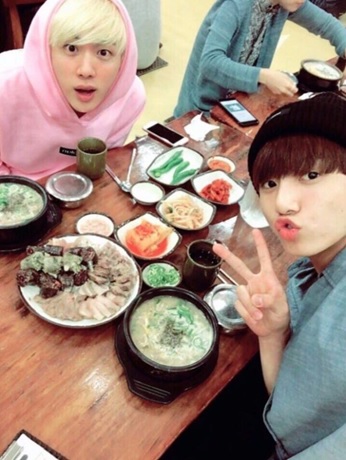 &Gather Café
Who likes to watch the Run? I bet most, if not all of you. A perfect stop for those who loves to spend their times watching the episodes is the café called "&Gather Café" that appeared during the episode 45 of Run BTS!.Fans can check the place where BTS put all their efforts into creating the perfect coffee recipes. The place offers a variety of beverages and desserts. (Picture from: VLive)
Address: 1F 96-3, Hannam-dong, Yongsan-gu, Seoul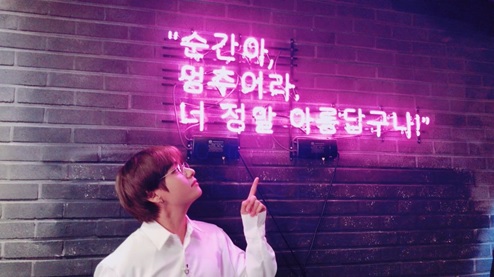 Lotte World Tower – Lotte Duty Free
Do you remember that episode in Run where they literally ran all around Lotte Duty Free to find cards to complete a "mission"? Ep. 79 was certainly fun, so why not visit Lotte Duty Free's World Tower branch in Southern Seoul, where it was filmed? Not everyone would buy there, but that place is amazing for sightseeing. Just avoid running like the boys or else you might get in trouble! (Picture from: VLive)
Address: 300 Olympic-ro, Jamsil 6(yuk)-dong, Songpa-gu, Seoull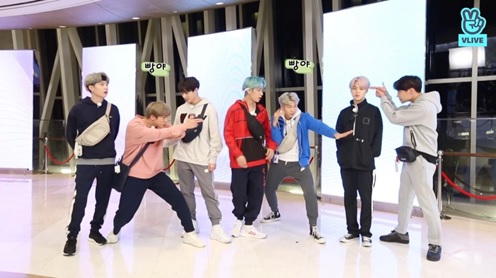 If you will stay for a while in Korea and you plan on visiting other cities, it might be a good idea to check our post "BTS shooting places" as you will find more places to visit and enjoy your ARMY journey even more!