You have been able to see in some packages you will wear the traditional Korean outfit : the hanbok.
Hanbok rental has become a real business since a lot of tourists (foreigners and Korean) and even Seoul inhabitants like to put one on for a few hours.
I had the challenge to wear it for a day.
I only wore it for around 6 hours but the experience worth it.
So let me tell you what you can expect during the Hanbok experience that is waiting for you.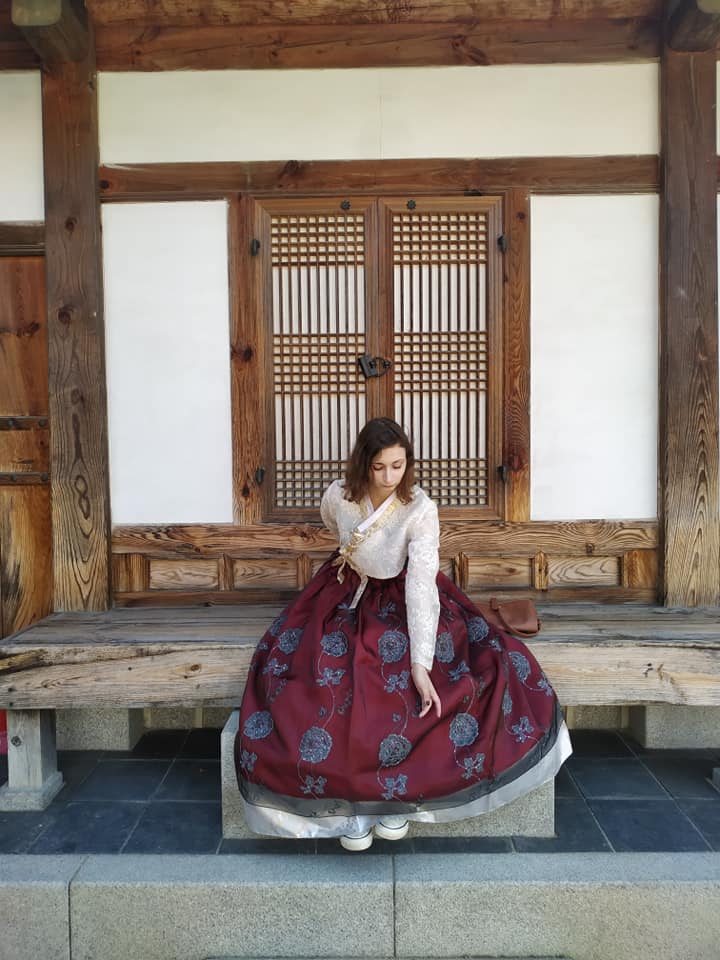 What is a Hanbok
The Hanbok is the traditional Korean clothing that used to be worn for festivals, celebrations and ceremonies. This outfit is characterized by vibrant colors and simple lines. Today, the hanbok mainly refers to the Joseon Dynasty.
There are 3 main hanbok styles you can rent :
(To know more about Hanbok, you can also read our website articles, here is the link)
 https://www.koreaetour.com/traditional-korean-clothes-hanbok/ 
Traditional Hanbok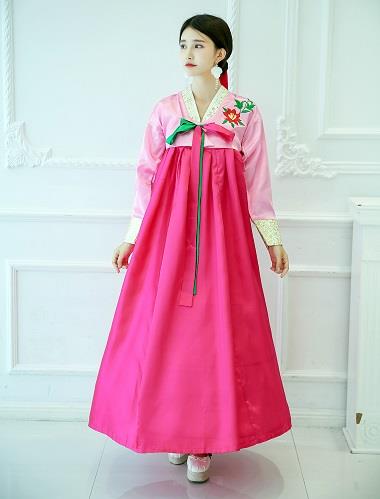 Traditional
Simple and colorful, mainly used by citizens who were than than nobles.
They are cheaper but their simplicity make them very attractive.
Themed Hanbok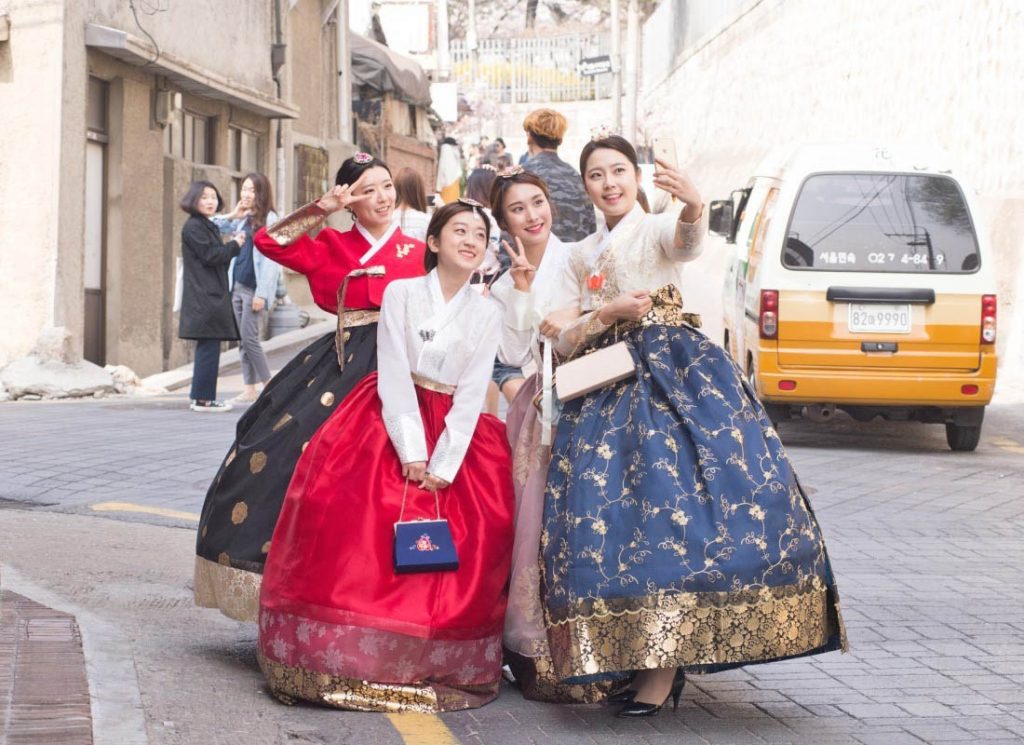 Themed
They are more sophisticated with ornaments like embroidered flowers, leaves and more.
Special Hanbok : Queen Hanbok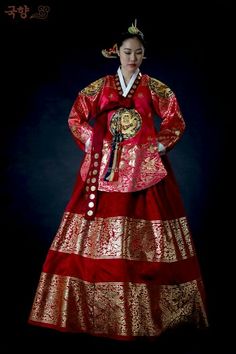 Special
The special hanboks are the particular style hanbok that used to wear Kings, Queen, princes, princesses or all the special characters from the past.
Seohwa Hanbok shop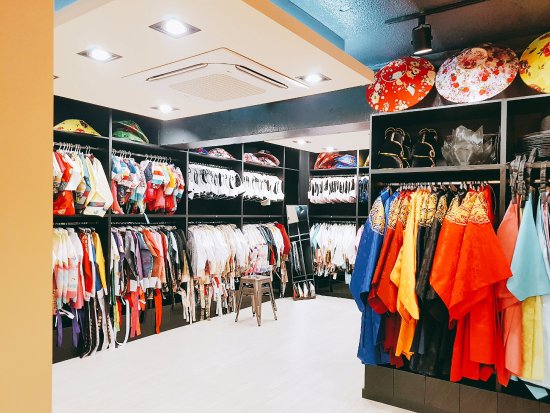 Where and how can you rent a hanbok
There are many rental shops everywhere in Seoul but the most popular ones are near from the palaces. You just need to chose one of them and enter. You can also book online to get a discount.
Once you will be into the store, one of the hardest part will start : choosing your hanbok.
Yes It may look easy to choose but you have many beautiful pieces in front of you, it's a hard task. It took me almost 10 minutes to decide which one I will wear.
How to put Hanbok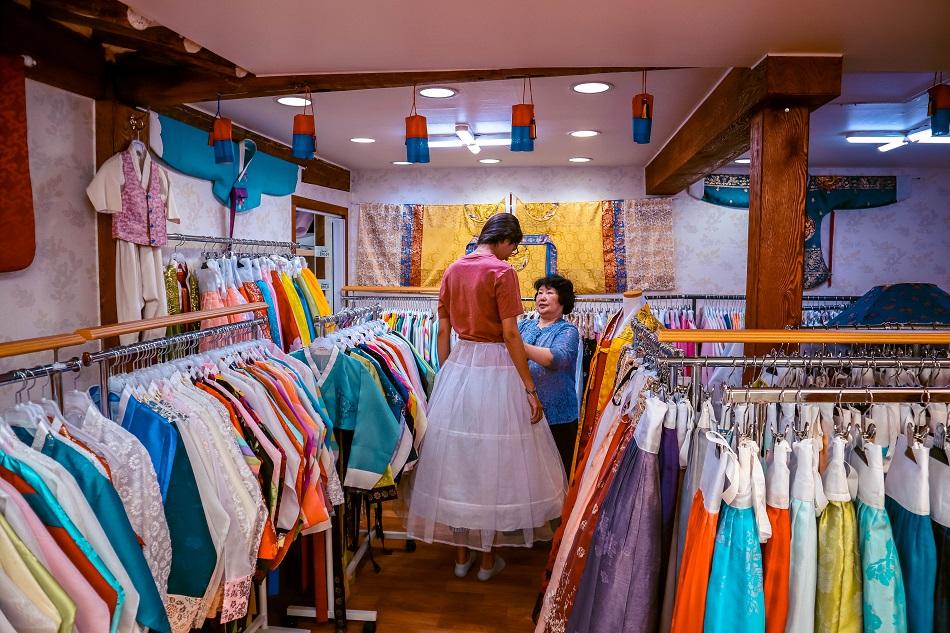 Once you made your choice, seller will help you to put it on. You will probably have to put some cloths off like you shirt.
Be aware, some shop will allow you to try 2 hanboks without aditional fees, some won't allowed you, so it would be better to choose the perfect one from the beginning !
Then, choose accessories between umbrella, bag and jewelries and sit on the chair to get a haircut and makeup or just pay your rent. If the haircut and the makeup are offer, you will have to pay additional fees for accessories (free in a few stores).
Exemple of price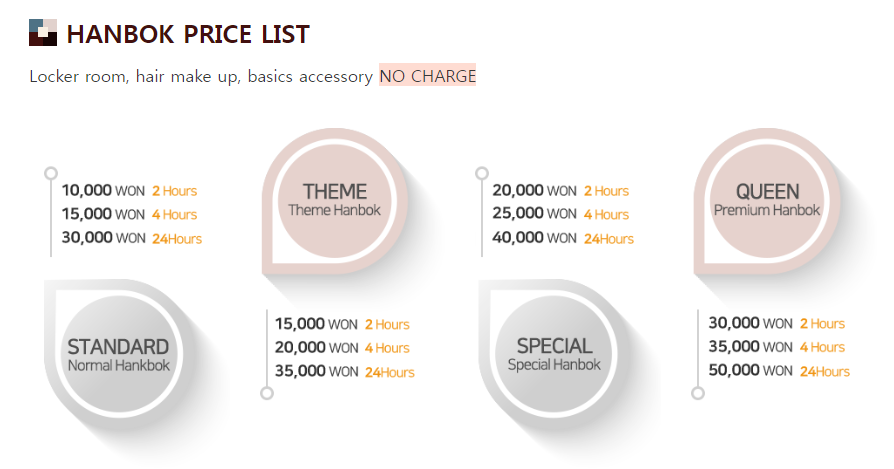 When you will be ready, go at the checkout and pay. The price will depend on :
– the chosen hanbok : traditional hanbok are the most affordable, then comes the themed hanbok and finally the special one.
-Number of accessories and kind of accessories : accessories don't have the same price, jewelries are cheapper than bags and umbrella; the highest price is 5,000 won.
-Number of hours you want to rent it : 1 hour, 2 hours, 4 hours or even a full day !
Generally, prices started at 10000 won.
If you are not coming with a tour, do not forget a passport, only one wil be enough for a full group.
 Since the shop I entered only provides only themed hanbok, I rented one for, a full day (full day Hanbok challenge).
My Themed Hanbok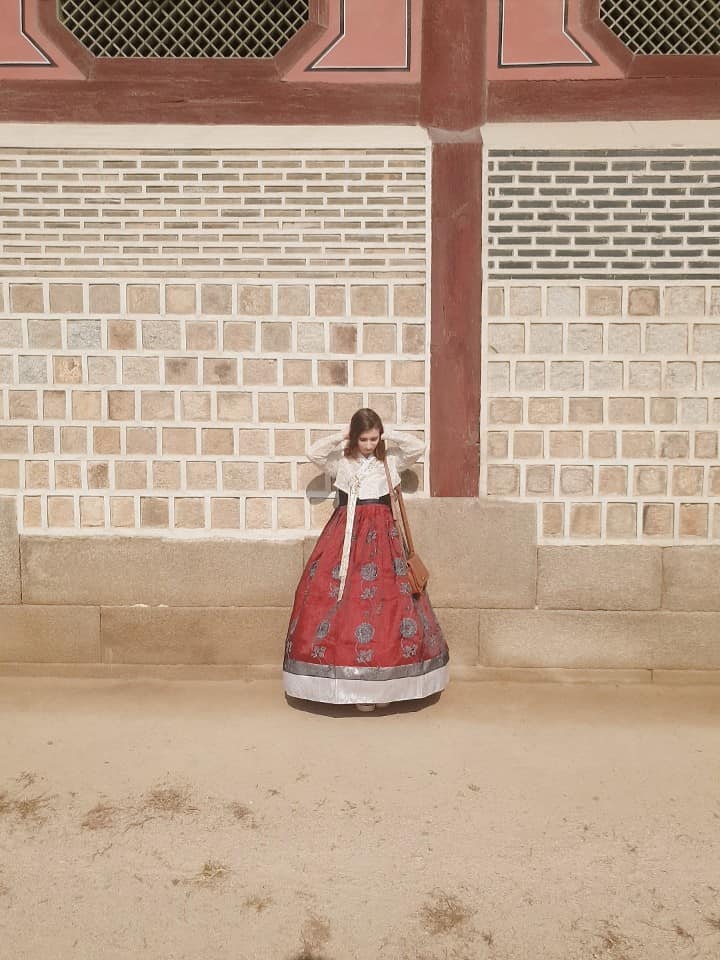 What can you do now ?
First, you can rent a photograph.
Some hanbok rental shops have a photograph rental service or you can get one in a outsider agency.
If you wanna take incredible pictures but your are not good, you can add to the experience a real photograph. He/She will comes you and tell you what to do to capture the best of you.
Joseon Dynasty places map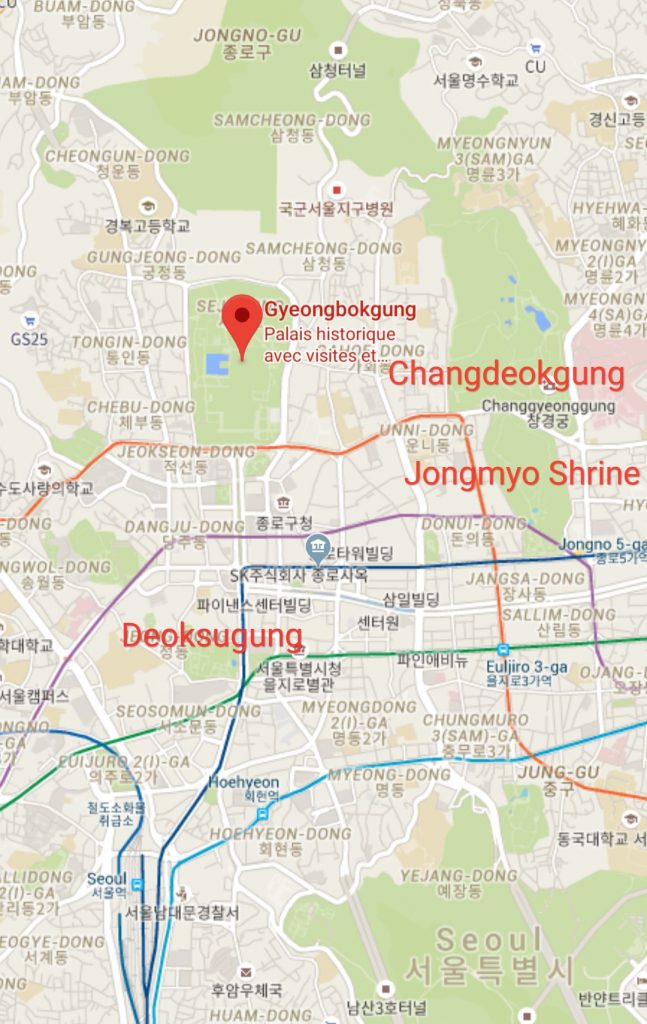 You have to know if you wear a Hanbok, Joseon Dynasty's palaces and the Jongmyo Shrine admission will be free.
According to how long you rent your hanbok and where, you will be able to visit differents sites.
inside Gyeongbokgung Palace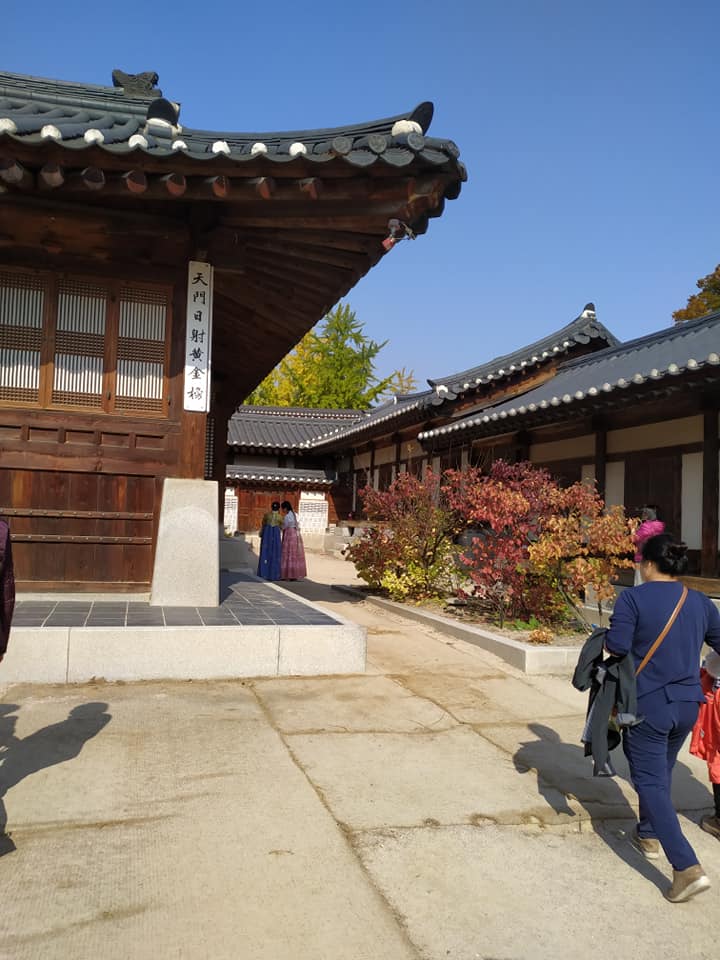 Gyeongbokgung
The most famous of all is the Gyeonbokgung palace. It's the largest palace and has many places to take beautiful pictures.
The palace offers many places like building with stairs and sills, benches under trees, grasses, bridges and more. Everything you need to take photos worthy of Korean drama.
You will also find the Korean folk museum and the children museum so if you have time, what about visiting them ?
Naejangsan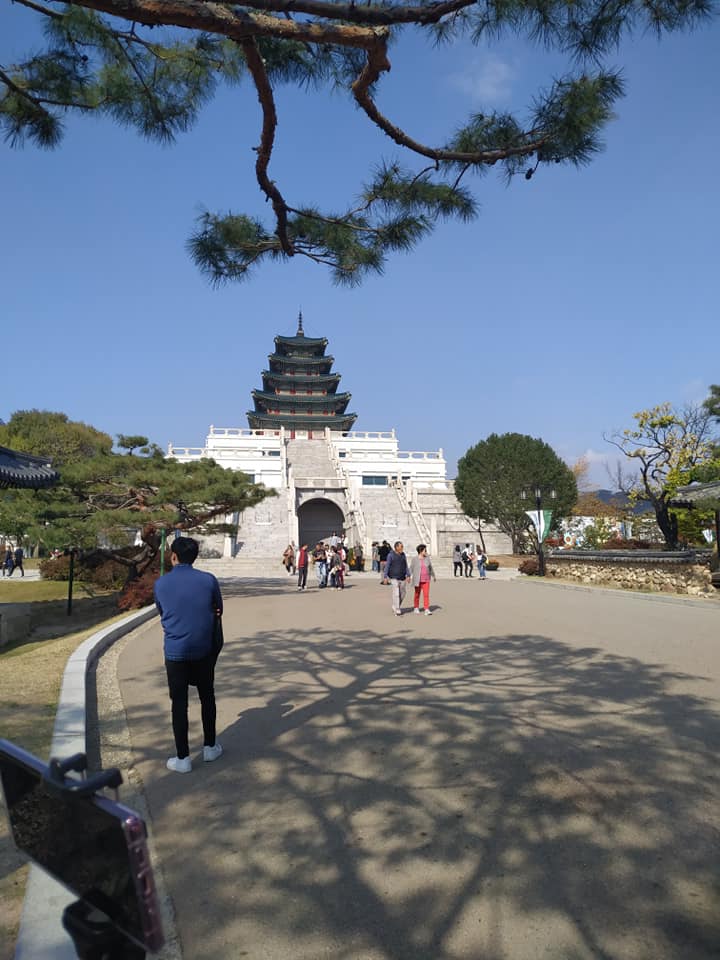 Opinion ?
It's the first places I visited after putting on my hanbok and I felt very excited. The palace was very beautiful and interesting, I didn't expect this kind of great place could be into a so modern city.
I even tried traditional Korean games : a kind of spinning-top you have to hit with a lash, and arrows you have to throw into a pot.
But, as one of the most touristic sightseeing sites, there was a lot of people, too much in my opinion. You can't feel free to take pictures as you want since you have to often wait.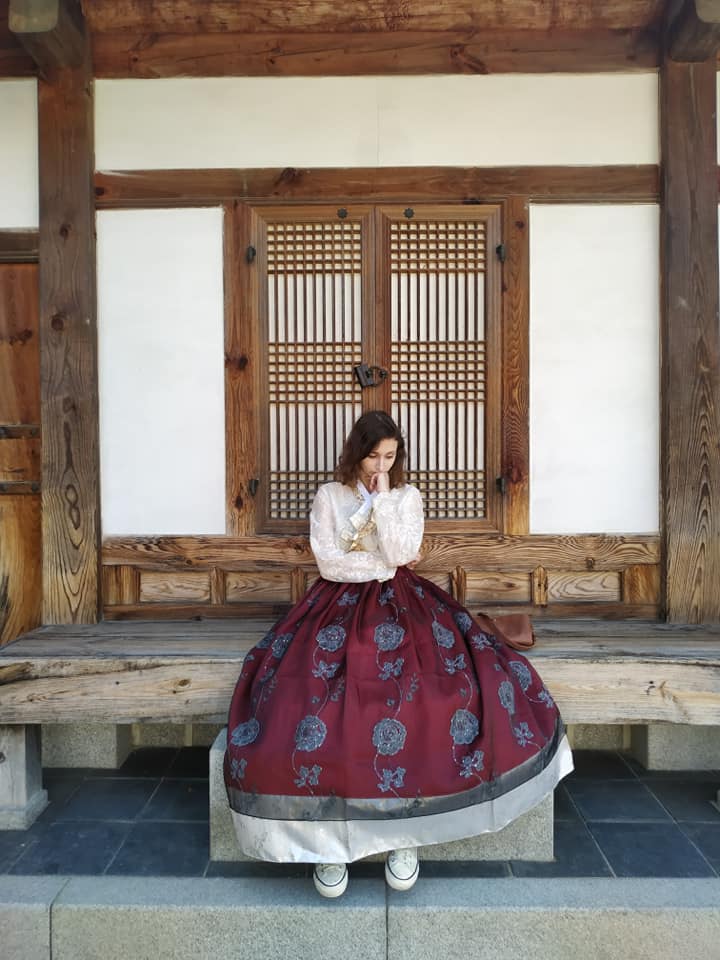 Changdeokgung
It's used to be the second palace of the Dynasty. If the architecture doesn't change a lot, the palace gives another feels. Changdeokgung is more for nature lover and for people who less tourists (since the most visited is Gyeongbokgung). The surrenders are plenty of nature and it's very nice. Maybe it's not surprising when we know that the palace hides the Huwon Secret Garden.
It's the garden built on the request of Kim Taejong whu ruled the country between 1400 and 1418. It was used by the royal family to relax. Unfortunately, you can't enter without a guided tour you will have to book a few days before (if you want to have a chance to get a place, especially in autumn).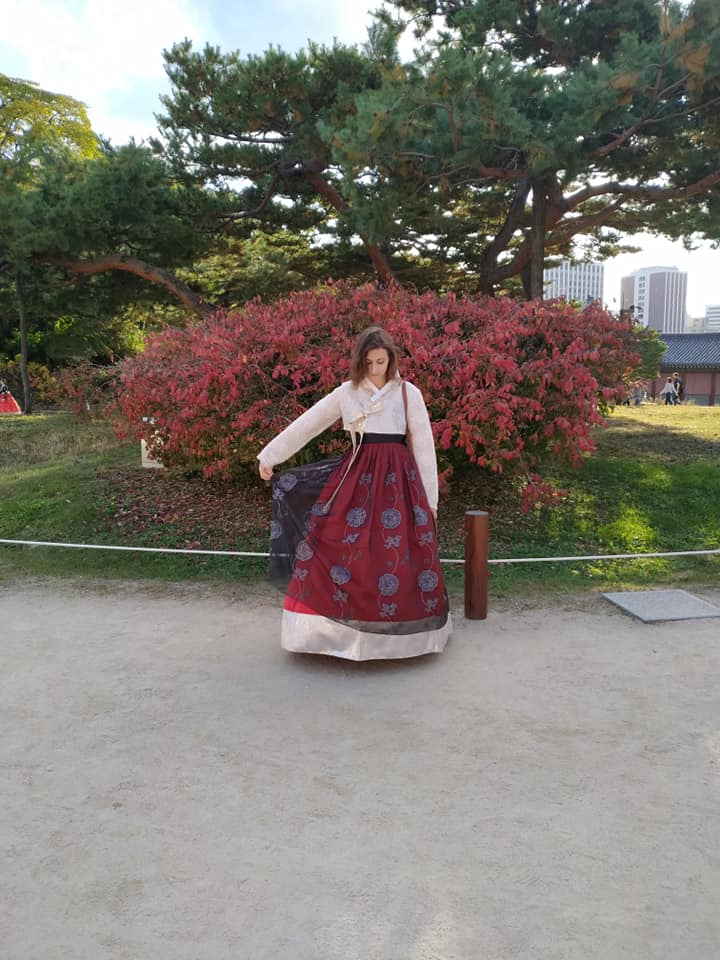 Sad ?
I really wanted to visit the garden sice I have heard about it but because I have not booked it, I haven't been able to enter in the garden. At the beginning I was a bit sad but the sadness quickly disappeared. Here is the reason :
Changgyegung palace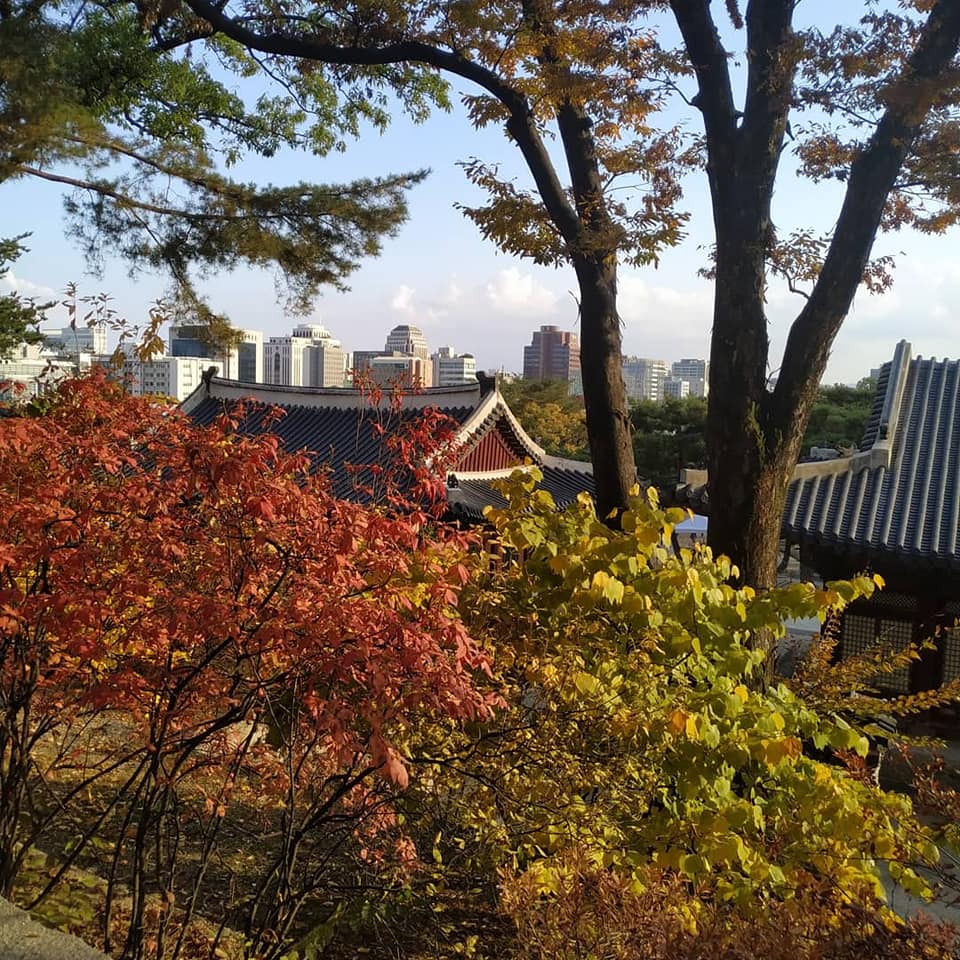 Changgyegung palace
This palace was the Queen quarter that why you can directly enter by a gate into Changdeokgung. More than the palace, you will find an amazing garden plenty of trees, with a lake and even a greenhouse. The scenery is breathtaking and probably more because it was in autumn. You can walk around the lake but also lost yourself on different ways. Enjoy the greenhouse, where someone will maybe play traditional instrument.
Relax your mind and enjoy this hidden palace.
Changgyegung garden
My feelings ?
It was probably my favorite moment. To be honest, I think this palace deserves much more attention. Less famous than Gyeongbokgung and Changdeokgung, it's probably the best place to enjoy your hanbok and take wonderful pictures. Not a lot of tourist, great landscapes, you can enjoy there everything from the other castle more free.
It  was the last place I visit and I very tired since I walked a lot but the beauty of the place gave so much energy.
Jeonju hanok village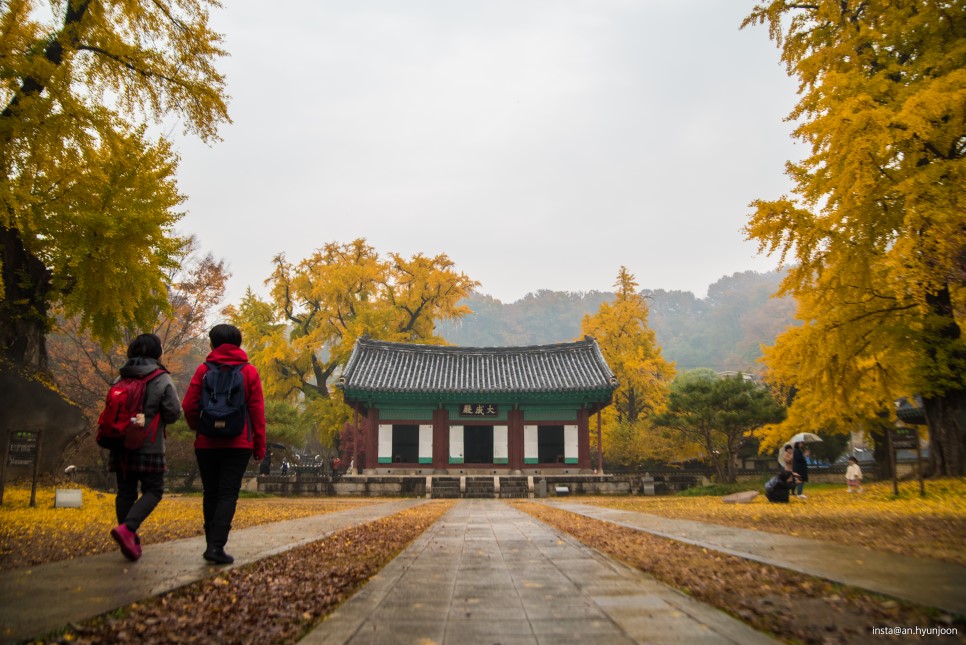 Deoksugung palace
It's not the most popular palace but its western style buildings and its elegant stone-wall road bring him a lot of attention. If you have time, what about visiting the palace ?
In autumn, amazing pictures on the stone-wall road are waiting for you.
.
Deoksugung palace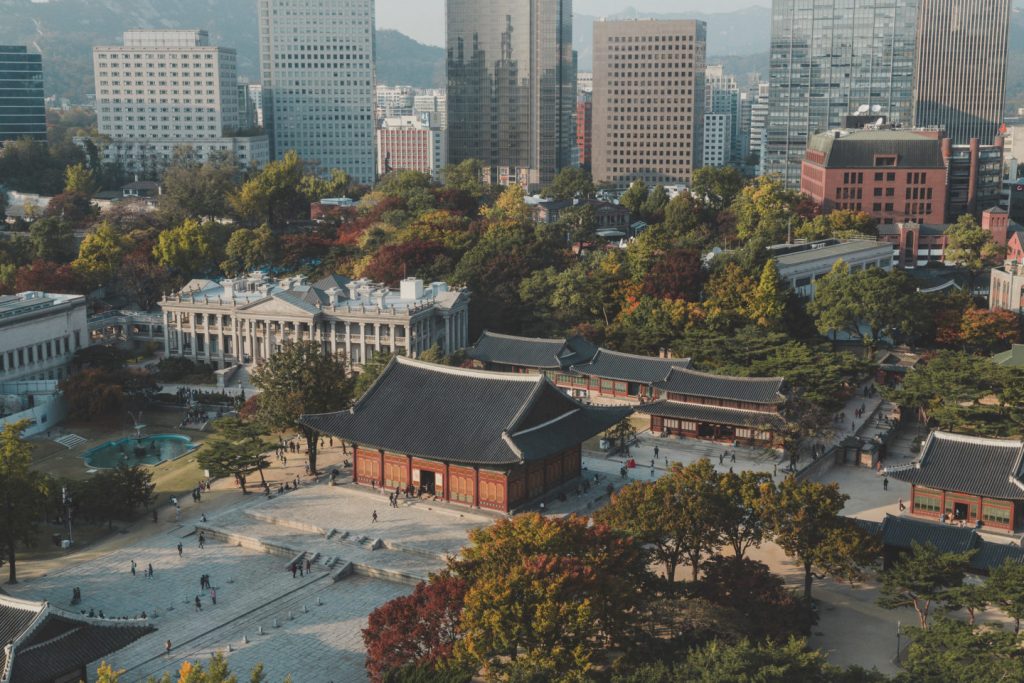 You will also be able to stroll around Bukchon hanok village, in Namsangol village (that is a bit further), at the different gates like Sungnyemun gate or just walking around like people from the past.
Bukchon hanok village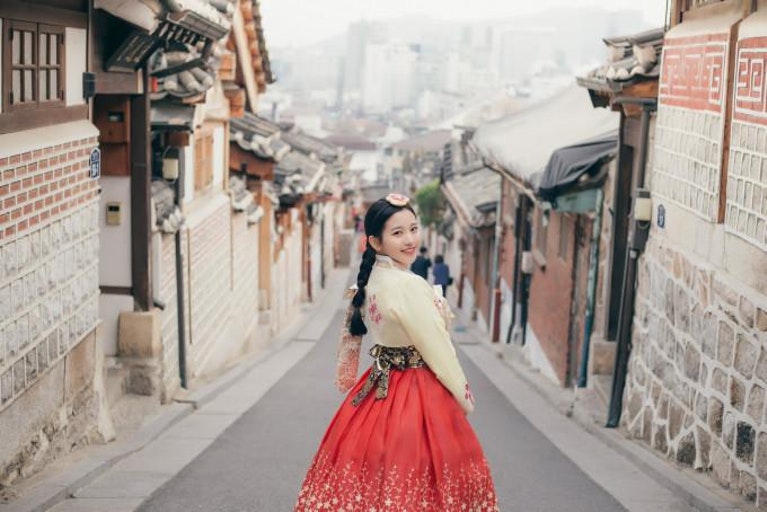 As long as you can find some Hanbok rental shop in Seoul, you will able to find some in every city in Korea.
For example, if you go to Jeonju, visit the hanok village while wearing this beautiful outfit could is possible.
Jeonju Hanok Village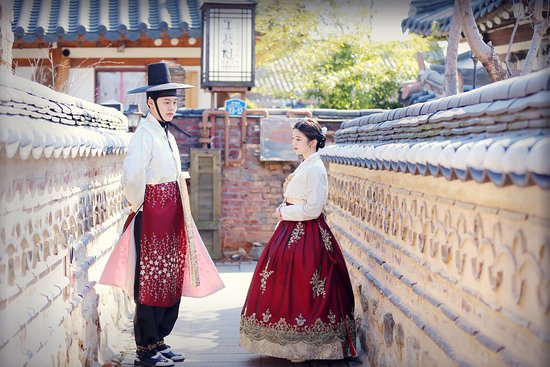 To be honest, wearing hanbok was a really nice experience, the beautiful clothes give a lot of motivation but it' not that convenient, at least, mine was not convenient. I was a bit too short so every times I had to climb stairs I had to hold it and when I was walking it was touching the ground.
I think as a tourist and foreigner we have to try it once in our life but only for one or two hours : six hours are too much !
.