As one can imagine, France and South Korea have excellent relations. It is not a secret that both countries have a knack for one another, even more, so the past recent years with the rise of awareness of South Korean culture around Europe. As the world gradually opens up to Asian culture, we notice Asia is also opening up to the rest of the world, especially France.
In recent polls, three countries stood out the most favorably in the eyes of Koreans: the United States, Australia, and France. According to the Korean Tourism Organization (KTO), among 16.05 million annual foreign tourists, a vast number come from Asia but for the first European nationality, France takes the lead! It is not surprising when we consider the number of French cultural assets present all around South Korea.
Indeed, many places around Seoul and South Korea are dedicated to France and French culture in general.
Petite France (쁘띠프랑스)
For example, Petite France (쁘띠프랑스) is a cultural village set in the countryside. The theme concept "Flowers, stars and the Little Prince" is a direct celebration of the French novel "Le Petit Prince" (1943), with a memorial hall also dedicated to its author Saint-Expury. The small village offers a unique experience with colorful houses, shops, and galleries displaying all sorts of sculptures and paintings to experience French culture to the fullest from miles away.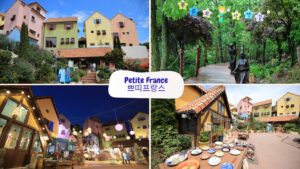 2. Seorae Village (서래마을)
Around Seoul, we can be found plenty of spots that direct appreciation of French culture. Seorae Village (서래마을) is an entire French neighborhood within the city. Many French residents moved into the area after Ecole Française de Séoul, a school for French residents, settled there. It is now considered a vastly French-populated area counting down 1,000 French citizens residing in Korea. The district is conveniently located near Gangnam and Hangang River Park and serves as a pleasant environment for all.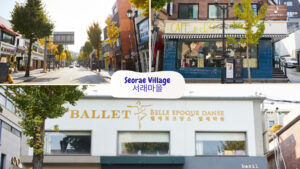 3. Montmartre Park (몽마르트 공원)
Near the area as well, Montmartre Park (몽마르트 공원) is a green space of around 20,000 m². The little hilltop forest turned into a park open to the public, where visitors can rest up and enjoy the fresh air. We gave a French name to this park, due to its close proximity to the French neighborhood, Seorae Village.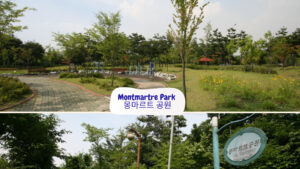 4. Paris Baguette (파리바게뜨)
We love to regard France as a country of love, delicacy, and fashion. But especially thanks to its delicious food stealing everyone's hearts. French food is famous in South Korea as well, hence a chain of bakery-cafés opened all around the capital. Paris Baguette (파리바게뜨) is heaven for desserts lover or French nationals missing a little taste of home. This multinational bakery chain offers a vast selection of desserts and beverages revisiting all the French classics!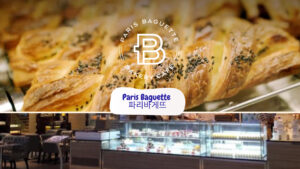 Seoul is most definitely the place to be when it comes to experiencing cultures from all around the world!