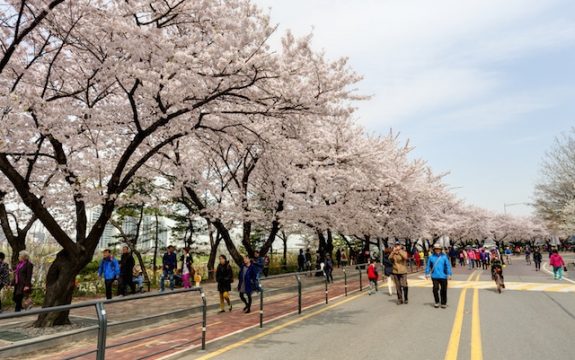 The annual Yeongdeungpo Yeouido Spring Flower Festival celebrates the full blossoms of spring  in the backdrop of the Han River at Yeouido Park. When Seoulites think of spring flowers, they think of cherry blossoms, and when they  think of cherry blossoms, they think endearingly of this annual festival at Yeouido Park.
More than 1,600 yedonsis (Yoshino cherry) trees of Jeju origin will bloom along the Han River basked in spring frangrances, in addition to nearly 90,000 flowers including azaleas, forsythias and spireas.
Visitors may follow the cherry trees along the circular Yunjung-ro (road), but the best place to enjoy the blossoms is from the southern edge of Yeouido Park to the KBS Annex Building.