Where to spot Cherry Blossoms in South korea in 2022 ?
South Korea is very famous for its beautiful cherry blossoms, which usually take place by the end of March, at the beginning of spring. 
Many tourists choose this time of the year to visit the country, not only for the pretty cherry blossoms but also for the perfect weather that goes with it. Spring is known to be the best period to visit Korea and take the most out of it. Here is a forecast map made by the website : https://m.etoday.co.kr/view.php?idxno=2113378 :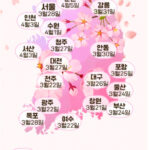 Of course, the peaks differ depending on the type of flowers and the city. In general the spring blossom last around 10 days, which gives you a lot of time to enjoy them in deferent places or cities.
If you are staying in the capital city, here are some famous spots to enjoy the most cherry blossoms and take incredible pictures.
The first place we recommend you is Seokchon Lake, located in the east of Seoul. This lake is the one surrounding the 5th tallest building in the world called « Lotte Tower ». You can enjoy a walk around the lake, and witness the beauty of the flowers blooming.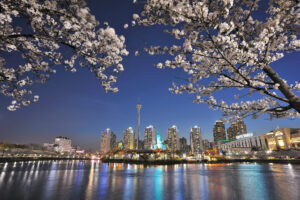 ⓒPhotographer (John Doe)-Korea Tourism Organization
Another famous spot to enjoy cherry blossoms during spring is  Yeoeuido nearby the Han River. This place is usually very visited as it is a place where you can enjoy great views, have picnics and enjoy the weather. During the cherry blossoms period it's even prettier and you don't want to miss it !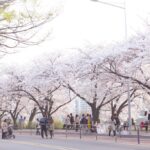 ⓒPhotographer Korea Tourism Organization
If you want to enjoy even more the famous cherry blossoms, we recommend you to visit the royal palaces of Seoul such as Gyeongbeokgung or Changdeokgung, also known as the prettiest palace. How about renting a traditional Hanbok to take even more authentic and beautiful shots?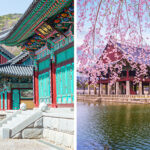 Finally, one of the most iconic places where you can witness cherry blossoms is definitely Namsan Tower. You can enjoy a walk in Namsan park and see the beautiful flowers blooming while taking breathtaking pictures.
Thanks for reading ! 🙂 
Soukaina from Etourism,