With the arrival of spring come beautiful blooming flowers, including cherry blossoms, forsythias, and azaleas. Even in Seoul, a large city filled with skyscrapers and cars, there are places to enjoy the sight and scent of spring blossoms, which be on 28th march. If you are eager to discover a different side of Seoul, visit some of the following parks to be greeted by blossoming spring flowers.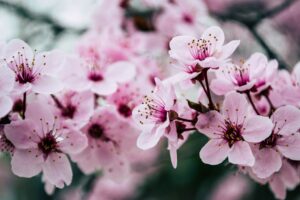 Seoul Forest
What could be better than to go for a walk in the Seoul Forest to admire the cherry blossoms? In addition to the cherry trees, you will also have the chance to discover many other flowers.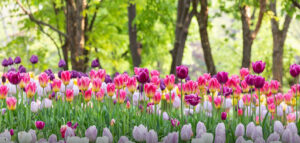 Address : 273, Ttukseom-ro, Seongdong-gu, Seoul
(서울특별시 성동구 뚝섬로 273)
Jungnangcheon Stream Cherry Blossom
Want some peace and quiet? Go and look at the cherry trees while walking along Jungnangcheon Stream Road. This little hidden corner will not leave us unmoved.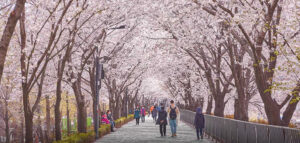 Address : Janganbeotkkot-ro, Dondaemun-gu, Seoul (Huigyeong2-dong Citizens Center – Gunjagyo Bridge section)
(서울특별시 동대문구 장안벚꽃로 / 휘경2둥 주민센터~군자교 구간)
Seokcheon Lake
Admire the cherry blossoms at Seokchon lake, near to the Lotte World Adventure and which will offer you a breathtaking sight, especially at night.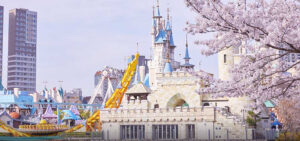 Address: Jamsil-dong, Songpa-gu, Seoul
(서울특별시 송파구 잠실동)
Seoul National Cemetery
Seoul National Cemetery is one of the most famous and visited places for cherry blossoms. There are so many of them that it looks like a waterfall of flowers.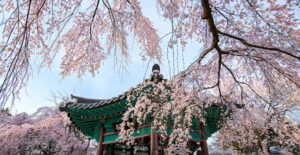 Address: 210, Hyeonchung-ro, Dongjak-gu, Seoul
(서울특별시 동작구 현충로 210)
Jeongdok Observatory
Want a global view of the city but also of the cherry trees? Go to Jeongdok Observatory, you can see hanoks surrounded by cherry blossoms.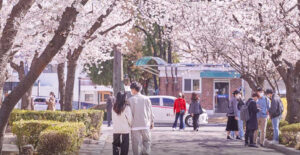 Address: 48, Bukchon-ro 5-gil, Jongno-gu, Seoul
(서울특별시 종로구 북촌로5길 48 )
Cheonggyecheon Stream hadong Plum Path
First destination to admire the blooming flowers, Hadong Plum Path along Cheonggyecheon Stream, is the perfect place to stroll. Moreover, the site is famous for being the location of a scene from Goblin, a popular K-Drama.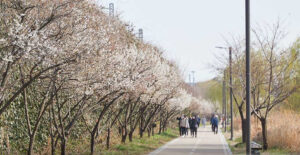 Address: Yongdap-dong, Seongdong-gu, Seoul (Sindap Station – Yongdap Station section)
(서울특별시 성동구 용답동 / 신답역~용답역 구간)
Now you just have to enjoy the cherry trees !
See you next week!
Ambre
Source :
https://english.visitkorea.or.kr/enu/ATR/SI_EN_3_6.jsp?cid=2374425