Nami Island or 'Namiseom (남이섬)' in Korean, is a small island in the North-Eastern part of the capital. The beauty of its surroundings granted it to be one of the best tourist destinations for a day trip near Seoul. With beautiful tree lanes, woodlands, riverside walks, and fun activities, Nami Island offers a romantic landscape all year round. Thanks, to its picturesque sceneries, the island was also featured various times in various Korean dramas, especially romance types. A famous one being 'The Winter Sonata', which also led to the island's rise to popularity with flocks of K-dramas lovers wanting to visit the location.
Four seasons at Namiseom
The beauty is reflected as well in Winter than in Summer this is why there's no "best time" to visit Namiseom. The island is a little paradise offering something special in every season.

Spring
In Spring, the fauna and flora are starting to bloom leading to incredibly stunning cherry blossoms, from early April to mid-April. Weather: air is crisp and cool, but the temperature is pleasant (around 20°C)
Summer
In Summer, you can find lush greenery on the island, so perfect for a tour on a bike. The weather is hot and humid in Korea, especially around August, and sometimes with rain showers (above 30°C).
Autumn
The fall foliage of different orange variations offers a spectacular view of the island from mid-September to November, all that with a pleasant temperature surrounding 20°C and cool and dry weather.
Winter
Because of the famous K-drama "Winter Sonata", Nami Island is well-known to be a popular romantic winter destination! During that time, you can easily find snow-covered trees giving a magical place despite the icy temperatures.
5 must-visit spots in Namiseom
Nami Island has plenty to offer in terms of attractions and sights, among which: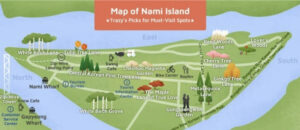 Central Korean Pine Tree Lane
The heart of the island can be reached via a beautiful walk surrounded by tall pine trees.
A must-stop for admiring the beauty of vibrant yellow ginkgo leaves in the fall.
A walkway that is surrounded by enormous redwood trees and provides stunning vistas.
You may enjoy breathtaking views of the lake and the surrounding mountains from a wooden walkway that circles the water's edge.
Gongsaengwon Garden (The Winter Sonata statue)
A statue of the significant figures from "Winter Sonata" may be seen in this garden, along with a designated area for taking photos as mementos.
How to get to Nami Island from Seoul?
Nami Island, which lies in the northeastern city of Chuncheon and can be reached from Seoul in about one and a half hours, is close enough for a day trip. Either use public transportation or book a tour.
Going by public transport is possible, however, expect to take at least 2h and ½ to get to Namiseom from Seoul. The route is to get to Gapyeong Station from Seoul either by bus/subway or ITX train and then get a taxi from the station to the Island ferry harbor. The perks are that the traveling is lower, and you can travel at your own pace, but you must plan by yourself which can be quite tricky for people unfamiliar with the Korean public transport system.
While booking a tour, you can explore the city entirely on your own. It can also significantly shorten your travel time and improve your comfort. Some other well-known locations nearby are the Garden of Morning Calm, Petite France, Italian Village, Gangchon Rail Park, and Gapyeong Rail Bike, which can all be seen as part of a tour, which is another excellent choice.
Enjoy your trip!
credits : <here>