Top 5 Souvenirs to Get From South Korea
If you are traveling to Korea soon and you are wondering what gifts and souvenirs you should get to your friends or family, then you are in the right place. Indeed, many people love buying souvenirs to their friends and family because they want to share some of their emotions and experiences they went through during their trip, and bring some home.
Here is a top 5 of the most famous souvenirs to get after a trip to Korea.
Korean Socks

You may have noticed that in Korea socks are everywhere, for all tastes colors and styles. You can get some anywhere, for a very cheap price, and this is a souvenir that can easily fit in your suitcase, not too heavy and easy to transport. also, since it's socks, no need to know the exact shoes size of your friend ! Usually the prices are around 1000 won the pair of sock, pretty cheap !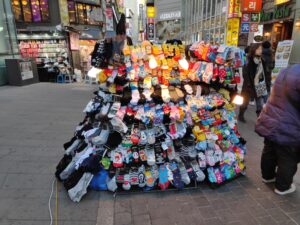 2) Korean Skincare Products
You cannot leave korea without buying some korean skincare products ! Indeed korea is known worldwide for its wide range of high quality cosmetic products, for all kind of skins, young and adults, men and women. What tourists mostly get are the face masks, that you can get anywhere. You will often see big sales on them such as 10 + 10, especially in Myeongdeong streets. Make sure to get some, as you can offer them to many friends or family since you can buy a stock of them while in Korea !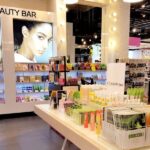 3) ginseng
Known for about 4,000 years in Asia, it took many years before more and more Ginseng products arrived in the West. It is now famous all over the world for its health and healing properties. In Korea, you can find it in all forms (drink, dried snack and even as a supplement). We especially like to offer this kind of products to our parents to keep them healthy ;). Don't be surprised by the price which can be high. Indeed, Korean Ginseng has the best quality in Asia, so an exceptional product deserves a small investment that is well worth it.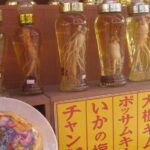 4) Korean Snacks
In Korea, there is a multitude of snacks of all kinds. Whether you like salty or sweet, you will find something to your taste ;). You will find them mainly in mini-markets or supermarkets. Here are some brands of snacks you should try: tom's farm almond, bibigo (seaweed crisps), binggrae (banana milk), Pepero (Korean mikado), Market-O Real Brownies, Kkokkalcorn (corn chips), Honey Butter Chips, Mongshell (sweet chocolate cake with cream filling), etc.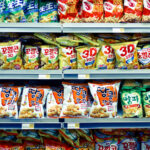 5) Kpop and Kdrama relatd goods
For all K-pop and K-drama fans, your arrival in Korea will be an unforgettable moment. Between the filming locations that you can see with your own eyes and the stores selling KPOP albums and goodies, you will be in paradise. We advise you to go to Myeongdong district to do your Kpop shopping. Indeed, you will find everything you are looking for for a reasonable price, mainly in the stores located in the subway.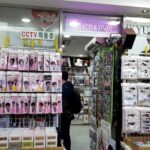 Thanks for reading ! 🙂 
Soukaina from Etourism,