TOP 5 MUST VISIT BEACHES IN SOUTH KOREA IN 2022
In today's blog we are going to introduce you to the top 5 must visit beaches in South Korea in 2022. As summer is getting closer you are probably planning your holidays, so why not try visiting South Korea and enjoy its sunny and beautiful beaches ?
Haeundae, Busan

Haeundae Beach is the most famous beach in South Korea. The white sand beach is roughly 1.5 kilometers long, over a 30- to 50-meter wide area, creating a beautiful coastline before a shallow bay, making it perfect for swimming.

People flock to Haeundae Beach every summer. All kinds of accommodations from luxury hotels to private guesthouses have developed in the area around the beach, making this the perfect summer vacation spot. Haeundae Beach is also famous for various cultural events and festivals held throughout the year.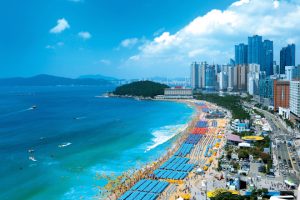 2) Seobin Beach, Udo Jeju-Island

Udo Sanho Beach, often referred to as Peanut Island, is a red algal nodule beach. The nickname is given thanks to the locally grown nuts that are ground into almost every foodstuff.

The ocean here varies in colors, from bright emerald to deep sapphire according to its depth for a view incomparable to any other ocean views. It's South Korea's only coral beach — the sand is actually tiny particles of the stuff.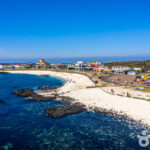 3) Hajodae Beach, Gangwon-do

Hajodae Beach is located in Yangyang-gun famous for the beautiful scenery of the deep blue ocean, soft sandy shore, a nearby lighthouse, and unique rock formations and stony islets. The beach is roughly 1.5 kilometers, at an average width of 100 meters, and a coastal incline of 1.5 meters. During the summer season, visitors can pay to pitch a tent on the beach or in the pine forest campground.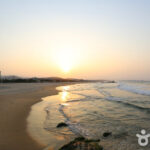 4) Hamdeok Beach, Jeju Island
Hamdeok Beach can entertain as many as 50,000 people a day. Roughly 500 meters wide of shallow waters with virtually no waves, this spot is a favorite for families. Complete with modern changing rooms, showering facilities, a parking lot for 300 cars, private lodgings, and camping grounds, it is the most developed in terms of amenities. Particularly, the opening of the beach during after-hours was a huge sensation last year, and is continuing this year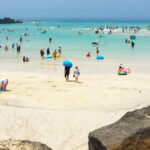 5)  Eurwang-ri Beach, Incheon

Eurwang-ri Beach, located in Jung-gu, Incheon, was designated as a National Tourist Site in 1986. Approximately 700 meters in length with an average depth of only 1.5 meters, the beautiful white sand beach is known for amazing sunsets. The beach also has a large grass field and accommodations for those that enjoy various sports. Visitors can also rent boats for fishing.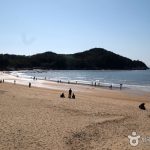 Thanks for reading ! 🙂 
Soukaina from Etourism,