TOP 5 K-Drama filming locations in Seoul, South Korea 
In today's blog we are going to introduce you to the top 5 filming locations you shouldn't miss when visiting South Korea's capital city : Seoul. If you are a kdrama lover, a kdrama addict, then this post is made for you !
   1. Danbam, Itaewon Class
You surely have heard of Itaewon Class Drama which was released in 2020 and became one of the most watched K-dramas that introduced many people to watching k-dramas. This series starring Park Seo Jun was very appreciated not only in Korea but also abroad. Therefor, many fans come to Seoul and especially to Itaewon to visit the bar where the drama was shot. It is located at the entrance of Itaewon, nearby the subway.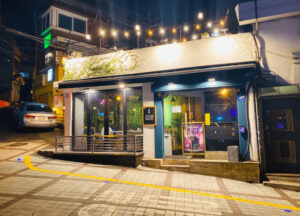 2. Coffee Prince 1st Shop
Coffee prince is and old, but gold, k-drama that was released in 2007. For many k-drama fans, it is one of the top 10 must watched and appreciated Korea dramas. When visiting Seoul you can go to the coffee where most of the drama was shot, and get a glimpse of where your favorite k-drama actors shot one of the most famous dramas ever.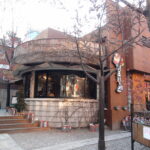 3. Namsan Tower – Boys Over Flowers
Surely any k-drama fan would say that Boys Over flowers is their favorite K-drama, if not, it is definetly in their top 5. It is also the first k-drama for many viewers, since it's mainly known for being the drama that introduced korean culture and dramas to the world in 2009. If you want to feel closer to the K-drama, make sure to visit Namsan Tower were many romantic scene starring the main actors where shot.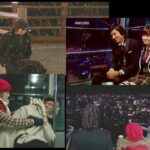 4. Bukcheon Hanok Village – True Beauty
Released in 2020, True Beauty was a huge success among k-drama lovers, and even among people who never watched k-dramas before. Based on a webtoon, this series is loved by everyone. If you want to visit one of the shooting locations, we recommend you to go to Bukcheon Hanok Village, where the main actress lives during the drama, and where the famous bookstore is located as well.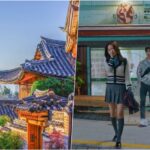 5. Hongdae – Doom at your service
Hongdae is one of the filming locations of the k-drama called "Doom at your service" that was released in 2021 and which is available on Netflix platform. Indeed, Hongdae is a famous place for young people, for partying, having fun, and shopping too ! You see this place quite often in the drama, so make sure to visit it !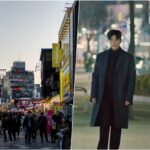 Thanks for reading ! 🙂 
Soukaina from Etourism,