Welcome everyone, if you are addicted to hiking, this blog is for you. Today let me introduce you the top 5 best places for hiking in Seoul.
1.Bukhansan National Park
A gigantic national park is rarely located within the borders of a major city, but that's the case in Seoul with Bukhansan National Park. In fact, Bukhansan National Park is the most popular hiking destination in South Korea. Park covers both Bukhansan and Dobongsan Mountains, and spans the total area of 80.699 ㎢. At the top of Bukhansan Mountain are Baegundae Terrace (835.6 m), Insubong Peak (810.5 m) and Mangyeongdae Terrace (799.5 m), which gave the mountain the nickname "Samgaksan" or the "three-horned mountain." Bukhansan National Park are easily accessible thanks has several entrances in park from anywhere in Seoul via subway and bus.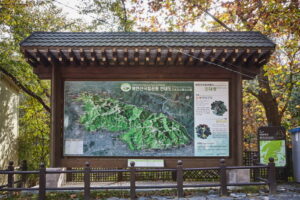 2. Ansan Jarak-gil
At an altitude of 296m, Ansan Mountain is relatively low compared to other mountains in Korea and yet you can still enjoy the sights and scenes of a Seoul's mountain. Also accessible to everyone. It is the first barrier-free mountain trail in the country allowing visitors of all ages to experience walking in the woods. The entire loop is 7 kilometers long. You could finish it quite quickly. I recommend that you stop along the way to take pictures and enjoy the views and nature.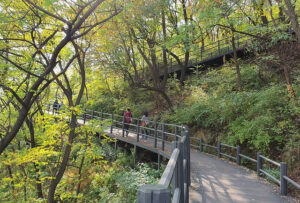 3. Achasan Mountain
Achasan Mountain, reaching an altitude of 295.7 meters and the entire loop is 6.1 km loop route. This mountain is an extremely popular hiking spot for residents of Seoul. Generally considered a moderate hike, it takes an average of 2 hours and 24 minutes to complete. This is a popular hiking area, so you'll probably run into a lot of people on your trip. You can access it year-round and it is well worth the experience in any season.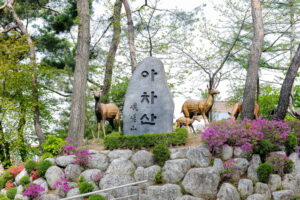 4. Bugaksan Mountain
Bugaksan mountain is located behind Gyeongbokgung Palace and easily accessible from downtown Seoul via Changuimun Gate. You can a lovely short walk of 2-3 hours along the city walls. It attracts many visitors and is also famous as the Seoul Fortress wall hiking course surrounded by nature. You can enjoy the nice views of the city.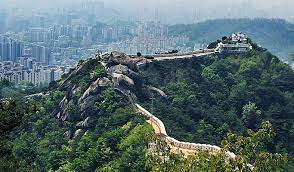 5. Namsan Dule-gil
If you are looking for a relaxing walk, this is the place to enjoy it. In the heart of Seoul, Namsan Dule-gil is a 262 meter high hill that you can hike in less than an hour. It is not considered a hike but you can still enjoy a nature trail in the center of Seoul that has a different look for all four seasons with a beautiful forest path in the center of the city. Enjoy the flow of streams and nature.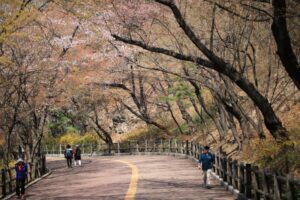 Thank you for reading. See you soon for a new article !