Top 3 places to enjoy nature in Seoul
In today's blog we will introduce you to 3 places that can get you closer no nature while being in Seoul city! No need to go far, you have all you need in Seoul !
Make sure to read till the end !
Seoul City Wall
The Seoul City Wall was originally built in 1396, surrounding Seoul (then known as  Hanyang) during the Joseon Dynasty (1392-1897). The wall stretches for 18.6km along the ranges of Bugaksan Mountain, Naksan Mountain, Namsan Mountain, and Inwangsan Mountain. The wall stands at average heights of 7 – 8 m high. Along the Seoul City Wall, there once stood eight gates that were originally built between 1396-1398, but only six remain standing. The North, South, East, and West gates of the wall are known as the "Four Great Gates" (Sukjeongmun, Heunginjimun, Sungnyemun, Dongeuimun), while the Northwest, Northeast, Southwest, and Southwest gates are known as the "Four Minor Gates" (Changuimun, Hyehwamun, Gwanghuimun, Soeuimun). 
This place is a nice spot to get close to nature, as you are surrounded by trees and flowers depending on the seasons, and you get a great view of the city and all the mountains surrounding it.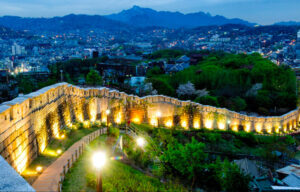 2) Seoul Forest
Opened on June 18, 2005, Seoul Forest had previously undergone a series of changes on Ttukseom Island. In the past, the forest had been a royal hunting ground for kings and served as a military inspection facility. However, in more recent decades, the area has served a wide variety of functions. Ttukseom initially served as a water treatment facility, and later as a golf course, horse racing track, and eventually a sports park.
Consisting of five parks spread over approximately 595,000 ㎡ of land, Seoul Forest is an eco-friendly zone appreciated not only by the people of the city but also those visiting Seoul. Seoul Forest is rapidly developing into the premium city-park of Korea like Hyde Park in London and Central Park in New York.
Therefor, Seoul forest is the perfect spot to get close to nature during your trip to Seoul. You can do sports there, have a walk, or even a picnic !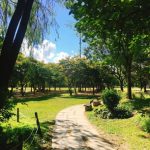 3) Yeouido Hangang Park
Situated in Yeouido, the heart of politics, media, banking and finance, Yeouido Hangang Park is easily accessible via public transportation. The park hosts many exciting events, from the Yeouido Cherry Blossom Festival in spring to the International Fireworks Festival in fall, as well as concerts and marathons throughout the year. Well-preserved natural areas such as Bamseom Island and Yeouido Saetgang Tributary provide visitors with an opportunity to learn about nature and ecology. In addition, thanks to the Hangang Renaissance Project, the park is full of new attractions: the Water Light Square, waterside fountains, a riverside stage, a yacht marina, and more.
There, you can enjoy natural landscapes, especially during the cherry blossoms where the trees alongside the river bloom.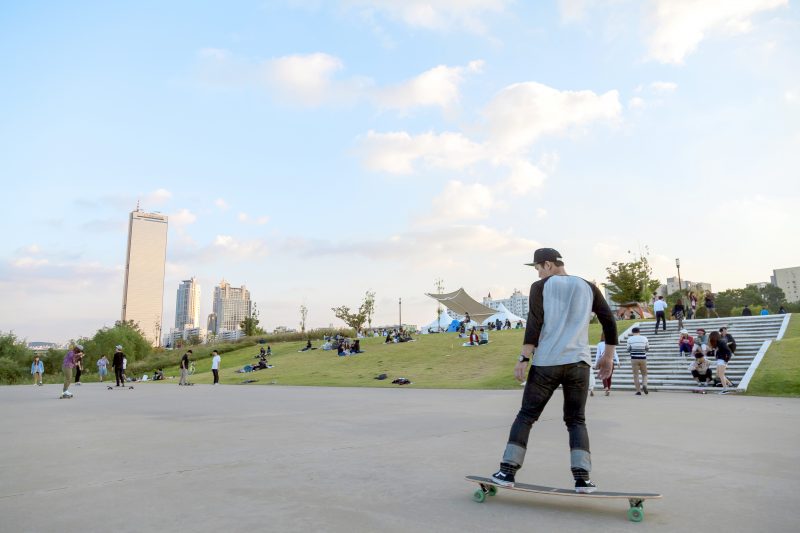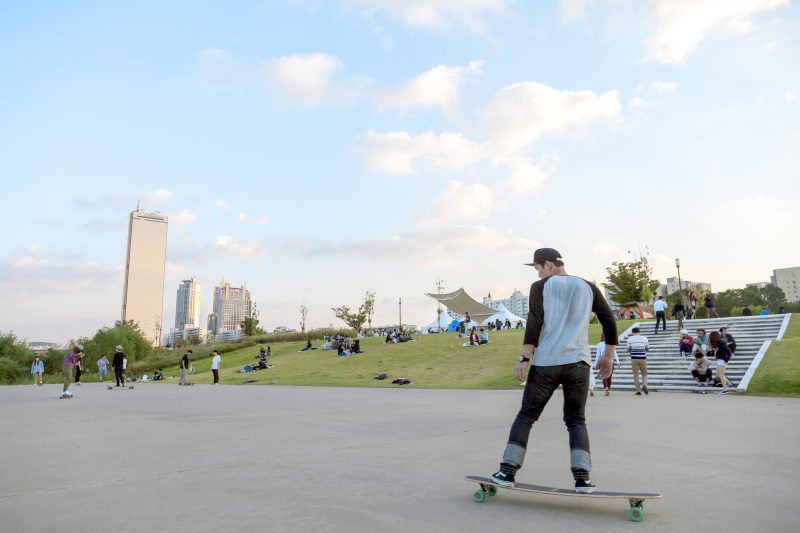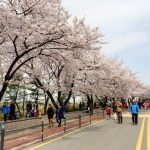 Thanks for reading ! 🙂 
Soukaina from Etourism,