Welcome everyone, today let's me introduce 3 most originals cafes in Seoul according to my experience.
Grim factory

 
The first one is Grim factory, it's a cafe you can take your coffee, some dessers and same time create you own paintings. With my friends, we decided met in this paint cafe for take a good time and let our creative but before going there, we had to book . We ordered some coffee and desserts, we could choose the size the canvas and the employee installed us. Before start, I had to thinking some models and some minute I find. I started painting the model in my head, I was so concentrated maybe I finished my painting in 2 or 3 hours. I was so satisfied and it was an excellently experience .
Here is my painting !
📍Located: Jamsil, Hyehwa and Yeonnam-dong. 
2.    Pottery cafe
Pottery Cafe Jool is the second original cafe, located in Seogyo-dong. This cafe it was very good experience. When I went in this cafe, I could some models for made my own ceramics pottery. After to have choose my models, the staff give the material for start our model and I started my ideal pottery. I drawing on my model, painting too and after finish all. I could wait for it to dry. For me, its memorable experience and it enjoy.
3.    Cafe Onion Anguk
Finally, the last cafe is Cafe Onion Anguk located in Jongno-gu. This cafe that looks Joseon dynasty architecture in middle the buildings. When I see this place it's like if I change of period with traditional architecture and the interior is minimalist. I could seat outside or interior, there are not chair, only little tables and I must seat on the floor like in old time. After that I installed, I will order my drinks or some foods. This place it was so authentic, I enjoy a lot, take my time for contemplating the place, it's something that I had to do, just live the experience.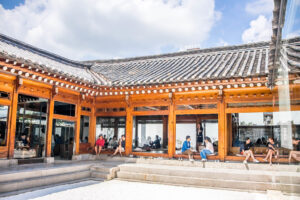 Thank you for reading and we hope that you will visit some or all of them.
See you soon for a new article ! 😊