Top 10 places to visit in autumn in South Korea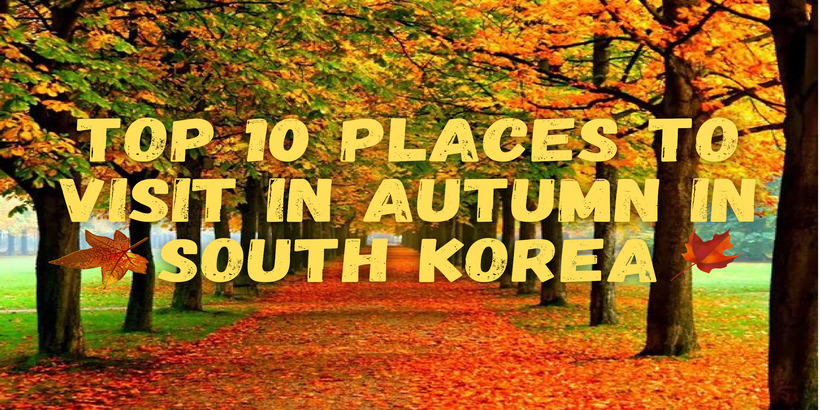 Autumn in South Korea – Why visit at this time and where to go to make the most of this season?
           There are so many reasons why you should visit Korea between September and November during autumn. The colorful turning leaves are accompanied by amazing weather. The temperatures are optimal during this time, allowing you to explore in comfort. Here is a blog that will introduce you to the Top 10 places to visit during autumn in South Korea to get the best glimpse of foliage leaves and enjoy autumn holidays to the fullest! For those who haven't read our blog about the Top 5 mountains to visit during autumn in Korea make sure to click this link to read it!
If you want to get more information about autumn activities that we offer click the link here to discover what we have to offer you
👉🏻 https://www.koreaetour.com/?s=autumn
      Autumn Temperatures In South Korea 
September : 19°C average
October : 13°C average
November : 5°C average
A) Places within Seoul city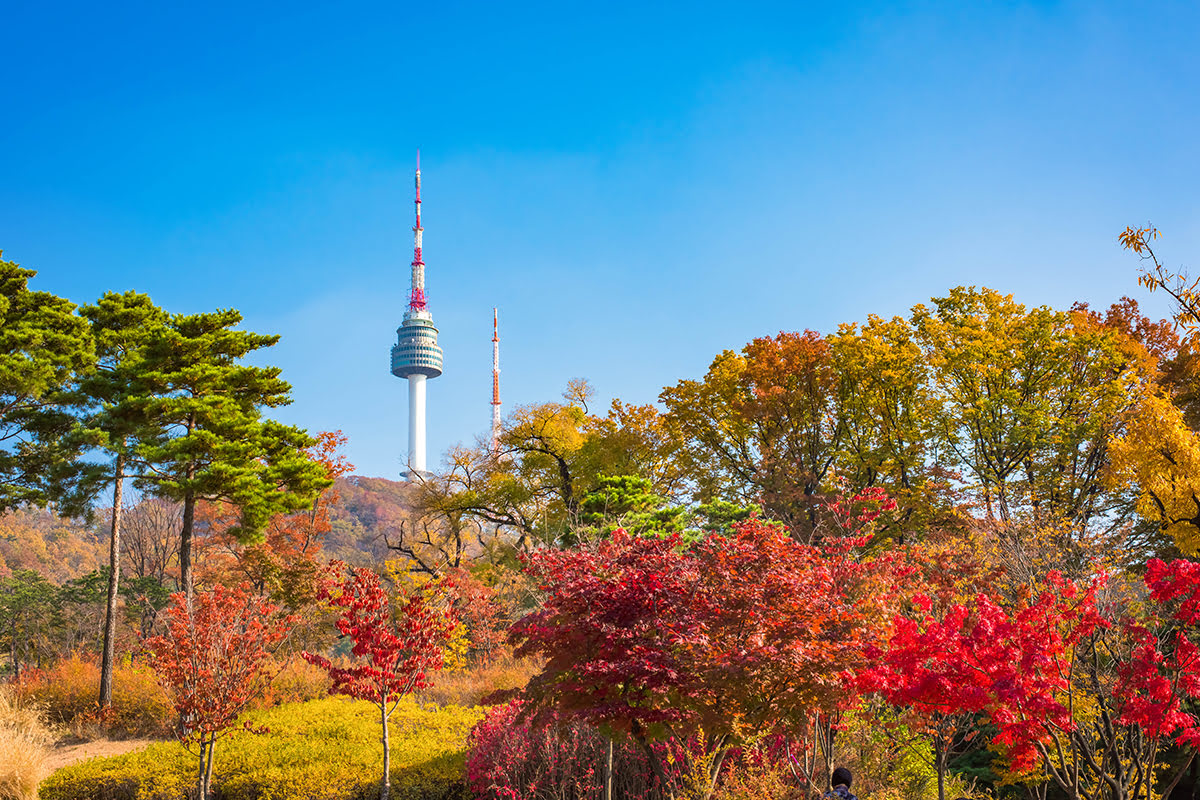 Namsan Tower & Namsan Park
Established as a broadcasting tower to send TV and radio signals in 1969, Seoul Tower, located in Namsan Mountain, has now become a symbol of Seoul and a famous tourist attraction. It offers fantastic views of the city of Seoul. Every season is a good time for a walk. In spring, you can admire the cherry blossoms and when autumn comes, the landscape changes completely to its most beautiful colors.
If you don't want to hike to the top, you can take the bus or the cable car which brings you directly to the top of the mountain. However, we highly recommend visiting during autumn and that you walk the route to admire the fall foliage. As you can see in the picture above, the colors are resplendent and you will not regret having gone up on foot! Take advantage of it to take beautiful pictures, and if you want to avoid the crowd go there early in the morning and enjoy the view just for you!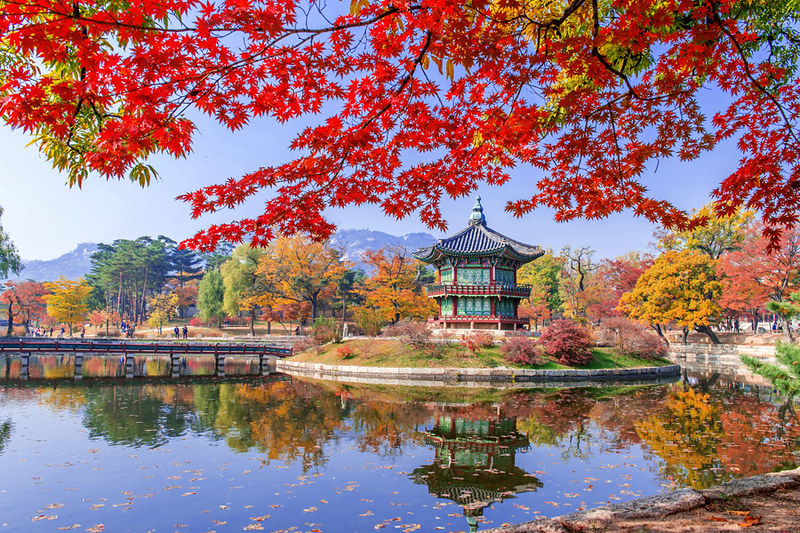 Changdeokgung Palace 
Known as a UNESCO World Heritage Site, Changdeokgung Palace is one of the best palaces in Seoul to admire the autumn foliage and especially the secret garden that many love to visit. Very mysterious, the garden was a place where former royalty could rest. Here, you will become one with nature while enjoying a unique peace and tranquility. This place is a must-see if you want to see the real beauty of autumn in South Korea and dazzle your eyes with thousands of bright colors. Make sure not to miss this place, and even more if you're staying in Seoul since the palace is downtown!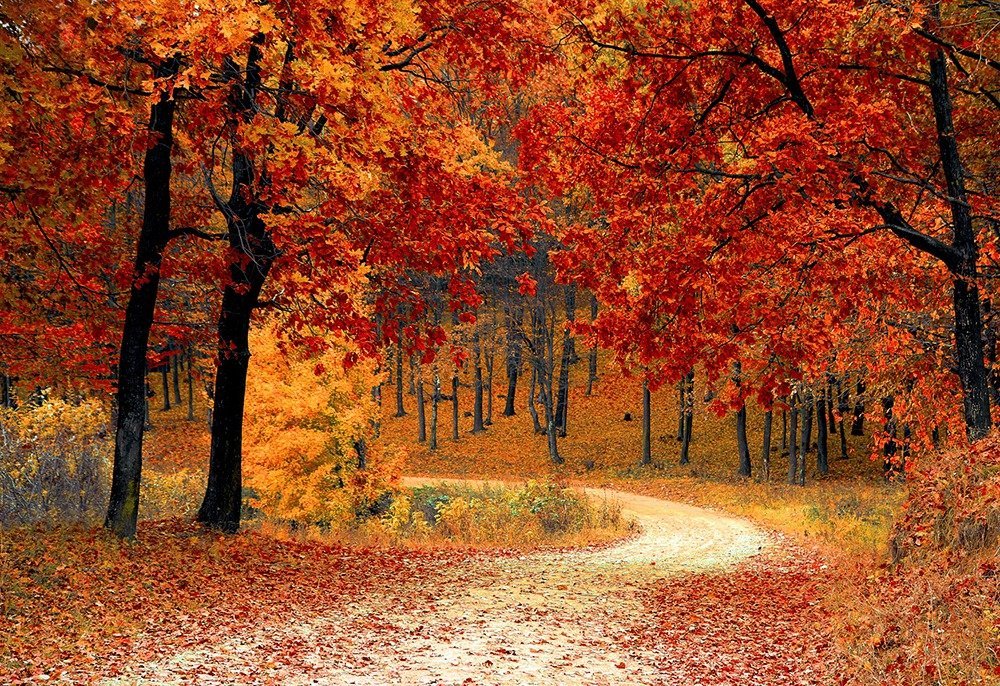 Seoul Forest 
Opened on June 18, 2005, Seoul Forest used to be a hunting ground for the King. Ttukseom, where Seoul Forest is located, used to be a water treatment plant, a golf course, a racetrack, and a sports park. Consisting of five parks and covering more than 350,000 pyeong (about 1.16 million ㎡), Seoul Forest is now an important ecological area in the capital. One of the highlights of this place is the forest vegetation that is best beautiful in autumn with all the colorful and bright foliage. This is probably one of the best autumn foliage destinations in Seoul, very large and very well preserved. Don't miss out on this place and make sure to visit it with your friends or family during your trip !
B) Places outside of Seoul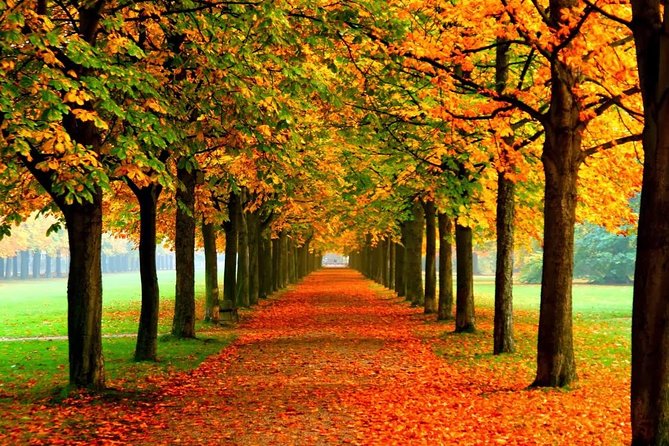 Nami Island 
Nami Island is one of the most popular and must-see islands for visitors in South Korea. With a circumference of 5 km, this small crescent moon-shaped island is particularly known for being the location of the famous Korean drama Winter Sonata (2002).
From mid-September to November, visitors can enjoy the spectacular autumn foliage on Nami Island. The reed beds along the river are another gift of nature to be enjoyed in autumn. In autumn, this is one of the famous "fall foliage destinations" where the trees turn into flowers for a short time, with the leaves turning from green to red, orange, yellow, gold, and rust. Many people look forward to fall to visit Nami Island during that period and take shots of this rare scenery that can only be seen on Nami Island. Not only the scenery is beautiful but there are also lots of activities to do there such as renting a bike or going on a boat trip! Make sure to visit Nami Island on your autumn bucket list when visiting Korea!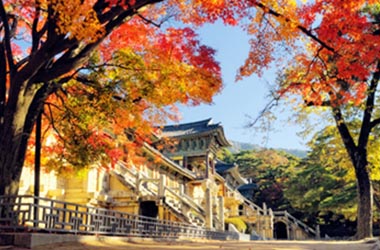 Bulguksa Temple
Bulguksa Temple is located at the east of Korea's ancient capital, Gyeongju, nicknamed the "City of Walls" for the wealth of preserved historical buildings it possesses. Known for its masonry art, there is no better time of year to explore this magnificent relic of the Silla Kingdom – and no better place to find tranquility than in the autumn foliage at Bulguksa.
In the morning, Bulguksa is empty of visitors and tourists, so it's the best time to take a leisurely stroll around the sacred grounds of the temple complex and admire the bright red foliage of autumn.
Away from the crowds you can enjoy the spectacular views, and for those who love photography you can take nice shots of the place, filled with colors. You can even participate in an overnight temple program, where you can take part in traditional tea ceremonies and other activities with the local monks. Take advantage of your autumn stay in South Korea to visit this splendid place that will take your breath away!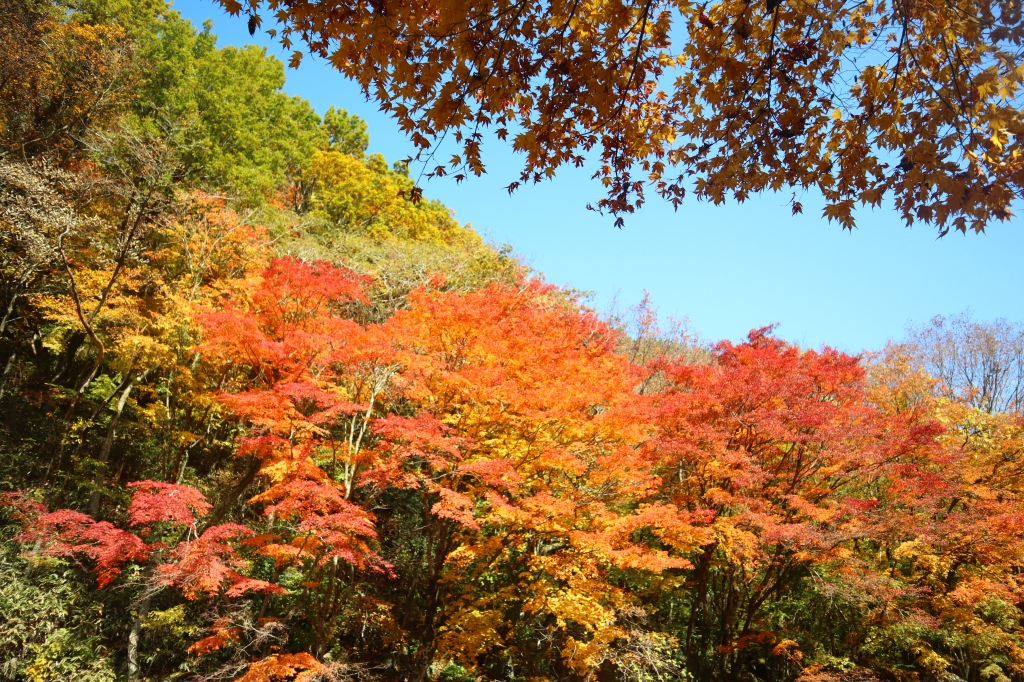 Halla Eco Forest Jeju
Located in Jeju Island, Halla Eco-Forest was originally a grass plain that was neglected for a long period before being restored as a forest. It is a place where people can enjoy biodiversity and trekking in the woods. It is home to around 500 species of animals and 760 species of plants. Sutmoreu Forest Trail, leading to Jeolmul Natural Recreation Forest, is the most popular trekking course in Halla Eco Forest. It is also playing a major role as low-temperature resistance experiment forest and carrying out research on proliferation of the plants to restore the damaged areas in Hallasan Mountain. Halla Eco forest is probably one of the best places to go to in Autumn to enjoy the beauty of foliage in Jeju island. Since it's a natural space you will witness the authentic autumn foliage of Korea and enjoy it to the fullest! Make sure to visit this place and take amazing colorful pictures that you can share on SNS !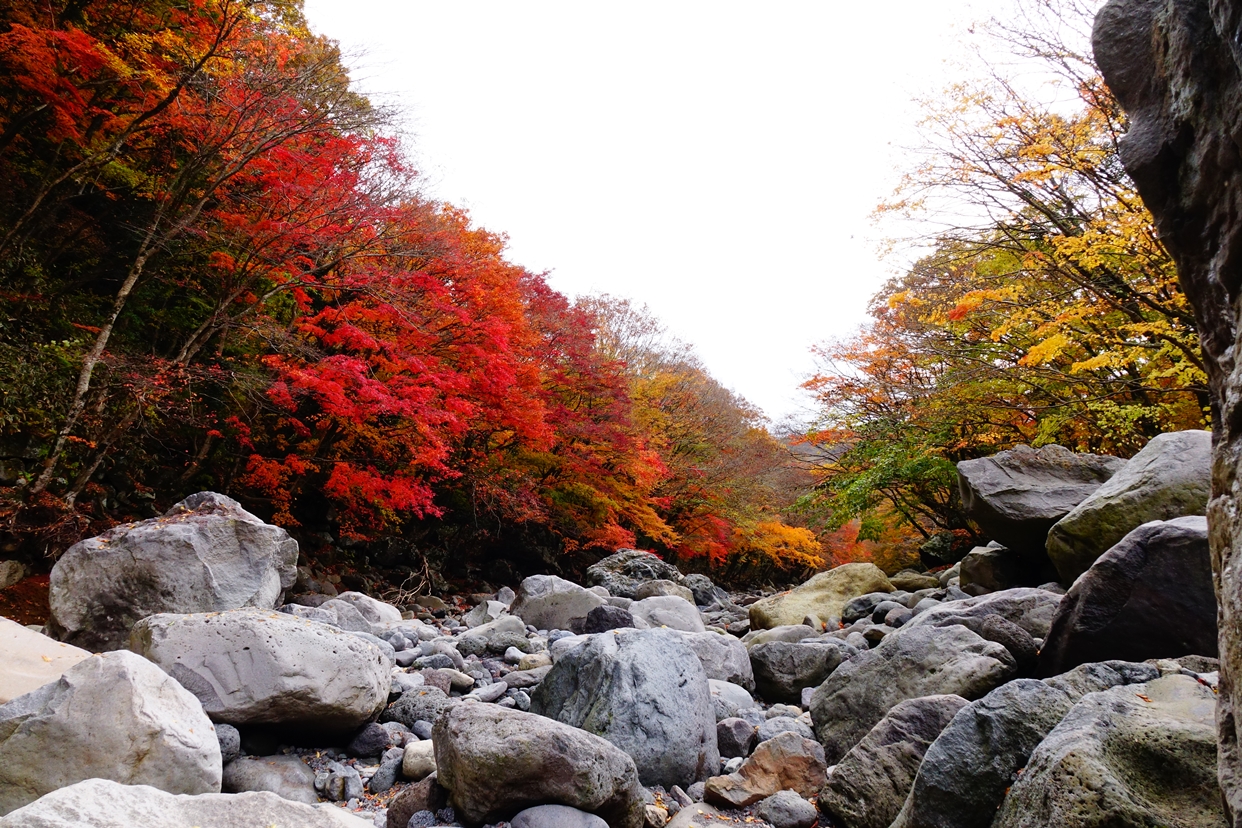 Cheona Forest Path & Valley 
Located at the entrance of Hallasan Mountain in Jeju Island, Cheona forest path is a 10,9km route from Dol Oreum to the Cheona Basin. In autumn it's one of the best places to see the leaves of the valley turning bright yellow, orange, and deep brown. There is also a Valley, commonly called « Cheona Valley » that you will see while following the forest path. If you want to enjoy to the fullest and walk the entire course, it takes about 3 hours and 40 minutes to complete one way.
This is the perfect place to enjoy a walk among autumn foliage, in a natural place, far from the crowds, with a colorful background that will make you feel very at peace. Make sure to visit Cheona forest path and the valley !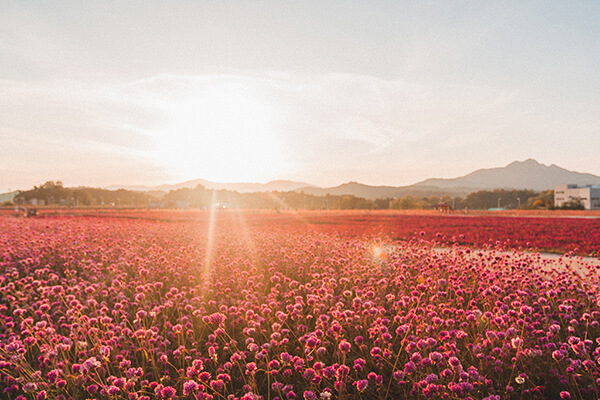 Yangju Nari Park 
Known as one of the prettiest autumn spots in Korea, Yangju Nari Park is located in Yangju city in Gyeonggi. The red, orange, brown and golden leaves will make you all excited and joyful. Located about an hour by train from Seoul, Nari Park seems to be alive the most in Autumn with plots and plots of autumn blooms in purple, orange, white, pink, red…
We guarantee you that the pictures you will take there would probably be the best you've ever taken in autumn! From September to October you have the chance to see these gorgeous flowers starting to bloom. If you like photography you may stay half a day or  the whole day in Nari Park, so be prepared and don't miss this opportunity !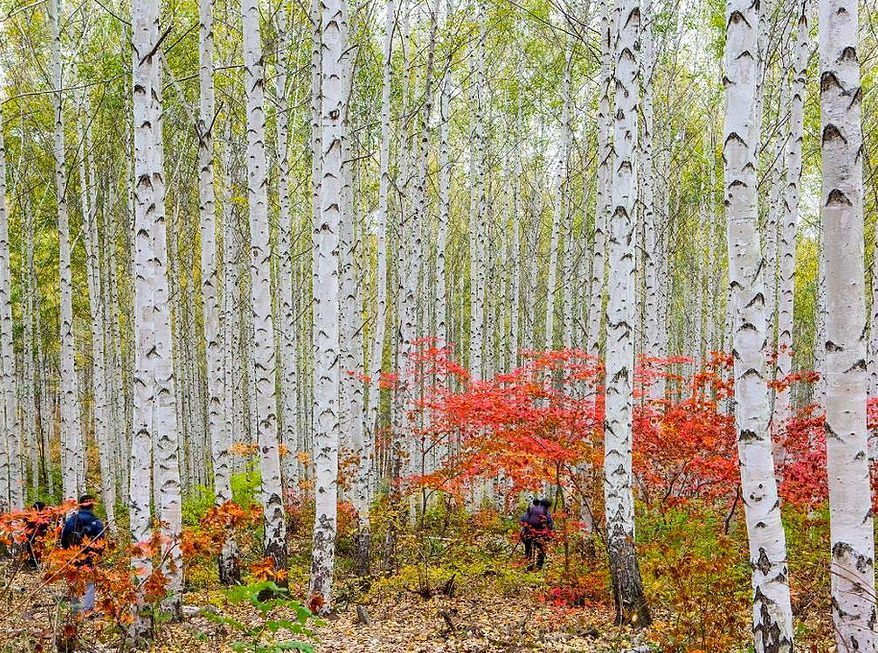 Wondaeri Birch forest 
Wondaeri Birch Forest is a beautiful nature sanctuary with more than 700 000 birch trees planted within a total of 138 hectares of landscape. This treasure of the nature offers various hiking courses that will make you immerse in the forest and enjoy the splendid colors of autumn. The views are amazing since foliage leaves colors make the tall white birch trees seem even more beautiful and puts them in the spotlight. Wondaeri Birch Forest is listed as one of the top 100 must-go destination by the Korea Tourism Organization and is visited by over  224 000 visitors annually! Visited during all the seasons, tourist really enjoy visiting during winter but especially during autumn as the view is breathtaking and it's something you rarely get to see! So make sure to add Wondaeri Birch Forest on your Itinerary in autumn when visiting Korea !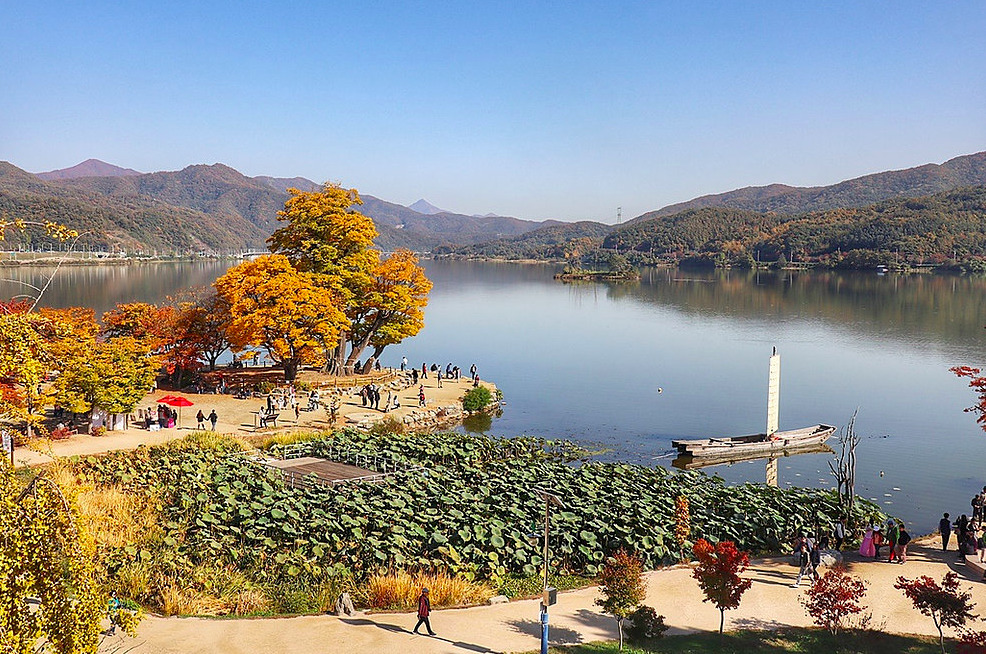 Dumulmeori
Dumulmeori literally means "area of two waters" and refers to the place where the rivers of Bukhangang and Namhangang meet. The old ferry dock and weeping willows add a touch of rustic beauty to the place. Also, don't miss the three 400-year-old zelkovas trees, which seem to be united into one giant tree. Dumulmeori is privately owned but remains popular as a setting for television series, movies, commercials, wedding photos and nature shots.
If there is one season when you should visit this place, it's definitely in Autumn. Seeing the old trees still colorful and bright, with red, orange and yellow leaves, surrounded by the water is such beautiful scenery that you shouldn't miss!
MAP OF THE TOP 10 PLACES TO VISIT IN AUTUMN IN KOREA