When staying in Korea for a certain period or when you don't feel like going out, you might wonder how to order delivery. But how can you order delivery in Korea? Can hotels or guesthouses assist with that? Are there alternative methods available?
For foreigners like yourself living in Korea, it can be challenging if you're not fluent in the local language. However, if you lack confidence in your spoken Korean, there are several Korean food delivery apps available that can help overcome language barriers and alleviate ordering anxieties. Here's a guide on how to use these food delivery apps in Korea.
1.Coupang Eats Food Delivery (쿠팡 이츠)
Area Coverage: Seoul Metropolitan Area
Available Languages: English and Korean (Mobile App)
Coupang Eats is a relatively new player in the market but has quickly risen to become one of the leading food delivery apps. Its standout feature is the exceptional delivery speed, with every order arriving within 15-20 minutes without any delays. Additionally, you can track your delivery in real time through the app. One of the advantages of using Coupang Eats is its English language support, making it a convenient option for those who may have difficulty with Korean.
Payment method: orders can be done directly through the app.
Coupang Eats is available on Android, and iOS, and also has a web version for your convenience.
2. Yogiyo Food Deliver (요기요)
Area Coverage: All provinces in South Korea
Available Languages: Korean (Mobile App), English (Web, Google Translate)
It's truly remarkable to discover the convenience of ordering food anytime and anywhere in South Korea, and this app makes it all possible. Undoubtedly one of the most popular food delivery apps, it offers delivery services across almost the entire country. While the app is in Korean, it also has a web version that can be accessed. This means that non-Korean speakers can visit the Yogiyo website and use Google Translate to translate the page into English.
Restaurants are conveniently categorized based on food types for easy browsing.
How to Use:
Create an account using a valid email address.
Tap the address bar at the top to set your delivery location. Yogiyo will then locate you and present a list of nearby restaurants.
Choose your desired restaurant. You can either tap on the food type to find a restaurant or directly search for a specific restaurant using the search bar.
Explore the "메뉴" (Menu) or the popular menu section "인기메뉴" (Popular Menu) featuring pictures to assist in making your decision.
Review your shopping cart and tap "주문하기" (Order) or "결제하기" (Payment).
Select your preferred payment method. You have two main options: on-site payment or payment upon delivery. Tick the box "전체 동의" to agree to all terms and conditions, then click "결제 하기" (Payment).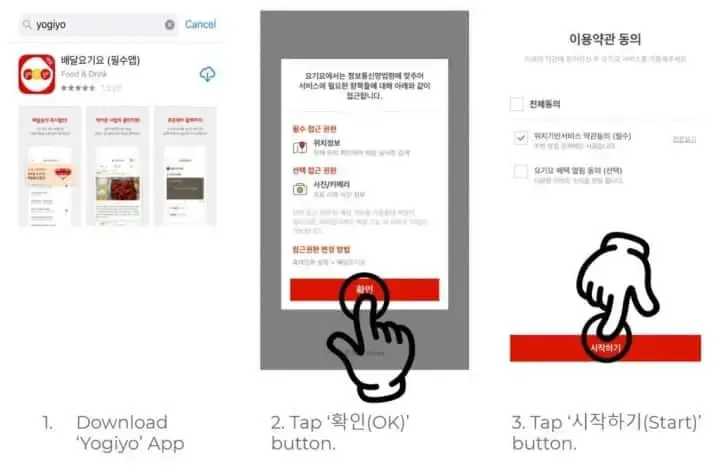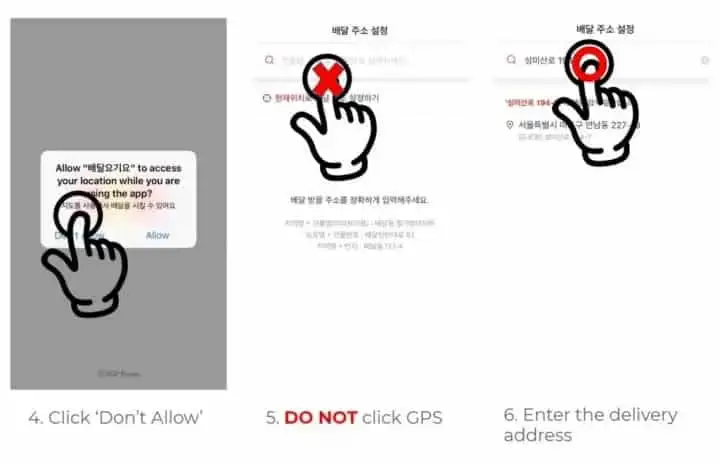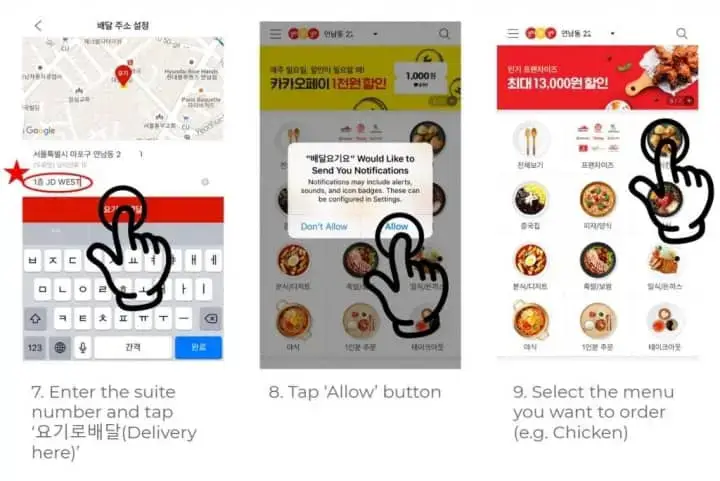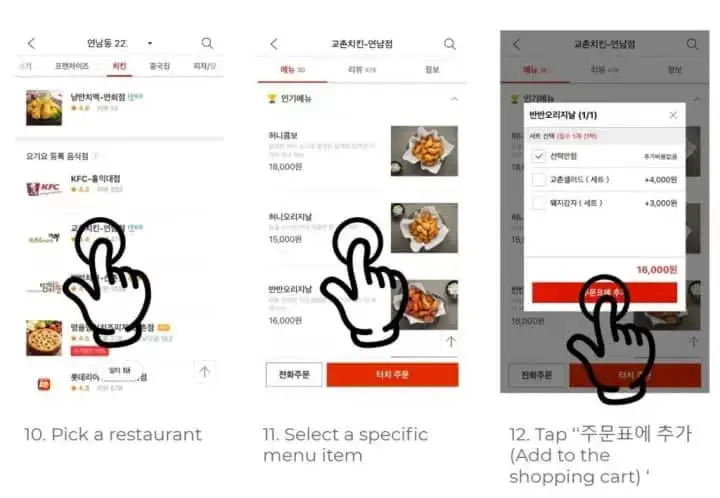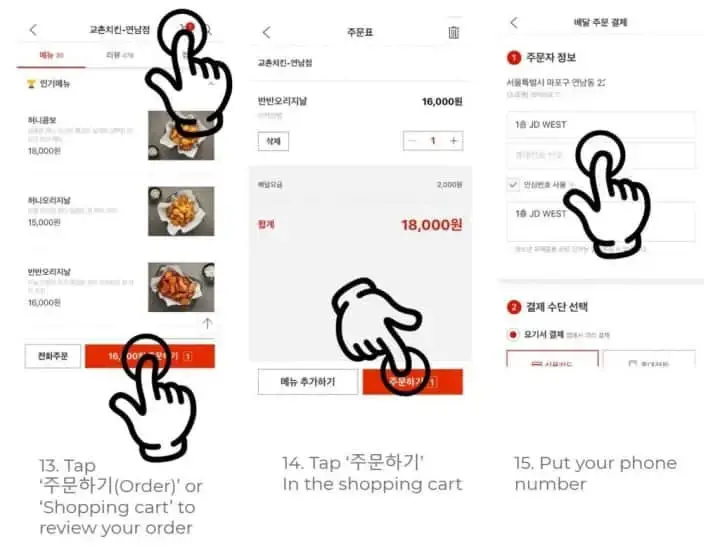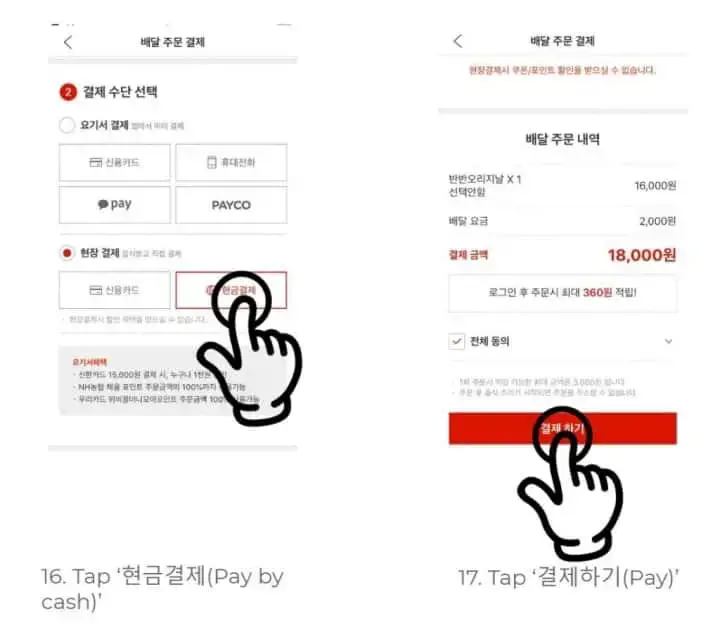 Yogiyo is available on Android, iOS, and also has a web version.
3. Baedal Minjok (배달의 민족)
Area Coverage: All provinces in South Korea
Available Language: Korean only (Mobile App)
Baedal Minjok (Baemin) is another highly popular food delivery app, boasting over 140,000 registered restaurants on its platform. Similar to Yogiyo, Baemin does not offer an English language option within the app and does not support a web browser version. However, the process of placing orders is similar to Yogiyo, where you need to create an account before you can start ordering. The registration procedure is essentially the same as Yogiyo.
Baedal Minjok (Baemin) is available on Android and iOS platforms.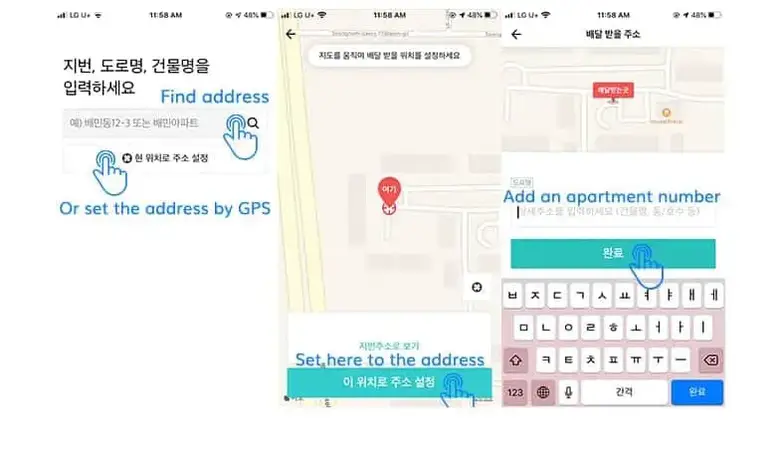 To add your address, click the magnifying glass icon and set it to your current location using GPS. Confirm the location on the map and add your apartment number on the next page. Groceries will be delivered on time.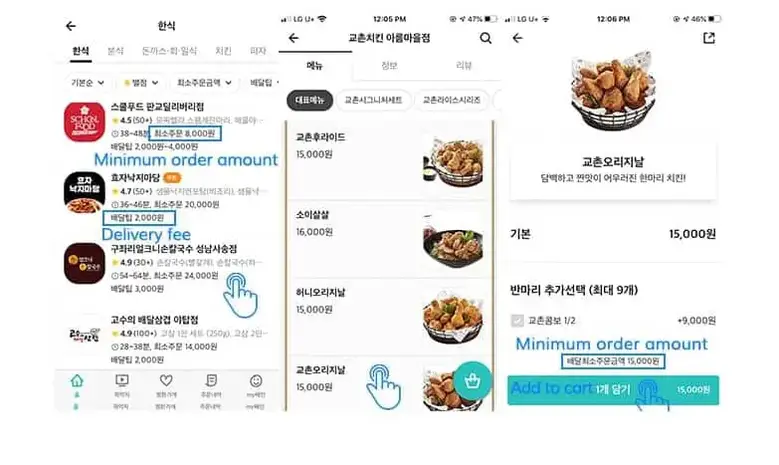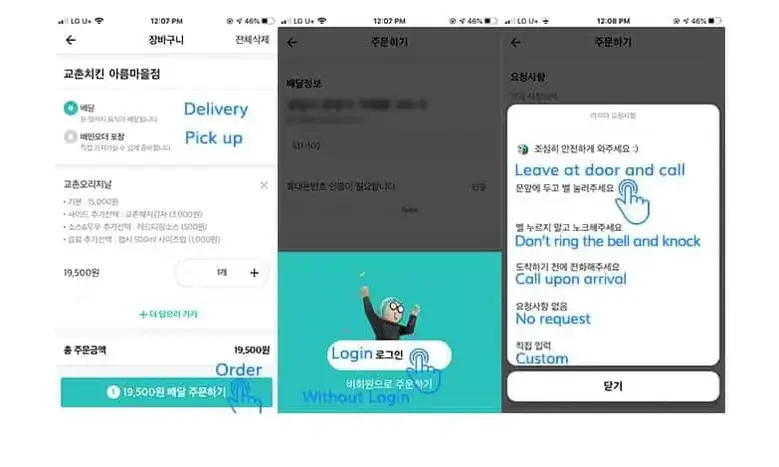 When you are ready to check out, you can choose to have the items delivered to your door or pick them up yourself. If you opt for self-pickup, there is no need to pay a delivery fee. Click on "배달주문하기" at the bottom. Non-members can also place delivery orders (비회원으로 주문하기). Select the option you prefer for the delivery person.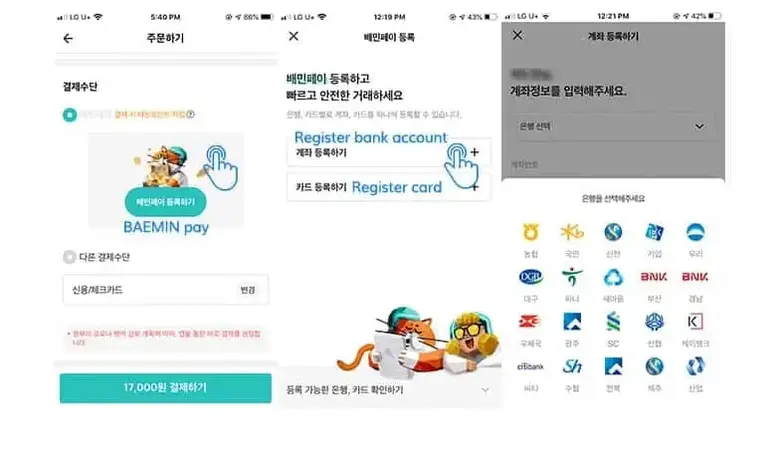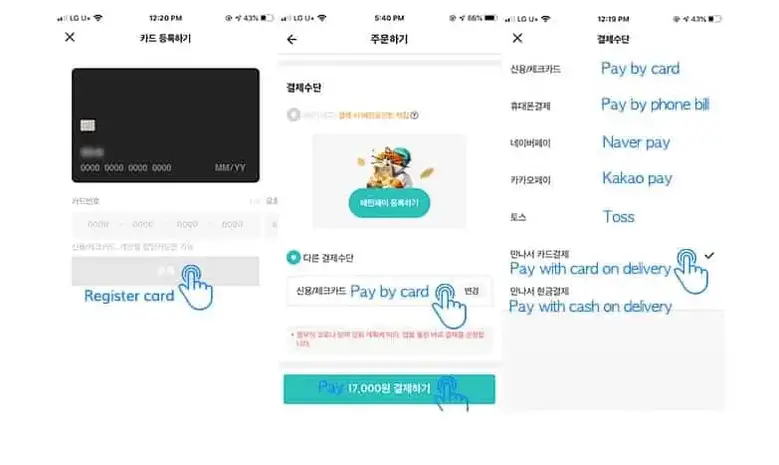 4. HungryPanda (熊貓外賣)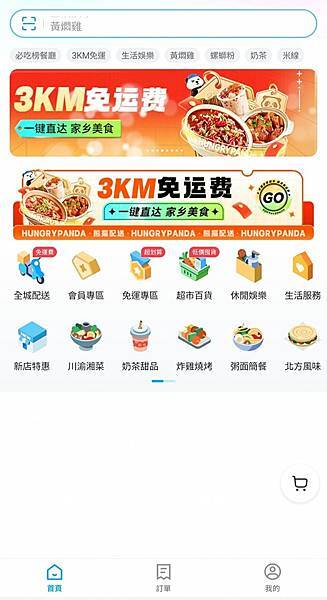 There is a platform specifically beneficial for people in the Chinese community, known as HungryPanda. It primarily operates in the Seoul area.
This platform is predominantly focused on "Chinese cuisine," accounting for approximately 90% of its offerings. There are only a few well-known fried chicken brands available on the platform. From my personal testing, I have seen BBQ, BHC, and Qijia Chicken among the available fried chicken restaurants. The only drawback is that the selection of Korean cuisine options is relatively limited. However, the advantage is that you can easily order food for delivery without any hassle.
Here are the steps to follow:
Click on the invitation link below to successfully download the HungryPanda app:
https://fast-leaflet-kr.hungrypanda.co/alwaysInviteNew?countryCode=KR&code=795221r&language=TC&isNotApp=1&country=82&appTypeId=1&appVersion=8.16.0
The app has a Chinese interface, so no need to worry. To join as a member, you will need to enter a Korean phone number and receive a verification code via SMS. Once verified, you can start using the app.
Remember to enter your delivery address before placing an order. The delivery fee may vary depending on the distance of the delivery area. If you are a tourist, you can also copy and paste the Korean address of your hotel.
That information is shared with everyone. It is worth mentioning that for the apps mentioned earlier if you do not have a Korean bank account, you cannot make payments through the app or website. In such cases, you have the option to pay in cash or by credit card upon delivery.