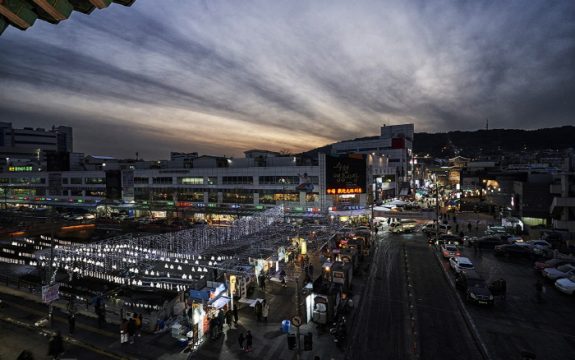 Previous careerThe top hub market in the Gyeonggi-do region, it features a collective body of nine different markets
Nine markets in the vicinity of Suwoncheon
Suwon Nammun Market is a coalition of the Gucheon-dong Tools Arcade, Nammun Gate Rodeo Market, Nammun Gate Fashion 1st Street, Motgol General Market, Minarikwang Market, Citizen's Arcade, Yeong-dong Market, Ji-dong Market, Paldalmun Gate Market. It is the only hub market – one of 16 nationwide – in the Gyeonggi-do region.
Gucheon-dong Tools Arcade still has traces of its legacy as a blacksmith's workshop, and there is the Nammun Gate Rodeo Market and the Fashion 1st Street; the Citizen's Market is the place to be for fashion leaders in Suwon, the Motgol and Minarikwang Markets offer side dishes people take home for meals, the Yeong-dong Market looks like a silk road that sells Hanbok garments that come in a variety of colors, the Ji-dong Market has the Ji-dong Sundae which is the signature dish of the Suwon Nammun Market, and Paldalmun Gate Market has its famous fried chicken street. Thanks to the nine markets joining forces, the Suwon Nammun Market is the largest single market in Korea. Consumers can experience a diverse range of cultures and scenes from nine markets all in one place.