South Korea is a country where you will find one of the best street food in the world. Street food is become very popular and you can find many stalls of this kind of food. Salted, sweet or spicy, the numerous flavours  you can find there will fit to every papilla.
Let me show you some of them and let's get hungry together !
Kimbap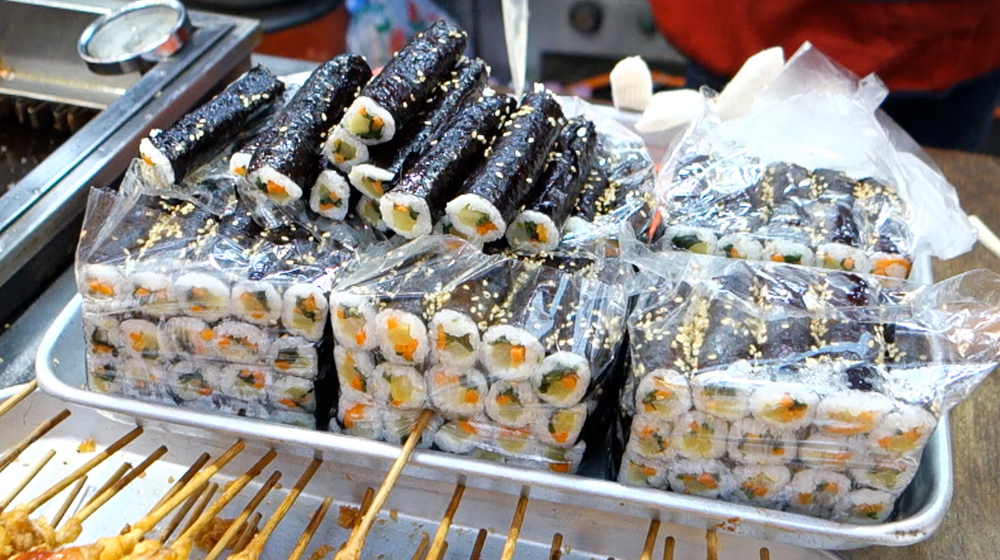 Kimbap
A Kimbap is a rice roll (bap means rice) wrapped in a dried seeweed and stuffed with a lot of ingredients like carrots, eggs, meat, fish and more. You can ask a simple kimbap but some shops also send special one like tuna Kimbap or cheese kimbap.
Tteokbokki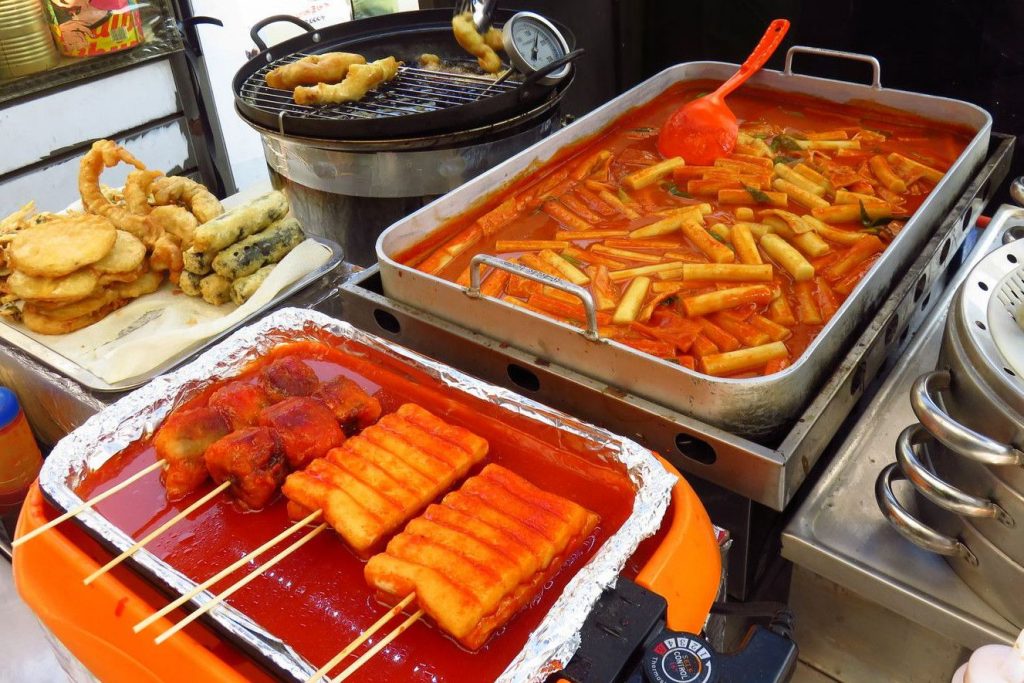 Tteokbokki and Eomuk (or odeng)
Tteokbokki are the famous race cake cooked in a spicy sauce called gochujang (made with Korean chilli pasta). Everyone in Korea know it and eat it and it's probably one of the most famous snack among the foreigners. Be aware, it can be very spicy !
Eomuk or Odeng (Fish cake) is a cake made with white fish and others ingredients like potato starch, sugar and vegetables.  You can find them almost in every streets where you they will be in a soup, spicy or not, to boile them and keep them warm. Don't hesitate to drink the soup, mainly in winter !
Odeng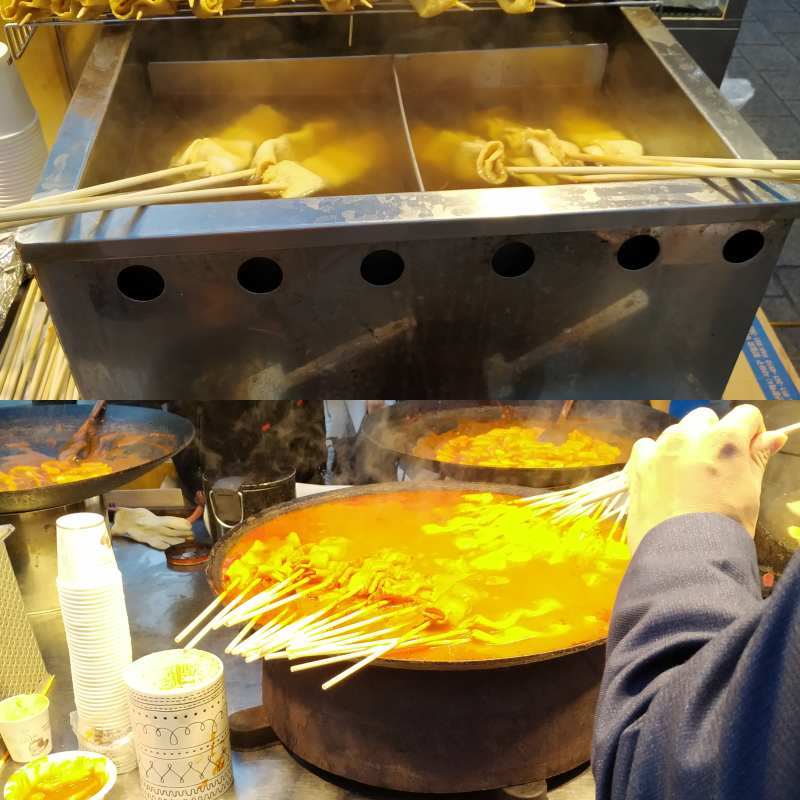 Hot-Dog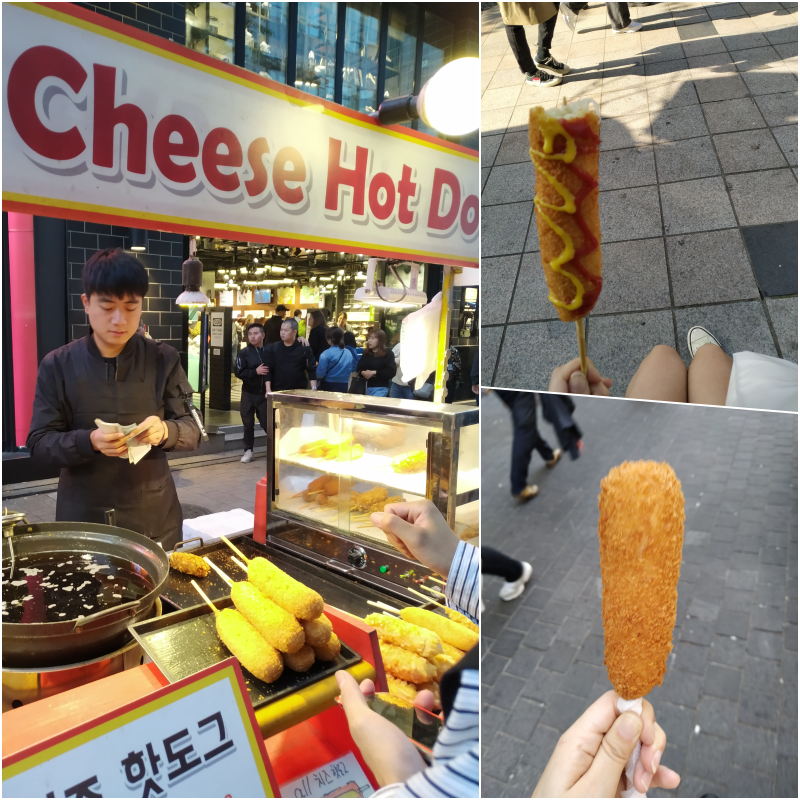 Hot-Dog and So-tteok So-tteok
Hot Dog are very popular in Korea, you can find them in the street but also in some coffee and groceries like Ministop. Of course you know the sausage one, but here you will find cheese (mozzarella) hot-dog, sausage wrapped into cheese. Served on a stick, you can buy one and eat it easily everywhere.
Since you know Tteokbokki and Hot-dog, what about trying So-Tteok So-tteok ? It's made with rice cakes and mini sausages treaded on a skewer. Vendors can add spicy sauce or ketchup and Mustard.
So-Tteok So-Tteok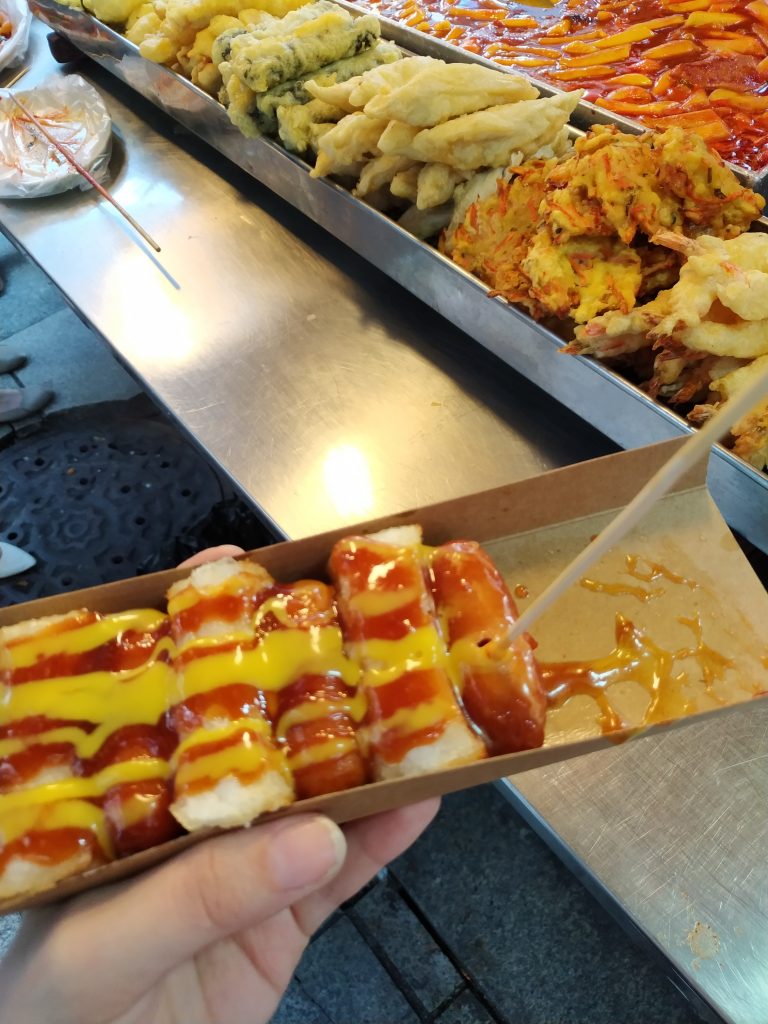 Korean Friend food (Twigim)
A lot of vendors sells friend food. They are kinf of tempura. The ingredient are put in a batter then dipped in oil. You can find sweet potato, octopuc, shrimps, gyoza (dumplings) and more !
Fried food (Twigims)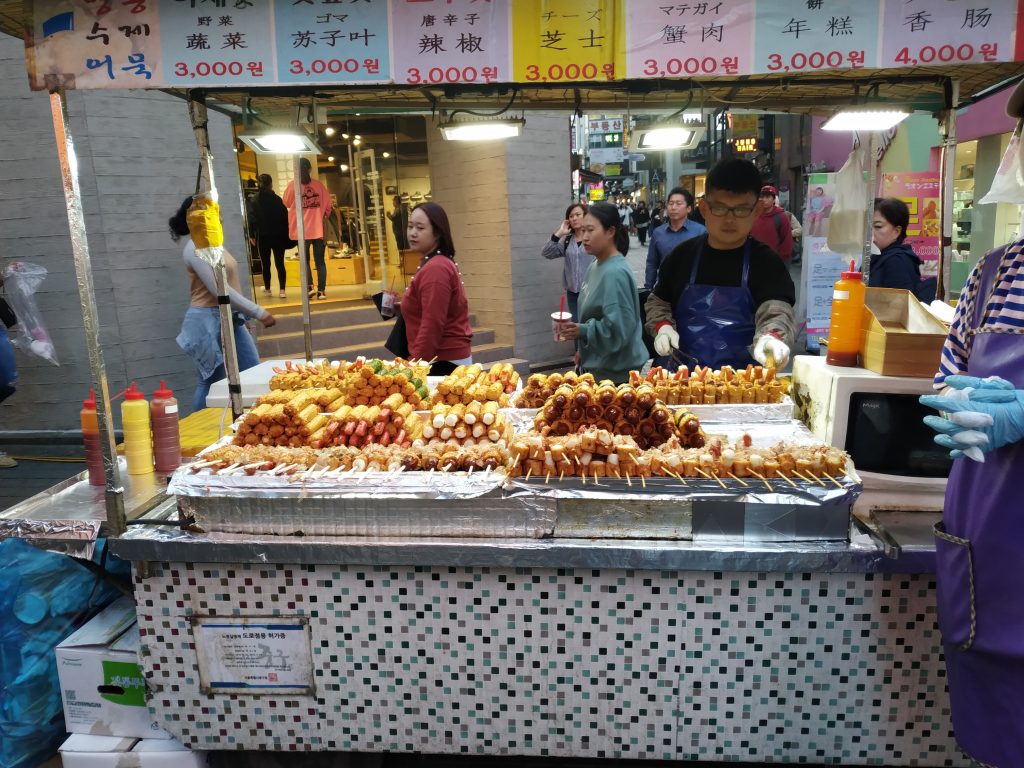 Pajeon 
Would you like to try pajeon, the salted Korean pancakes made with eggs, flour (rice and wheat), green onions. Then they will add some others ingredients like carrots or meats, it will depend of the place.
It's really a must-to-try !
Pajeon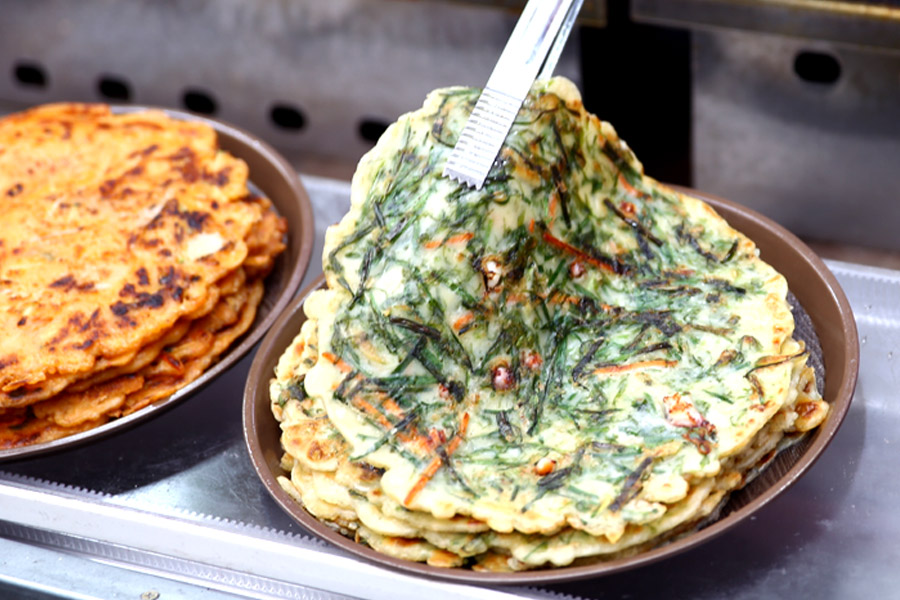 Egg Bread
 The egg bread ! It's a kind of toast cooks with an egg on. It will melt into your mouth.
Egg Bread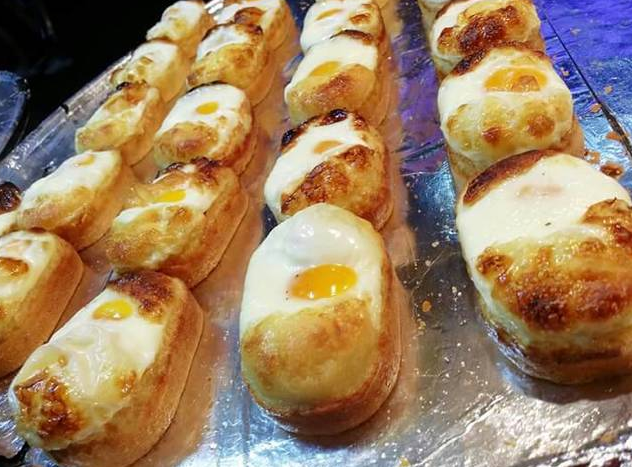 Chicken Skewers
If you like yakitori, you have to try Dakkochi, the Korean chicken skewers  are very popular in South Korea. It's made with marinated chicken, green onion pieces and a sauce, spicy or sweet. Grilled on a BBQ, you can savour them in the street or in restaurants.
Dakkochi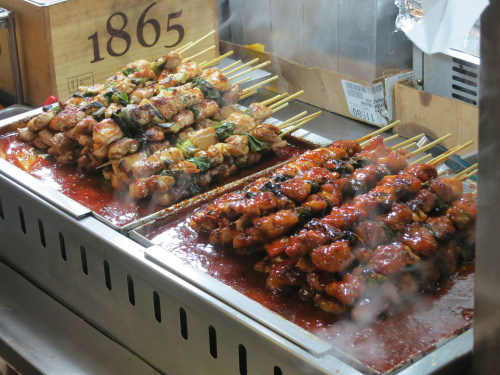 Tornado Potato
Do you like potato ? A lot ? Really ? Take a potato, give it a spiral appearence and put it on a skewer, fry it and you will obtain the Tornado potato (or Twist potato). After that, sellers will ask you what kind of saisonning you want. It can be cheese, onion or honey (must popular saisonning). Be carreful, it's propably the longest street food you will meet and the skewer can hurt people !
Tornado Potato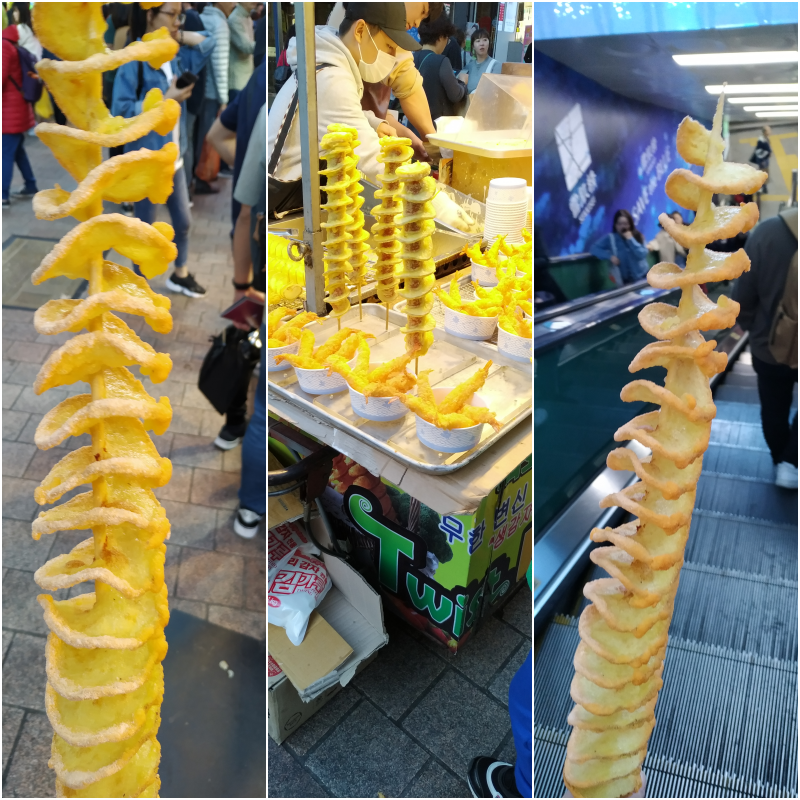 Mandu
You can't leave Korea without having try mandu, the Korean dumplings ! Boiled or fried, you can buy some in Myeongdong streets or elsewhere. They have varieties of stuffing like only vegetable, pork stuffing(Kogi mandu) or even sea food.
Warning ! Some are saesonned with kimchi or other spices !
Mandu (fried)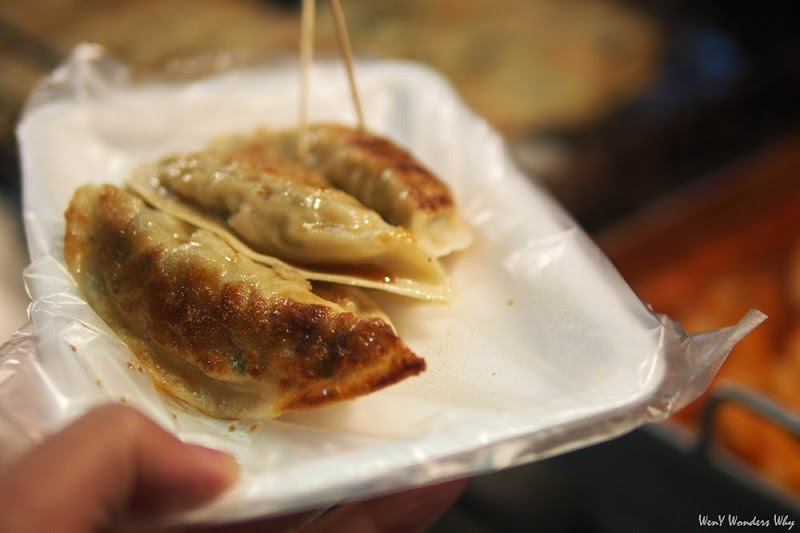 Let's talk about meat
For carnivor, here are 3 meat dishes you can enjoy in the street.
1 – Spicy chicken with glutinous rice : little pieces of chicken and glutinus rice cooked with a sweet-sour sauce.
2- Steak and Sprouts : a very consistant street food you need to taste !
3- Sundae : a kind of black poudding eatten cold and stuffed with different ingredient glutinous rice, leek, potato noodles amd barley (most populare saisonning). Just try at least once.
Spicy chicken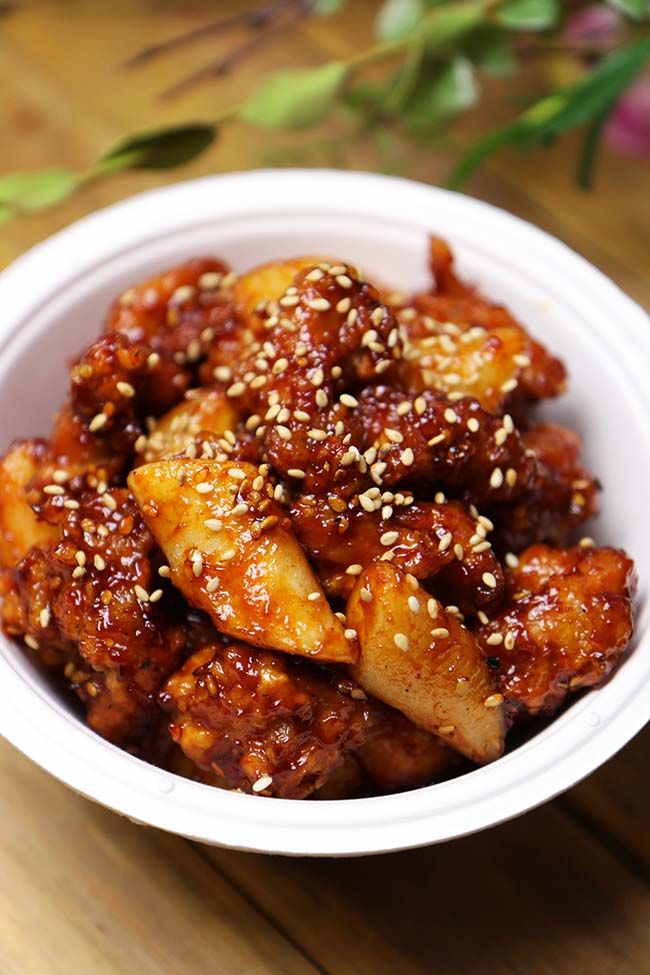 In Myeongdong, you will also find some japanese style fried noodles, friend octopus and shrimps, some filled Korean pancakes (with vegetables or meat), chicken or baked cheese.
One stall even send Halal food so if you are a muslim people what about eatting Korean food with meat made for you!
Halal stall food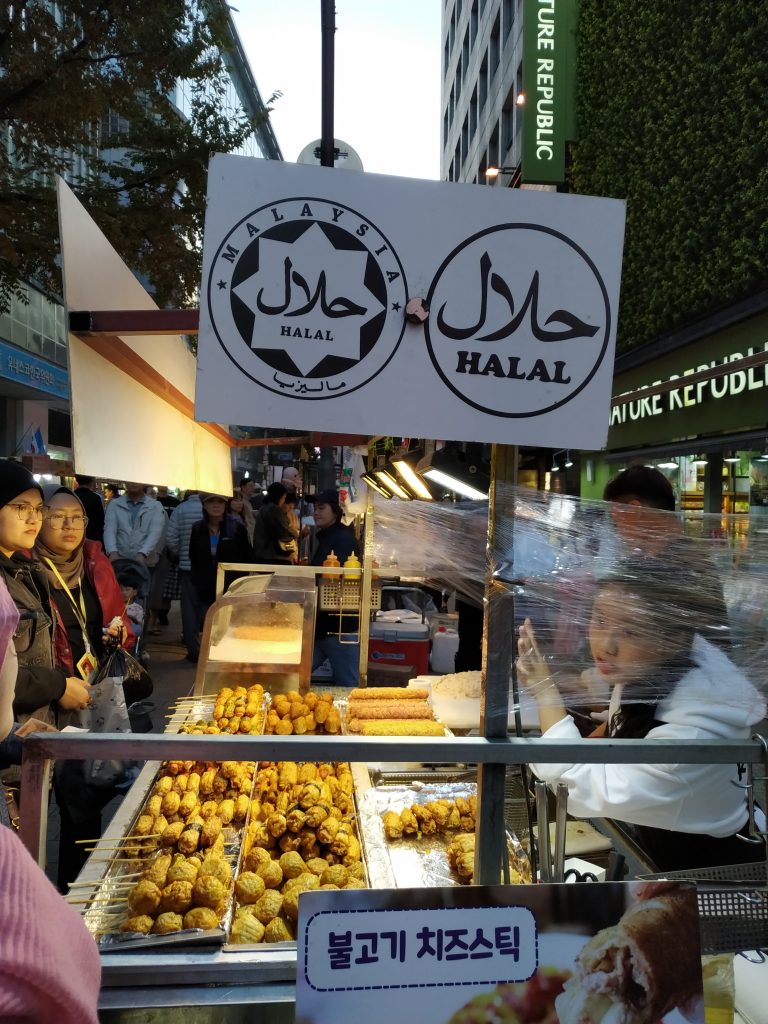 Sweet foods
Did you enjoy salted food ? Now it's time for sweeties !
Hotteok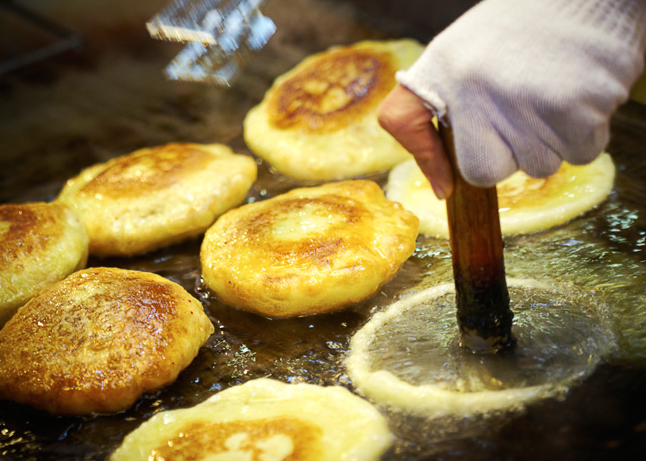 Hotteok
Here is a Korean typic food you should try : the hotteok (Korean pancake). These pancakes are cooked with flour, watter, milk, sugar It It can be filled with red been pasta or just with honey, cinnamon and brown sugar. It's very delicious !
Bungeoppang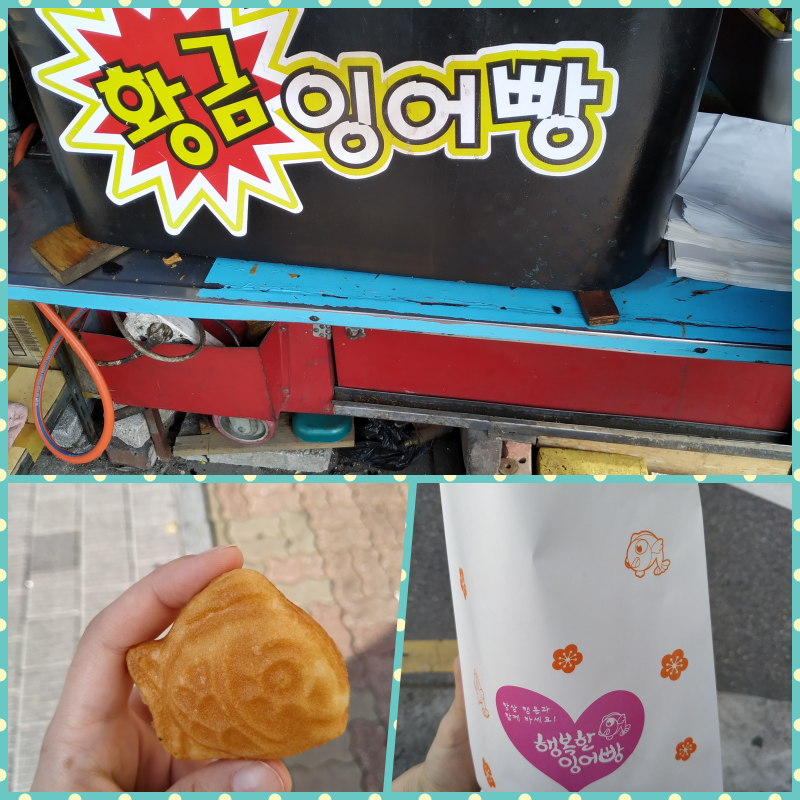 Bungeoppang
 Bungeo-ppang is the Korean name for Taiyaki, the fish-shaped pastries generally stuff with red bean pasta.
Sold hot, bungeoppang are very populare especially in winter. Moreover, it's very cheap, for 1,000 Won, you can have 3 or more !
But if you don't don't like red bean pasta, o not worry, today, they are not only stuffed with red bean pasta. You can find some ice-cream or pastry cream bungeoppang.
Oreo Churros
Oreo Churros
I think you all know churros. But here in Korea, more than nature churros, you will find Oreo Churros filled with whipped cream. Enjoy them nature or with milk cream !
Strawberry mochi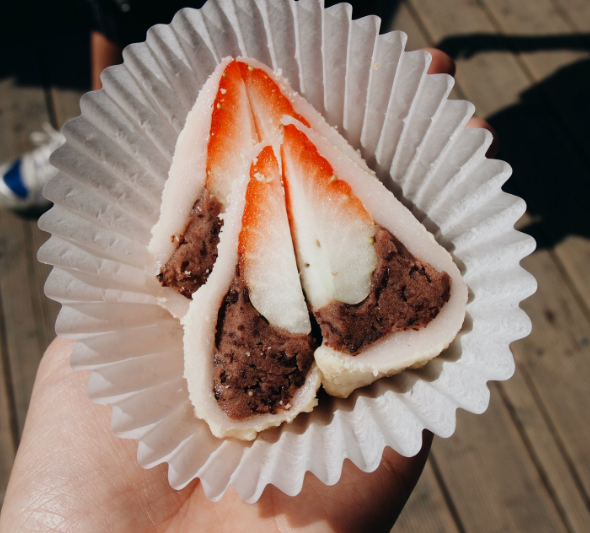 Fruits 
 You will find in the street strawberries stalls ! You can eat them nature but you can also try chocolate-strawberry lollipop, strawberry candies or strawberry mochi (japanese candy made with glutinous rice pasta ) !
If you need vitamins, you can buy some fruits like kiwi, watermelon, pineapple, grapes or pomegranate in the street. You can decide to eat them or to drink them (can ask for juice ) !
And for all banana lover, try fried banana.
Fruits stand
Crepes and Waffles
banana-chocolate flavour is very trendy all around the world. When you'll come in Myeongdongm try the banana-nutella crepe. You can even change banana for strawberries or other fruits and add some ice-cream.
Then, this is for all waffles addicts ! Eat a huge waffle filled with ice-cream, whipped cream, fruits and chocolate. Because there is not only one kind of waffle, you will be able to chose your : are you more Belgium waffles or Hong-kong waffles (bubble waffle) ?
Crepe and Waffles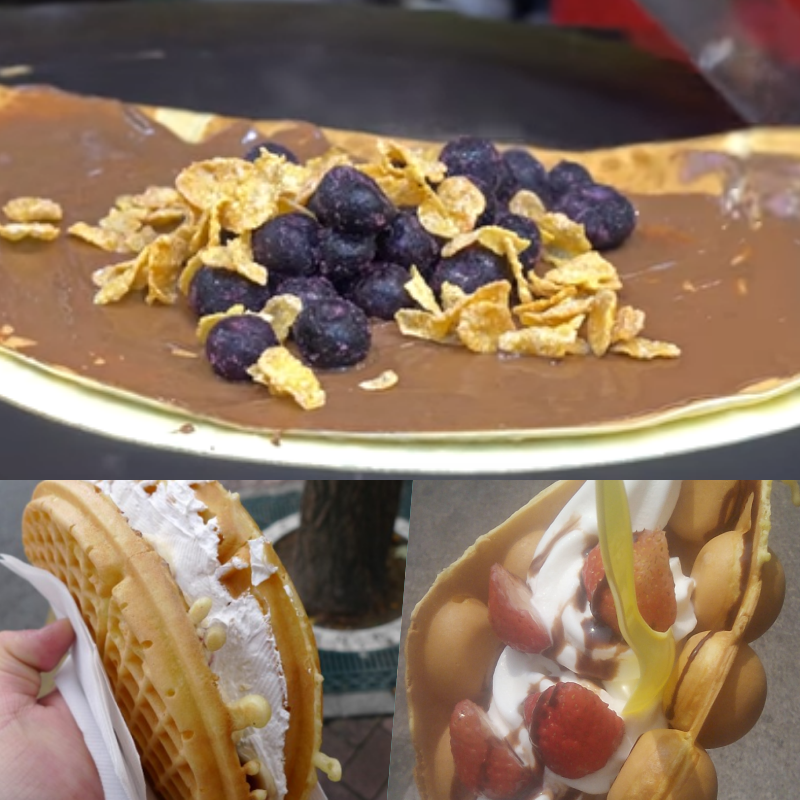 Ppopgi 
This is a kind of lollipop with a shape in the middle. It's made with sugar and baking soda. The taste is sweet but a bit salted at the same time and will remember you caramel.
Today you can buy some with particular shapes like Hello Kitty, Pokemons, Pororo and more.
Let me give you a secret : if you success eating around the shape of the traditional one without touching the shape, you will maybe get one for free.
Ppopgi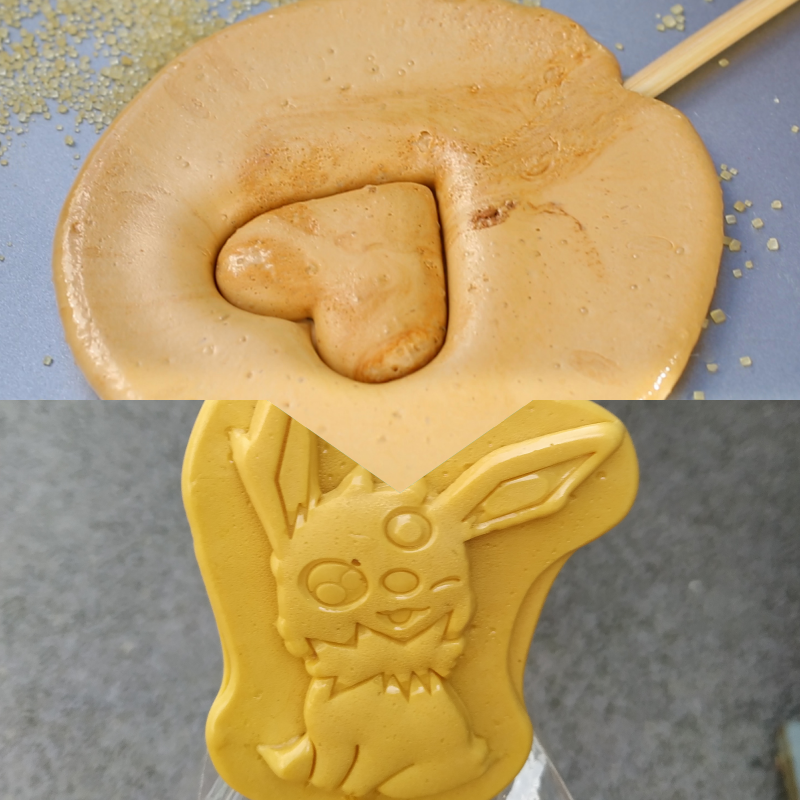 Sweat Potatoes
One more ! Sweet potatoes are very liked in Korea. Fried, fried in cube-shaped cut or just as sweet potato, you will find different way to consume it !
Fried sweet potato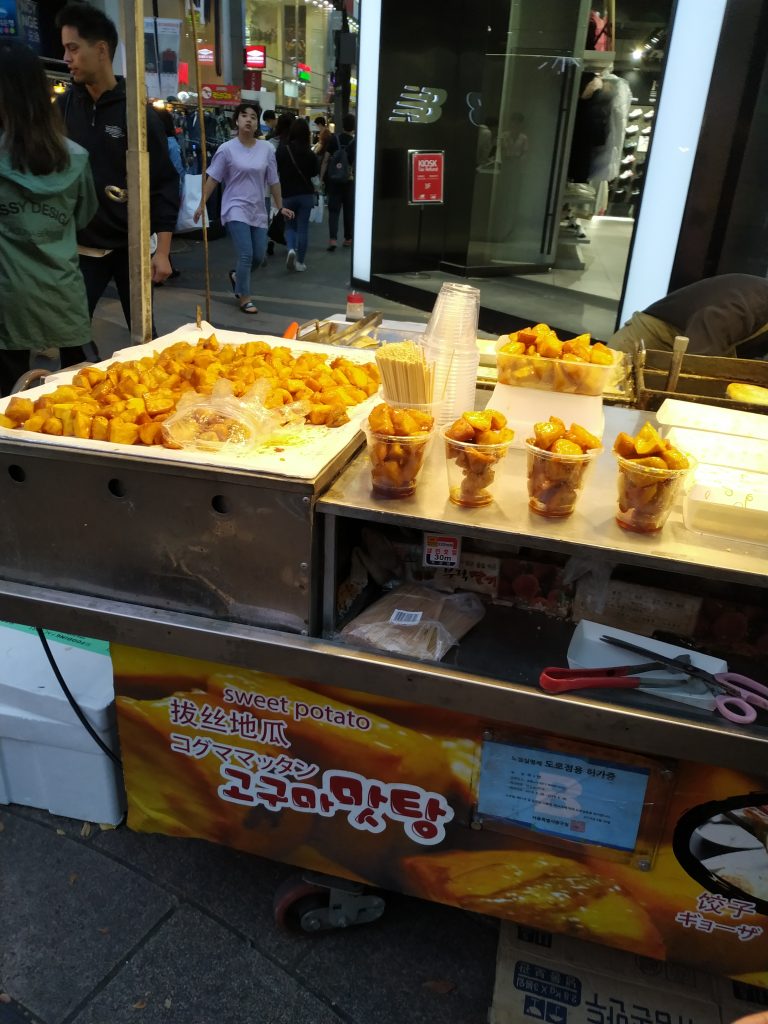 Are you hungry now ? Do you know what you to try or re-try ?
 There are many other street food you can find in Seoul and everywhere in Korea. Almost every regions have their own taste, way to cook and ingredients so you will be able to find variants of a same dish (fish instead of meat for example).
Street food is waiting for you.
Writtent by Morgane GABRIEL