South Korea's best Top 5 Autumn Leaves Mountains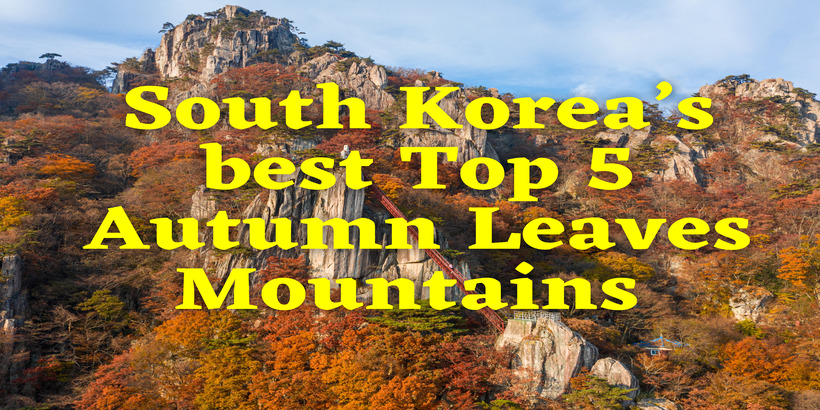 One of the best times to visit South Korea is definitely during autumn!
Seeing autumn foliage in Korea is a must thing to do when you visit the country during this period.
The splendid colors, from red to orange, to gold, will make you feel like you traveled to another world!
As you may have heard, there are many places in Korea where you can see autumn leaves, mainly in mountains and forests,
to get the best spots and the most outstanding landscapes with autumn leaves.
In this post, we will introduce you to the top 5 best Autumn Leaves mountains in South Korea where you can witness the beauty of autumn leaves and enjoy the splendid colors.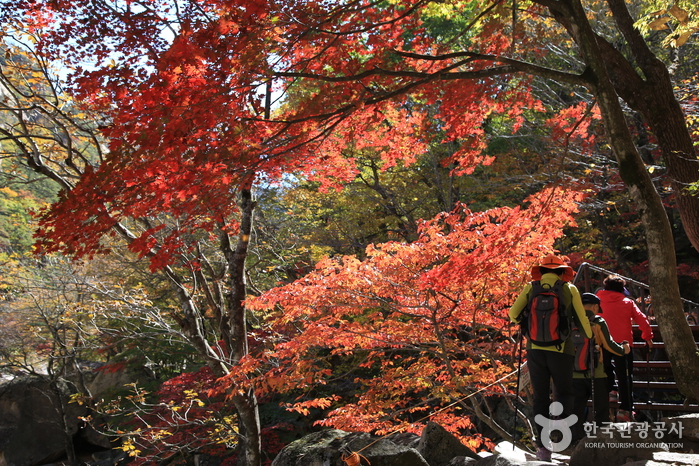 1. Seoraksan Mountain – Peak Foliage : October 18 
The first mountain we recommend you to go to is Seoraksan Mountain.
As you may know, Seoraksan is one of South Korea's most famous tourist destination located in Gangwon-do.
It is basically the first mountain that comes to people's minds when we talk about autumn leaves in Korea.
Composed of stunning rocky peaks and also the most important Buddhist temple in Korea, there is a big range of trails for all levels if you want to visit this mountain to see autumn leaves.

Not only you can enjoy the autumn leaves but also you can get a glimpse of hidden scenic views of Ulsanbawi Rock and Heundeulbawi Rock as well.
Also, the most popular route to see the view of the East Sea, Sokcho and Daecheongbong Peak is the Ulsanbawi Rock Course.
Make sure to visit Seoraksan if you want to see incredible autumn leaves sceneries in South Korea!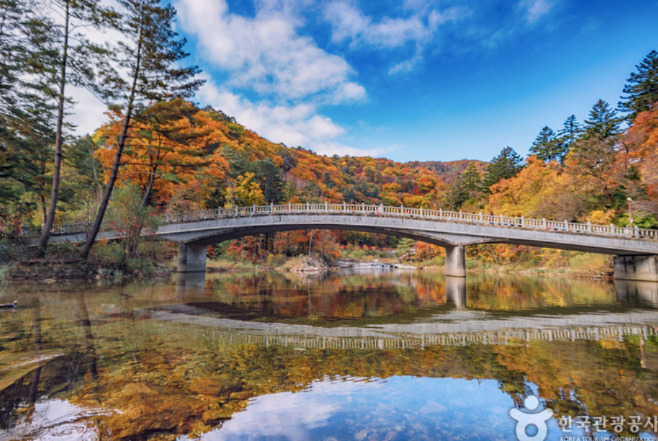 2. Odaesan Mountain – Peak Foliage: October 16th
Odaesan mountain is the second location we recommend you to go to if you want to see autumn leaves when visiting South Korea in autumn.
This mountain is located in the central and eastern part of Gangwon-do, and was designated a national park in February 1975, including an area of 298,5km square, centered on the highest peak called Birobong Peak (1,563m).
The area around this peak is famous for its Nuncheunkbaek and Yew tree forests. Also, Odaesan Mountain has the largest natural forest of Korea, which is home to many plants and wild animals such as boars, musk deers, turtledoves and colorful woodpeckers living there! This splendid mountain is the perfect spot to see autumn foliage and enjoy it to the fullest !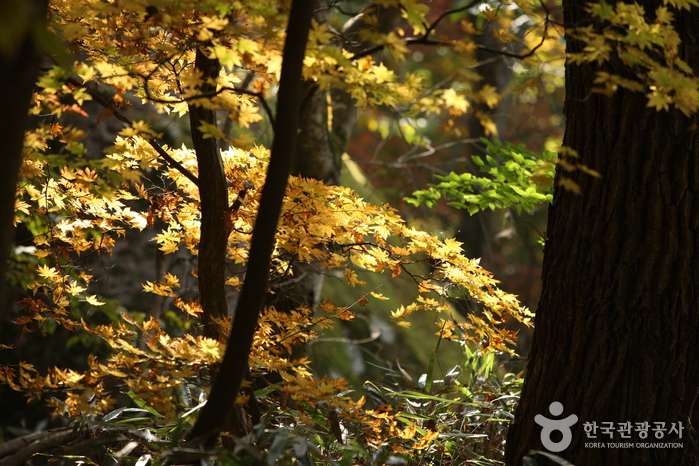 3. Songnisan Mountain – Peak Foliage October 29th
Designated as the 6Th national park in South Korea, this mountain is known for its breathtaking beauty and landscapes. On the mountains, there is a rock summit called Munjangdae Peak that is 1,054m above sea level. Also, it is home to one of Korea's largest temple: the Beopjusa Temple. In Autumn the lovely autumn leaves will make you fall in love with Songnisan Mountain!
After visiting this place, you will understand why it's one of Korea's most beautiful sites, and especially during autumn!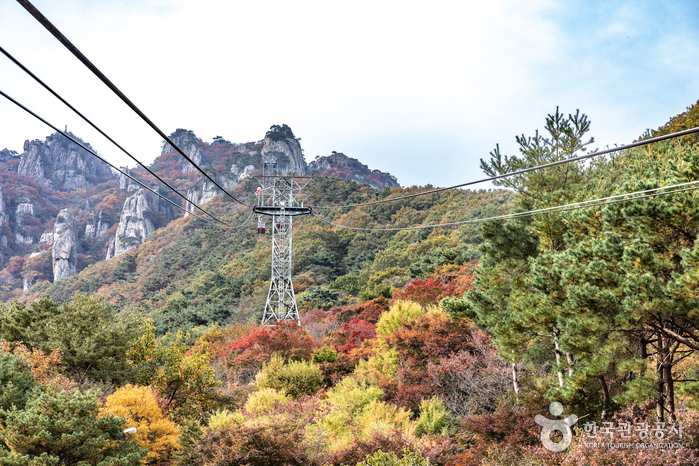 4. Daedunsan Mountain – Peak Foliage 25th October 
Located in Chungcheongnam-do, in the western region of South Korea, Daedunsan Mountain is 878m high and has a thousand stone rods extending for 6km, and it belongs to the "Old Mountain Range".
The vegetation in this mountain is generally 600m in height, with pine trees, oak trees, Korean plum-yem trees etc.. This whole vegetation makes it even more beautiful when it's autumn with all the splendid colorful leaves!

Compared to other mountains in South Korea it is not a huge mountain, but it is not an easy one for hiking.
But overall, it has amazing autumn leaves and beautiful spots that you shouldn't miss when visiting Korea in Autumn !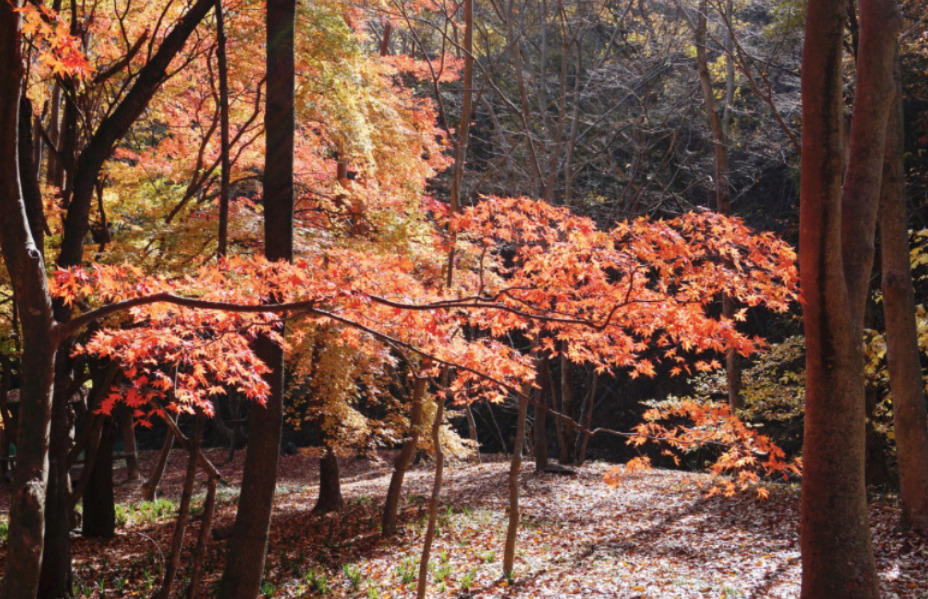 5.Gyeryeongsan Moutain – Peak Foliage : October 30th 
The last mountain we recommend you to visit during autumn in South Korea is Gyeryeongsan Mountain, which stretches across the cities of Daejeon, Gongju and Nonsan in Chungcheongnam-do. It was declared a national park on December 31, in 1968.
The name of the mountain comes from the fact that the ridgeline looks like a dragon wearing chicken's crest on its head. What makes this mountain interesting is the topographical features that stand out a lot, and its mysterious folklore.

During fall, the maple trees reveal their crimson colored leaves, especially around Donghaksa Temple and Eunseonpokpo Falls.
Don't miss out on this incredible and mysterious mountain as well !
Here is a map to help you situate the mountains in Korea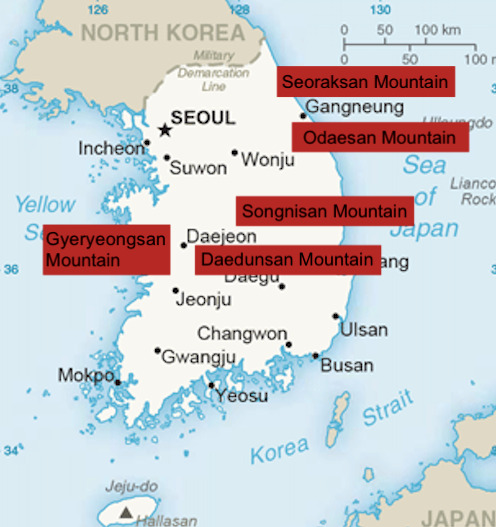 If you want more information about the hiking tours we offer during autumn click the link right here : https://www.koreaetour.com/?s=Hiking&post_type=product
Here comes the end of this post about the Top 5 mountains in South Korea to visit during autumn to see incredibly beautiful and colorful autumn leaves during your trip and enjoy the beauty of South Korea during autumn🍁!