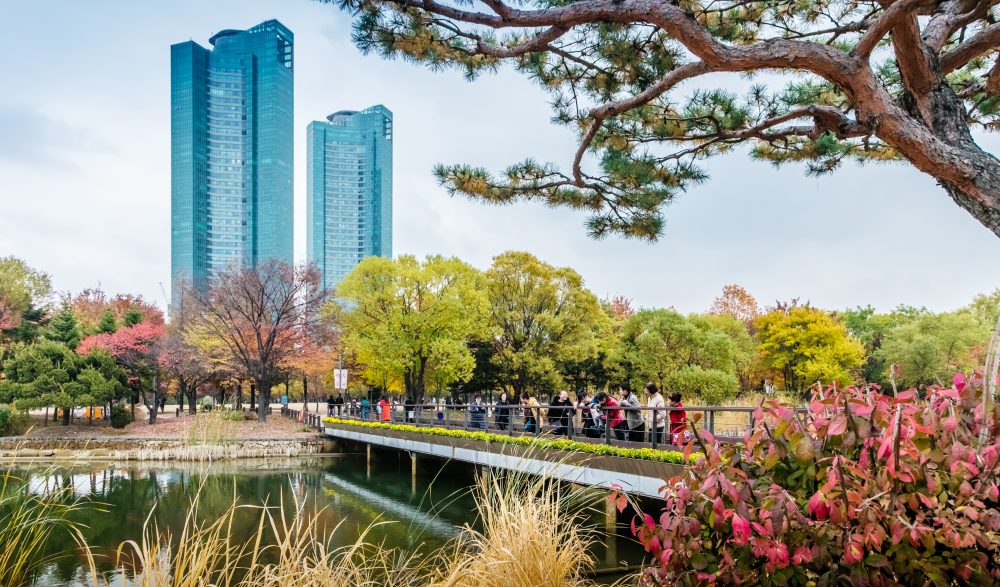 Opened on June 18, 2005, Seoul Forest had previously undergone a series of changes on Ttukseom (Ttuk Island). In the past, the forest had been a royal hunting ground for kings and served as a military inspection facility. However, in more recent decades, the area has served a wide variety of functions. Ttukseom initially served as a water-treatment facility, and later as a golf course, horse racing track, and eventually a sports park.
Consisting of five parks spread over 180,000 pyeong (approximately 595,000 ㎡) of land, Seoul Forest is an eco-friendly zone appreciated not only by the people of the city but also those visiting Seoul. Seoul Forest is rapidly developing into the premium city-park of Korea like Hyde Park in London and Central Park in New York.
* Culture and Arts Park (220,000㎡)
Situated in the heart of Seoul Forest, the Cultural Art Park features Seoul Forest Square, Ttukseom Family Field, decorative flower beds, a visitor's center, a skate park, an outdoor stage, a waterside lounge (restaurant), an in-forest open space, an in-forest play ground and a water play area.
* Eco Forest (165,000㎡)
The Ecological Forest, once an area covered by the Hangang River, has been transformed into an eco-forest connecting the Han and Jungnang-cheon (Jungnang stream). This natural habitat for wildlife animals is home to fallow deer, formosan deer, elks, chipmunks, mandarin ducks, mallards, spot-billed ducks and moorhens. There is also an observatory to help visitors get a better view of the local wildlife.
* Experiential Learning Park (85,000㎡)
Occupying the structure of the former Ttukseom Water Treatment Facility, this refurbished educational area was established to house an insect botanical garden, a wild flower garden, a themed flower garden, an event ground and a surrounding protective forest.
* Marsh Plants Garden (70,000㎡)
Making use of the local reservoir's natural environment, the Wetlands Ecological Field contains a wetlands ecological management office, an ecological playground, an outdoor nature classroom, a bird observatory, a wetlands flower garden and a botanical garden fed with local, clear waters.
* Hangang Riverside Park (33,000㎡)
Located southwest of Seoul Forest, this riverside area at the junction of the Hangang River and Jungnang-cheon features a waterfront park, a marina and a rest area.
permitted but restricted for ecology protection and the covenience of other visitors.