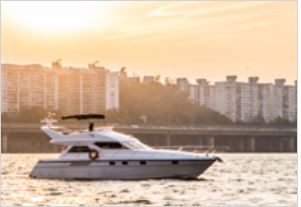 Yacht Experience(Golden Blue Marina) at Floating Island
See Han river view
Enjoy Yacht and make great memory in Seoul Korea.
Floating Island: The futuristic floating island features a penthouse perched 80 meters above sea level, two elevators, and a jacuzzi with a glass bottom. … The company's submersible yacht concept (pictured) comes in a range of sizes, from 72 meters, up to 283 meters.
Activity A: Rainbow Bridge Yacht Tour(60 min program)
Operating Hours: 09:30, 10:30, 12:30, 13:30, 14:30, 15:30, 17:30, 18:30, 19:30, 20:30, 21:30(Everyday Program), (22:30 – Fri, Sat, and holidays available only.)
Activity B:Limusine Yacht Tour(30 min program)
Operating Hours: Every 30 Minutes, Everyday Available
Activity C: Cinderella Yacht tour(60 min program)
Operating Hours: 14:00, 18:00, 21:00, Everyday Available
After purchase of this, contact us to let us know what time program you want.