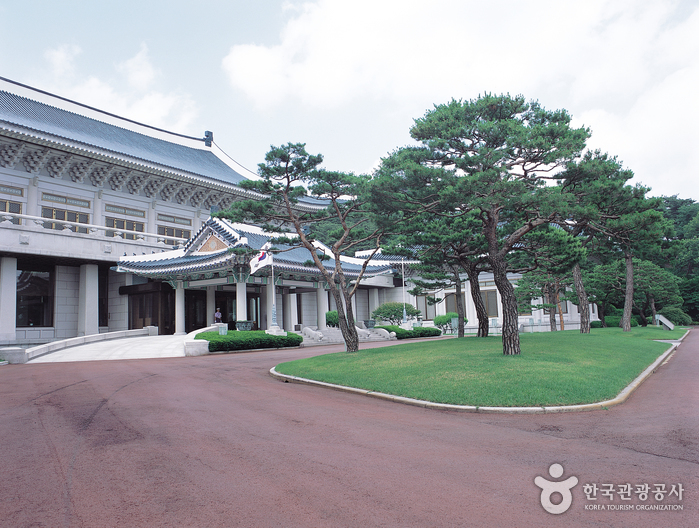 The signature markings of the Presidential Residence of Cheong Wa Dae are its blue tiles. It is the first thing that catches one's attention upon entering the premises. The blue tiles and the smooth roof blend beautifully with Bugaksan Mountain in the backdrop.
The unique buildings of Cheong Wa Dae are comprised of the Main Office, Yeongbingwan (Guest House), Chunchugwan (Spring and Autumn Pavilion), Nokjiwon (Green grass), the Mugunghwa (Rose of Sharon) Valley, and the Seven Palaces. It is interesting to see that these buildings all have distinctive shapes. They are unique and beautifully designed, built in the Korean traditional style. The blue tiles and the smooth curve shape of the main office roofs are elegantly built. Approximately 150 thousand tiles compose the roof of the Blue House. Each were baked individually which make them strong enough to be used for hundreds of years. If you turn to the right you will see Chunchugwan. The roof of Chunchugwan was made of earthen tiles. This is where the president's press conferences are held. On the left side of the main office, there is the Yeongbingwan. It was designed to hold large conferences and official events for foreign guests.
You can walk along Nokjiwon and the Mugunghwa Valley. At Nokjiwon a succession of presidents planted trees on memorial occasions. There is one famous tree which is 310 years old. The Mugunghwa Valley has colorful flowers, a fountain, and a phoenix statue, which makes it perfect for taking pictures. It is best to visit here between July and October when the Mugunghwa flowers bloom.
A walk around the paths just outside the Blue House grounds is a pleasure as the surroundings are peaceful and beautiful. The paths follow Gyeongbokgung Palace to the Blue House and to Samcheong-dong Park. The walk from the East Gate of Gyeongbokgung Palace to the Blue House is the most beautiful part. With the road in the middle, there is the Gyeongbokgung Palace stone wall on the left and galleries and old buildings on the right. The stone wall of Gyeongbokgung Palace is scattered with beautiful old trees that will comfort you. Across the street are Hyundai Gallery, Geumho Gallery and other famous galleries and stylish cafes. Of the many nice cafes and restaurants, there is "The Restaurant." Its interior is modern and one side of the building is a glass wall where you can enjoy viewing the scenery and the stonewall alley while dining. After you pass this area, and before you reach the Blue House, turn to the right and you will reach Samcheong-dong Park. There are also many famous restaurants and galleries in the area.