Let's Discover Korea in Autumn!
During Autumn in South Korea, the leaves turn brilliant and colourful as we welcome cool and fall weather. The best Korea Tour Itinerary in Autumn, let me present it to you !
  Day 1 – Seoul
Gyeongbokgung Palace
Gyeongbokgung palace meaning "Greatly Blessed by Heaven" is the most famous palace in Seoul and was the main Palace of the Joseon Dynasty. It was destroyed, abandoned and renovated through the centuries and is now an emblem of South Korea ! You can see what originally served as the home of Korean Kings, the cabinet office and other buildings of that period !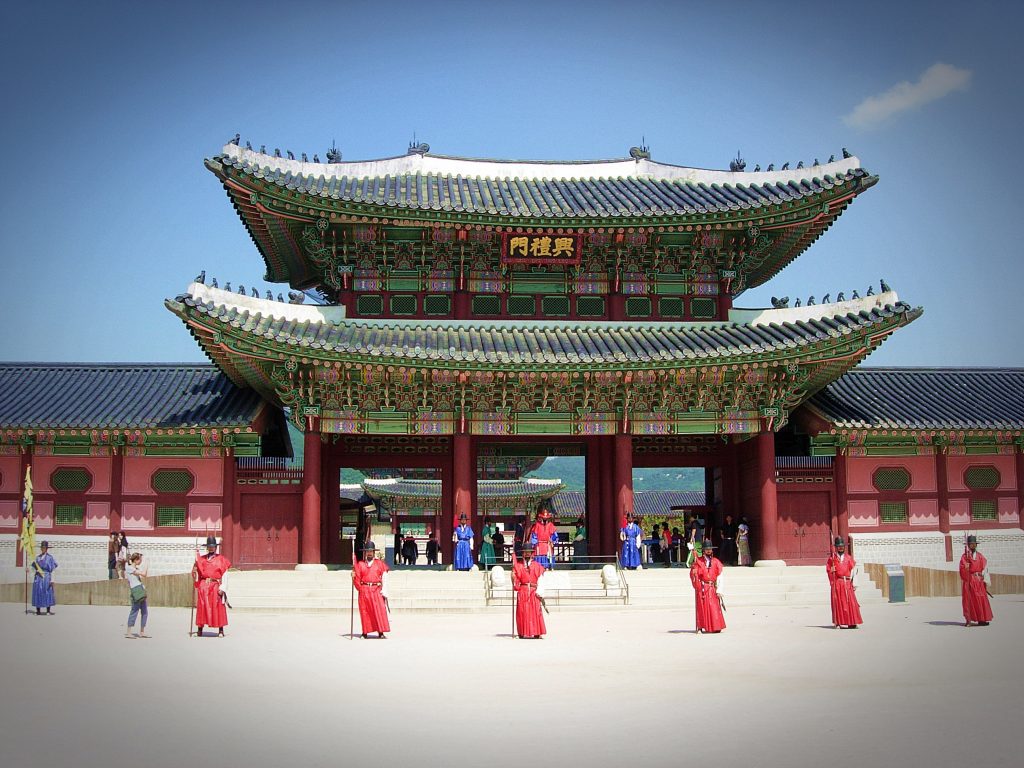 Insadong Street
The Insadong district is well known to foreigners for its multiple shops and restaurants, but especially for these streets and the combined historic and modern atmosphere you can found there. It's an unique region of Seoul that truly symbolizes the past of South Korea.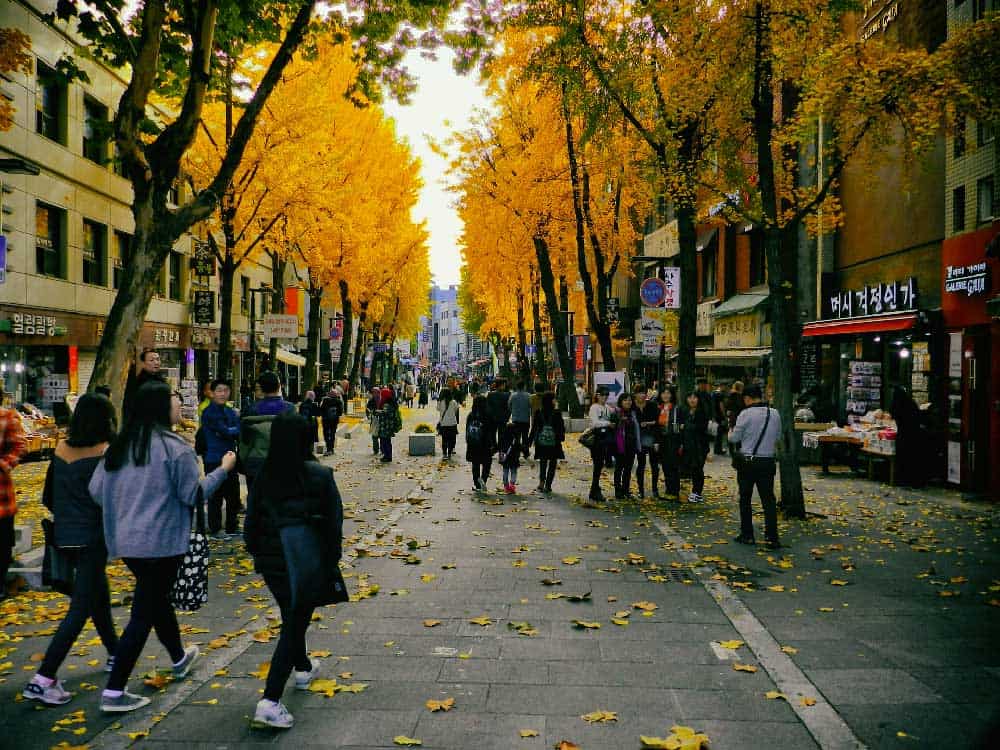 Hongdae Street
Hongdae is a busy district of Seoul, near Hongik University. The neighbourhood is famous for its street arts and independent music, as well as its restaurants, coffee, small shops, bars. It's a youthful and romantic atmosphere where you can shop, watch busking performance and enjoy coffee and eating with others!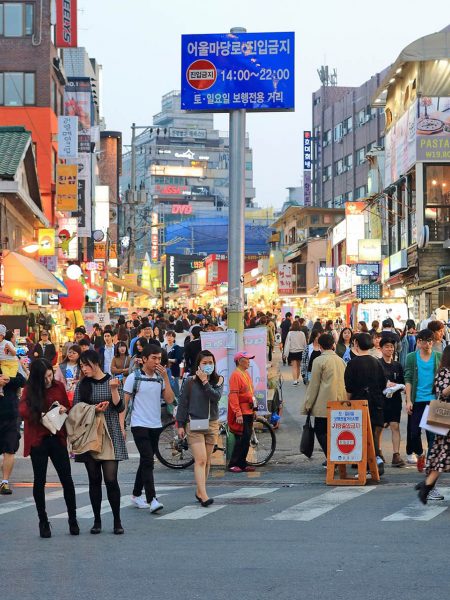 Day 2  – Seoul 
Garosu Gil Road
Garosu gil Road is a bustling tree-lined street near Sinsa district in Seoul. It is the perfect spot for an afternoon stroll with all these different restaurants, hip boutiques, coffee place, architecture that changes from house to house, shopping!! Besides, Garosu-gil is particularly popular in autumn when the leaves begin to fall!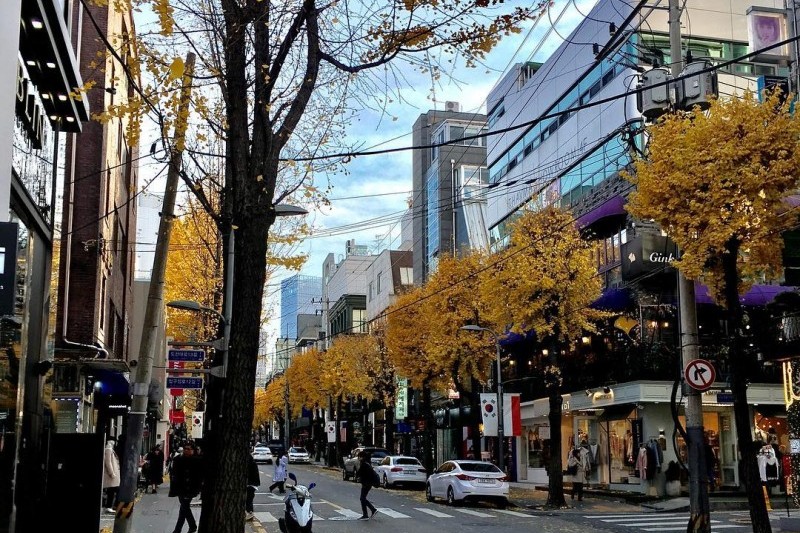 Bukchon Hanok Village (+ Possible Hanbok Rental)
Village where hundred of traditional Korean houses dating from Joseon dynasty are located. Now, some houses are still inhabited and others are used for tourism purposes. For instance as tea houses, cultural centers, souvenir shops or restaurants for visitors to discover Korean traditional culture! Furthermore, it's possible to rent an Hanbok, a Korean traditional clothing and walk around the village. Located in 37, Gyedong-gil, Jongno-gu, in Seoul, you can stop at Anguk Station (Lign 3) and walk for 10 minutes. You can visit from Mondays to Saturdays from 10 A.M to 17 P.M !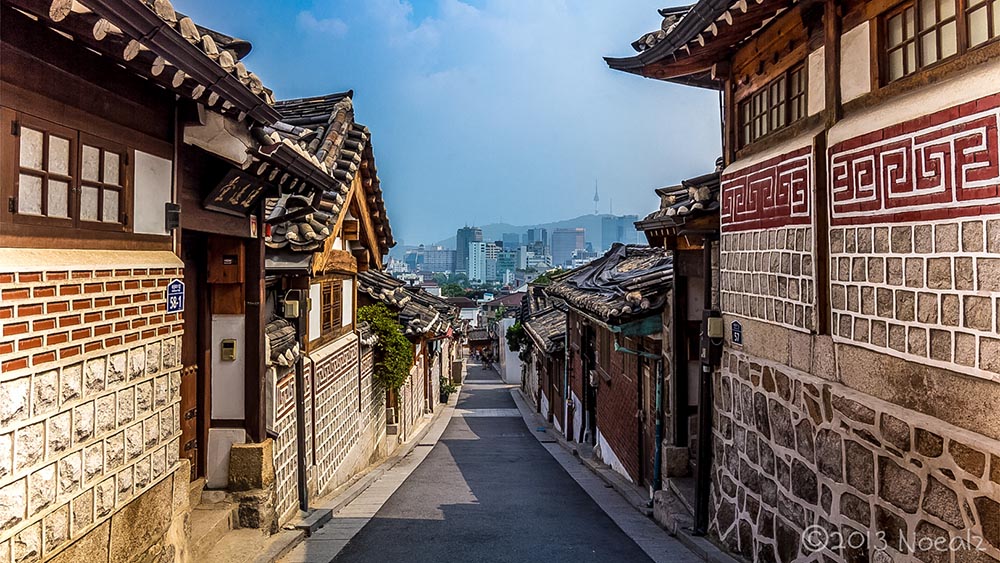 Namsan Park & Tower
Unmissable Touristic spot, Namsan Park is a beautiful place to visit for fall to enjoy a wonderful sightseeing activity. With it comes Namsan Tower, a telecommunications tower located in Park. The tower measures 236 meters, providing an overview of the city. It was originally used as a transmission antenna for channels in Korea, before being gradually transformed into a cultural and tourist complex. As you arrive around the end of the day you can have the chance to see this sublime panorama of the city through 2 different point of view : Day and night!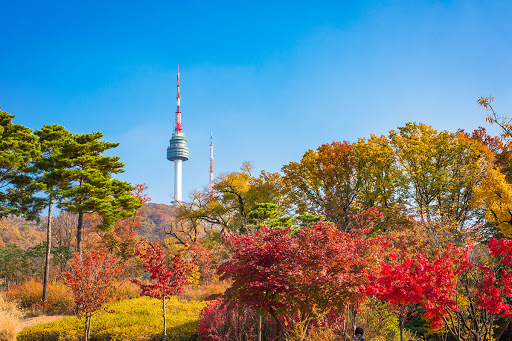 Han River Cruise
Han River Cruise is one of the best way to enjoy Han River. The cruise allow passengers to enjoy live performances and diner as they look at the scenery that flows through Seoul. It's the opportunity to get some fresh air and forget everything else ! Appreciate awesome daytime landscapes or amazing night-time views and create memories with your family or friends!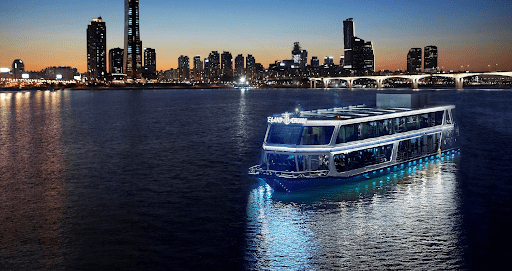 Day 3 – Nami Island
Nami Island is one of the best tourist destinations near Seoul. You can take amazing of the pictures woodlands and tree lanes of the island! Go through the colourful European-style buildings of Petite France, the Garden of Morning Calm and multiple filming locations from K-dramas! And you can also try one of the largest ZipLine in Asia. Attraction where you can go down a wire cable from a 80 meter-high tower to Nami Island 940 meters away.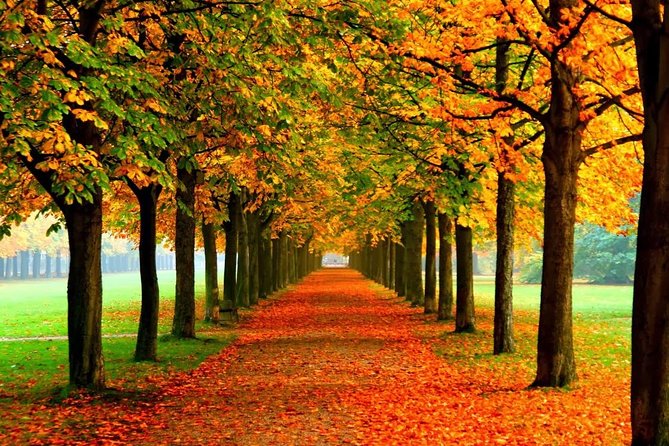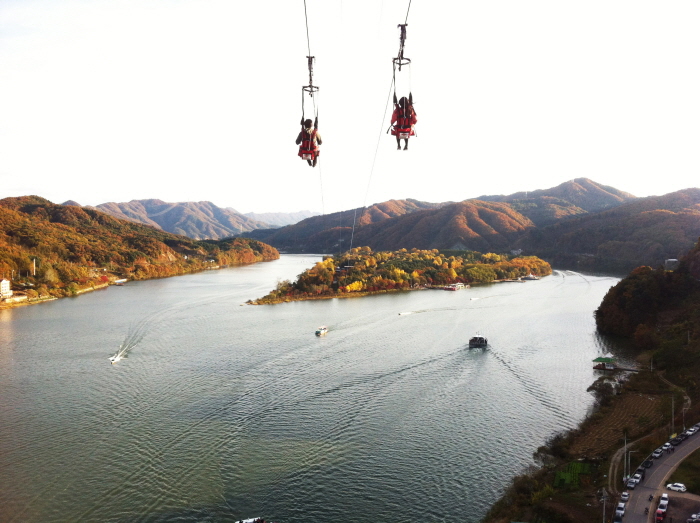 Day 4 – Gyeryongsan National Park
Gyeryongsan National Park, one of the 20 national parks in South Korea, is one of the most beautiful mountains in Korea. Lying adjacent to Daejeon city, Gyeryongsan means "rooster dragon mountains". The park is boasting a variety of colourful trees and vibrant flora and fauna in Autumn and will offer some of the most amazing landscapes any time of the year. Gwaneumbong Peak is the highest of the park reaching around 816 meters. You can take in the breathtaking autumn foliage while hiking!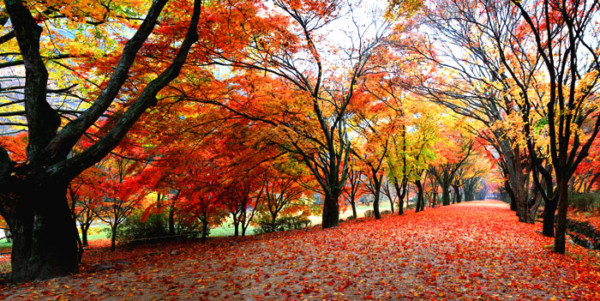 Day 5 – Jeonju
Jeonju Hanok Village
Another must see traditional village if you're coming the South Korea. The village is known for its food, culture, and ancient buildings ! The Autumn weather allow another mood to take place and give a magnificent colourful blanket to the village ! Although the village became commercialized, you can still appreciate the beautiful lines and edges of Hanok, try out various trendy snacks in Korea and see many people roaming around wearing traditional Korean clothes.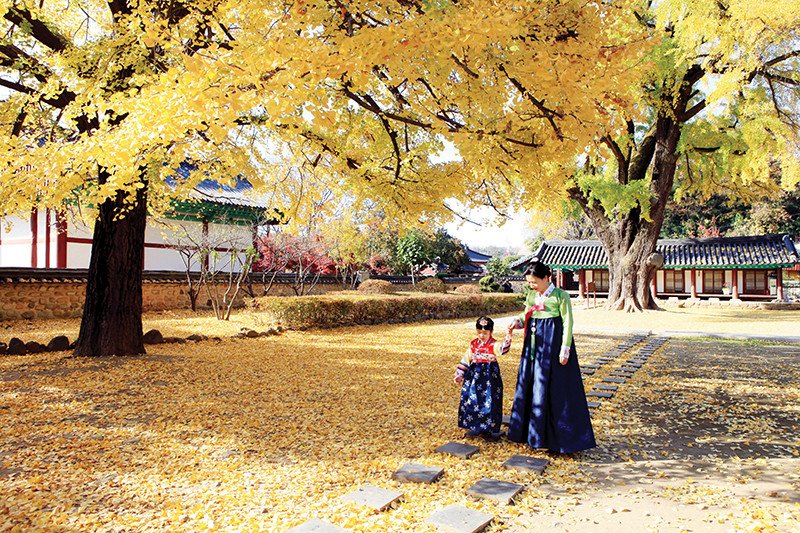 Jeonju International Sori Festival
Jeonju International Sori Festival is a week long global music and voice festival. You will observe different style of performances such as Korean traditional music and instruments, dance performances… A festival where music and people can come together !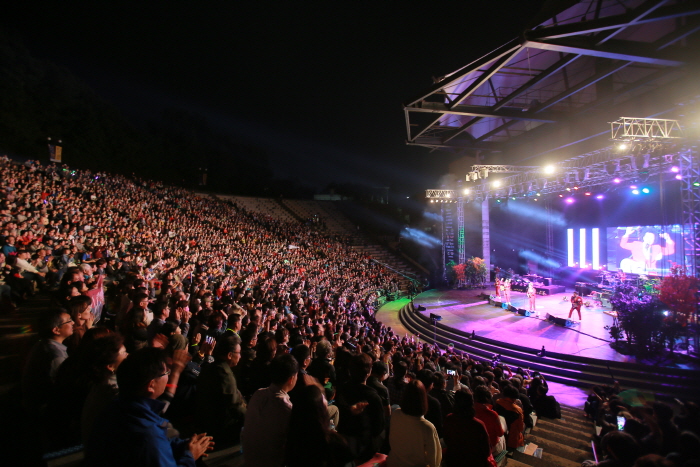 Day 5 – Gyeongju
Bulguksa Temple
Bulguksa means 'Temple of the Buddha Land'. The temple is the representative temple of Buddhism in Korea, declared a World Cultural Asset by UNESCO. The Temple complex that is a series of wooden buildings on raised stone terraces. It is home to seven national treasures, including Dabotap and Seokgatap, Cheongun-gyo ("Blue Cloud Bridge"), and two bronze Buddha statues.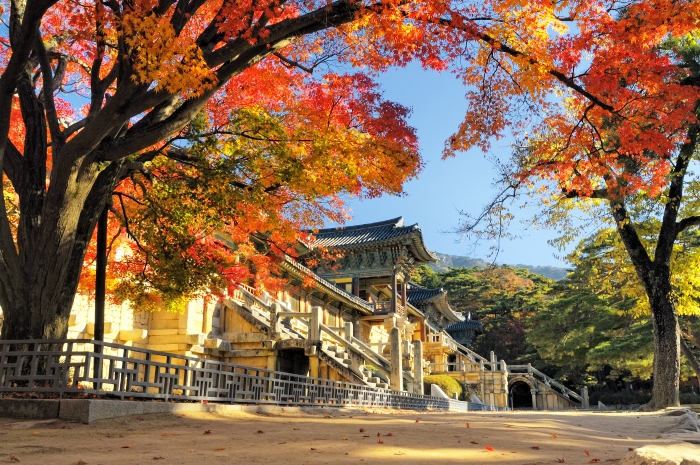 Seokguram Grotto
The Seokguram grotto is located about four kilometers west of the Seokguram grotto. Seokguram is an artificial grotto constructed of granite. It constitutes the hermitage of the complex built around the Bulguksa Temple, on the slopes of Mount Toham. Inside the cave, you can find a Buddha statue looking towards the sea. The two sites are closely linked physically, historically and culturally and symbolized the embodiment of Buddhism.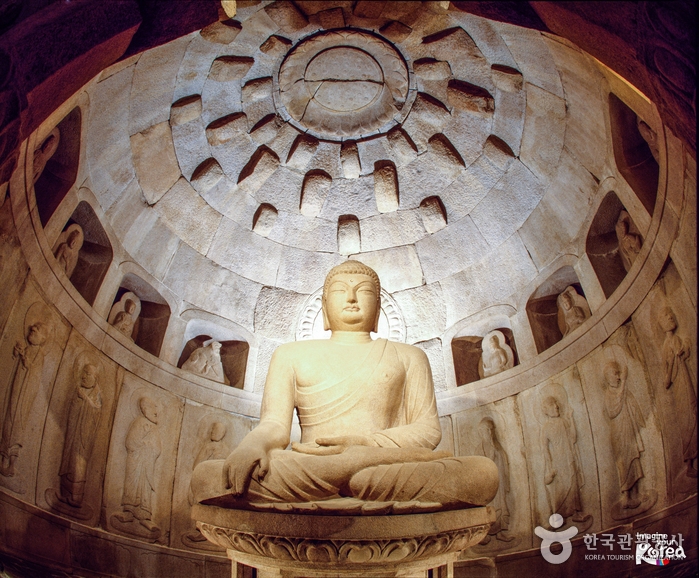 Day 7 – Busan
Gamcheon Cultural Village
Let's continue, next direction is Busan. Gamcheon Cultural Village, were alley, murals and houses are painted in different colours ! You can enjoy a relaxing time taking pictures and having fun with the hidden alleys, tiny streets and stairways. Besides, there are also cute cafes and restaurants that lead you to incredible art pieces that are worth exploring. Then, you can take your time to uncover incredible creativity and art around the area and wander around the colourful labyrinth!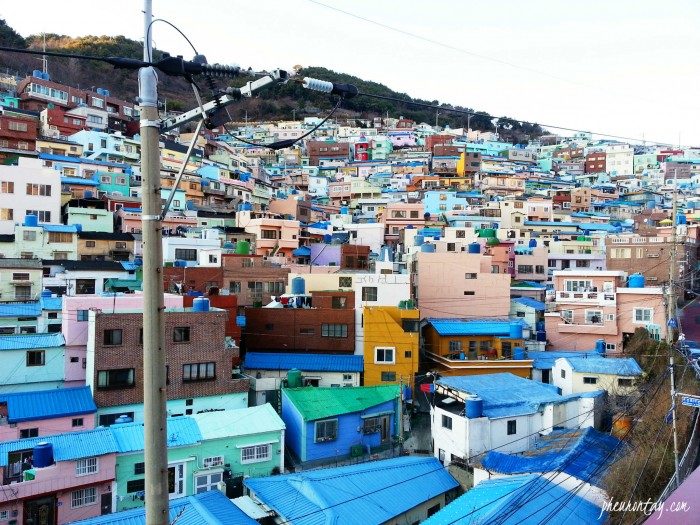 Jagalchi Market & Gukje Market
Jagalchi Market is a must-do for food-lovers visiting Busan. Korea's largest seafood market, offering a large varieties of live and dried seafood and on-site restaurants. You can find all the fish species and sea creatures you can imagine. You buy your fish on the first floor and you eat it in restaurants in the second floor (there are fees for cooking services)!
Gukje Market is a large and busy Food Street Market with years of history. You can find all sort of food, it's like an open-seating street dining place!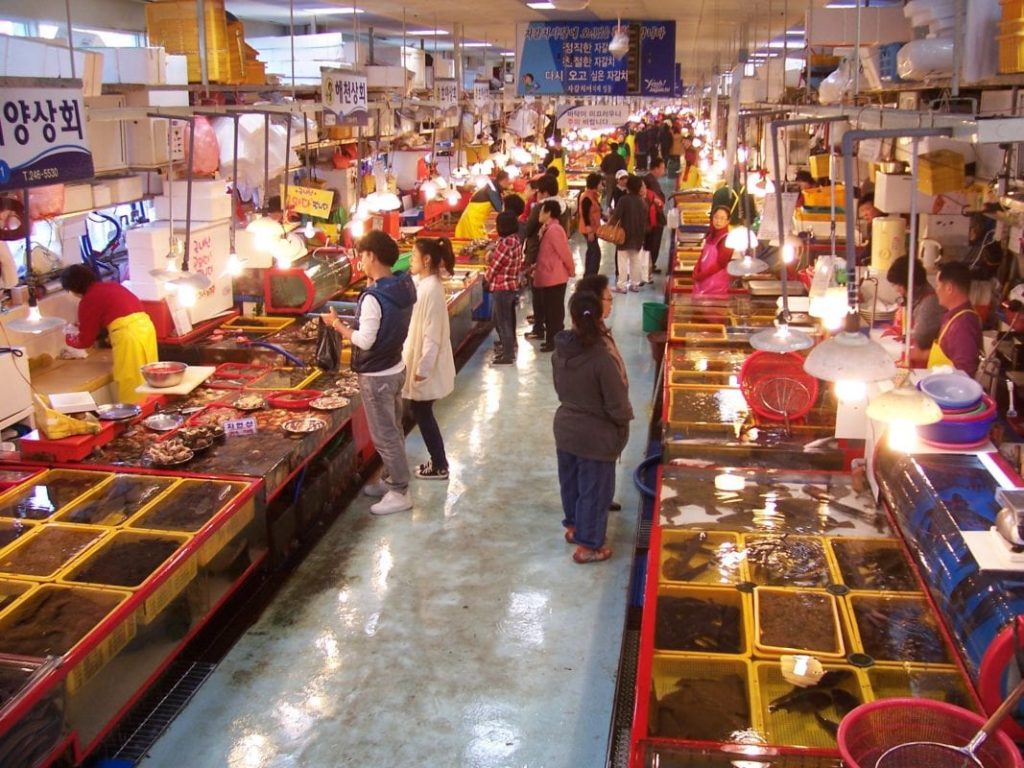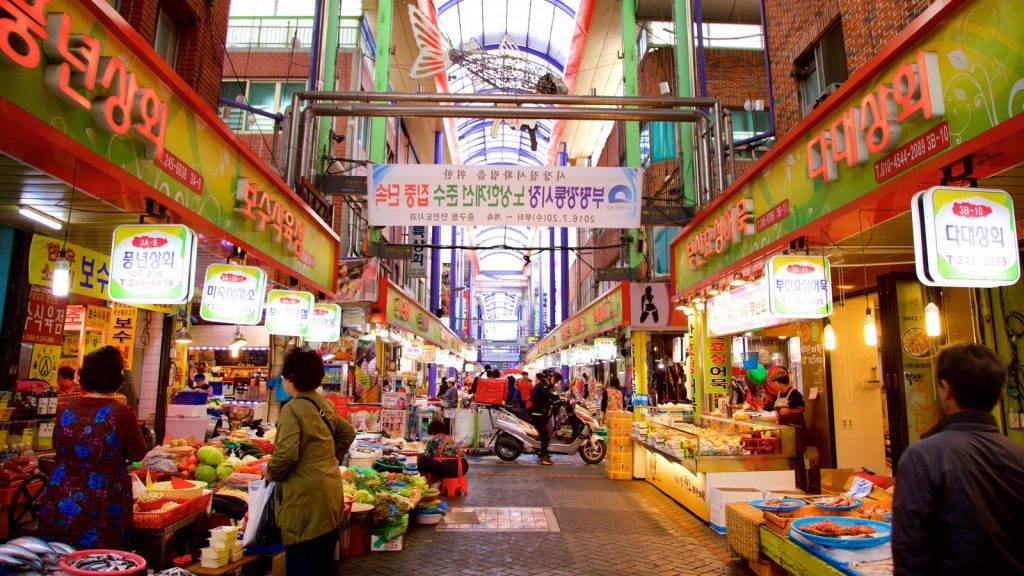 Haeundae Beach
Haeundae Beach is one of the most famous beach in South Korea and beloved throughout the country where clean sand and wide area appear for 1,5 km long showing off the beautiful coastline of Busan ! In Autumn, the water is fresh but you can enjoy your time as the weather is neither too cold or too hot! You can experience a nice walk in the nearby district, the Aquarium and Cinema Street close by!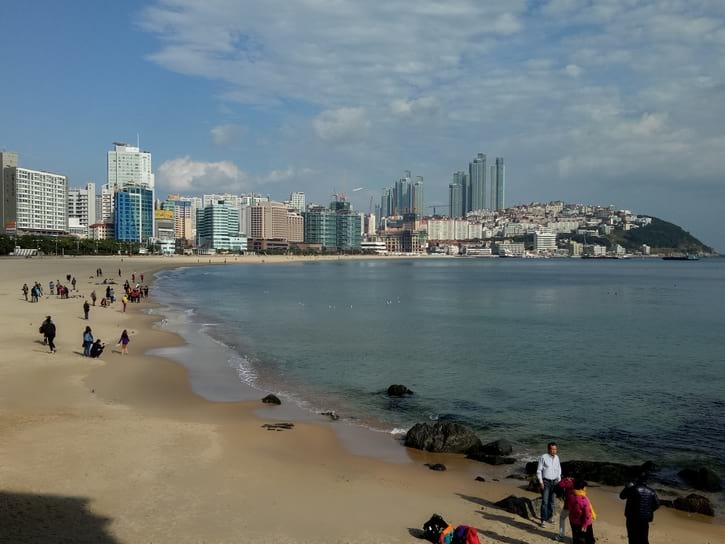 Day 8 – Busan
Yongdusan Park & Busan Tower
Yongdusan signify "dragon's head mountains". The 120-meter-high above sea levels, Busan Tower is located here. But there are other sights to see in the area such as the statue of Yi sun-sin, Korea's naval hero or witness a Korean Traditional Bell and other activities to do.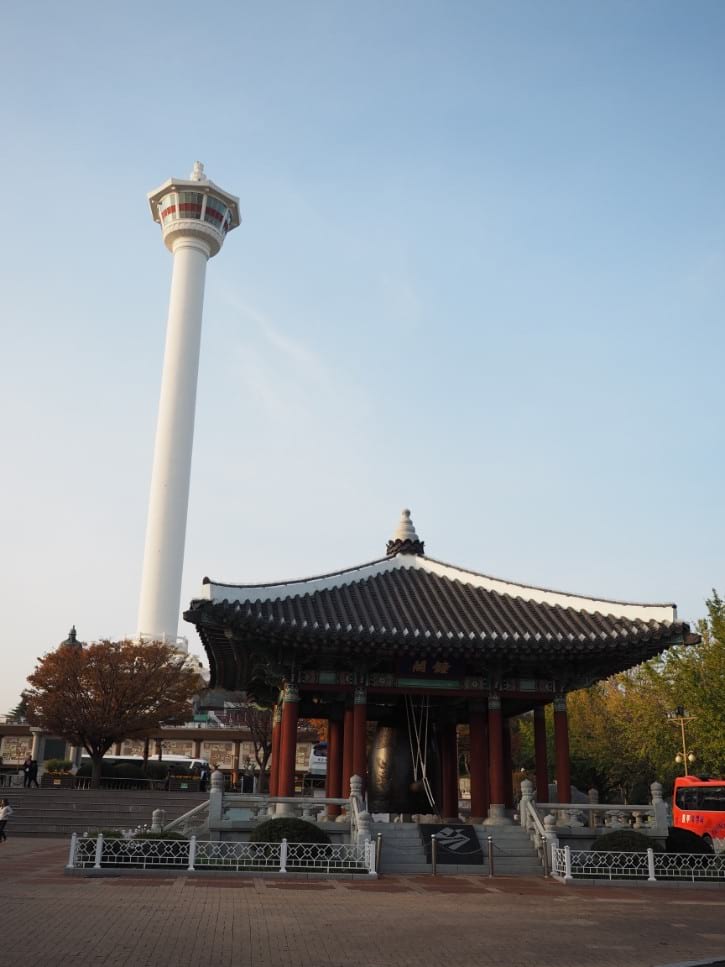 Headong Yonggung Temple
Haedong Yonggung Temple is one of the few temple in South Korea with a beautiful view of the sea! A Buddhist temple on the cliffs, pretty, soothing and quite unique. Its proximity to the sea which gives it all its charm. In addition, it's an incredible opportunity to get out of the city and enjoy some incredible views and sea breeze in Autumn.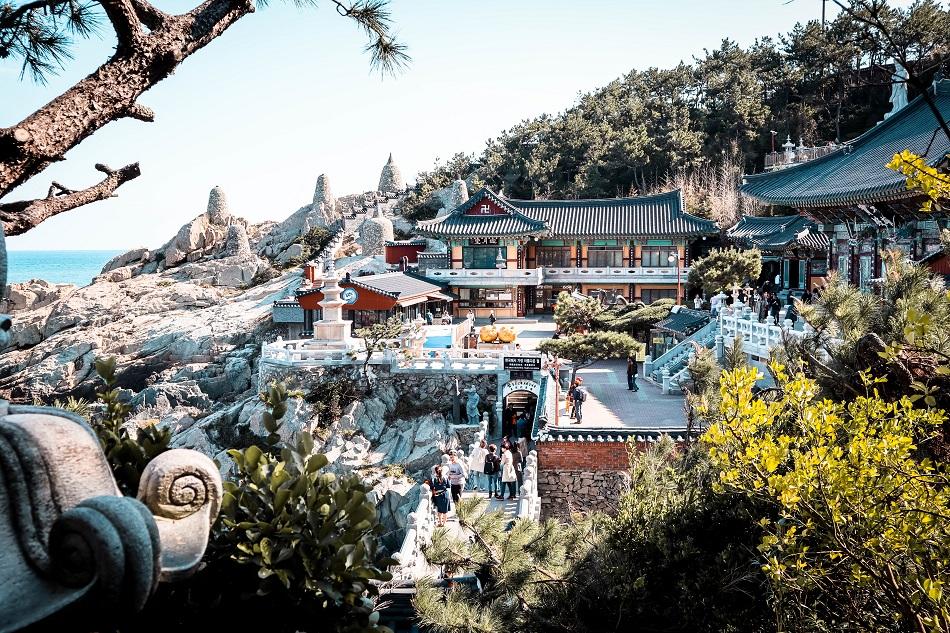 Taejongdae Park
Another spot in the nature and coastal scenery, far from the bustling city. Taejongdae Resort Park is located on the south part of Busan coast and represent an alternative lookout point in the city. In the Park, you can find evergreen forest, temples, but most visitors head directly to the Taejongdae Observatory and Yeongdo Lighthouse!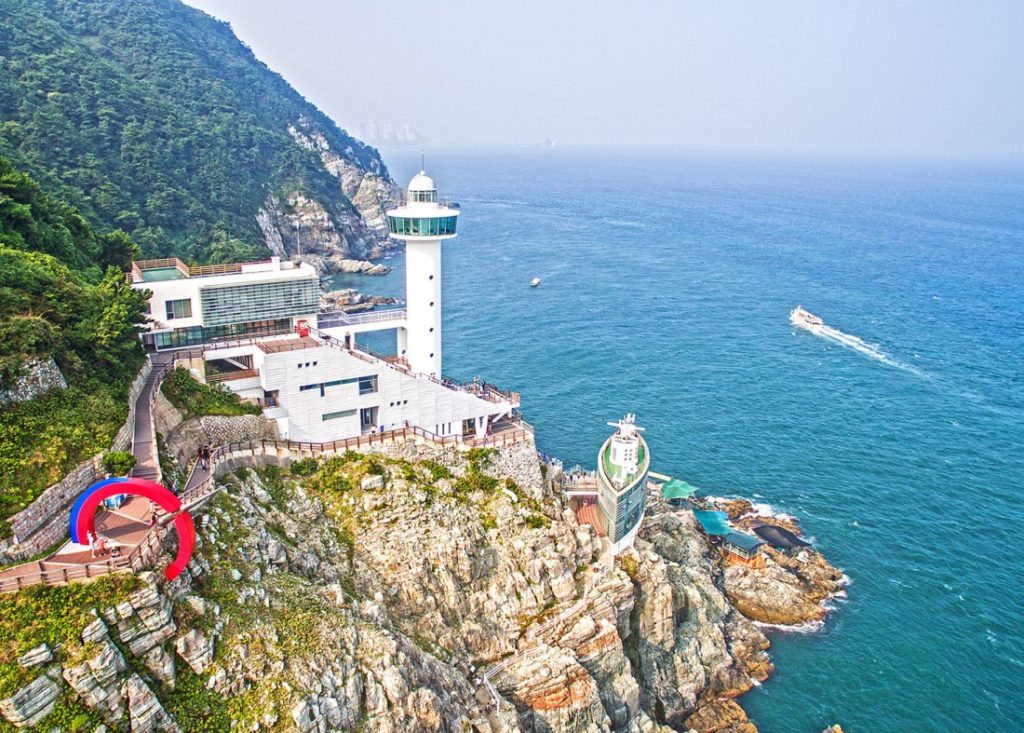 Day 9 – Jeju Island
Mysterious Road
Finally, last stop of our journey is Jeju Island. After landing from your flight, heading towards Mysterious Road in the North of the Island. The route represent optical illusion defying the Laws of gravity. This Mysterious Road actually has a downward slope of 3 degrees but appears to be uphill because of the higher surroundings. You can go there and try to understand how this road is working !!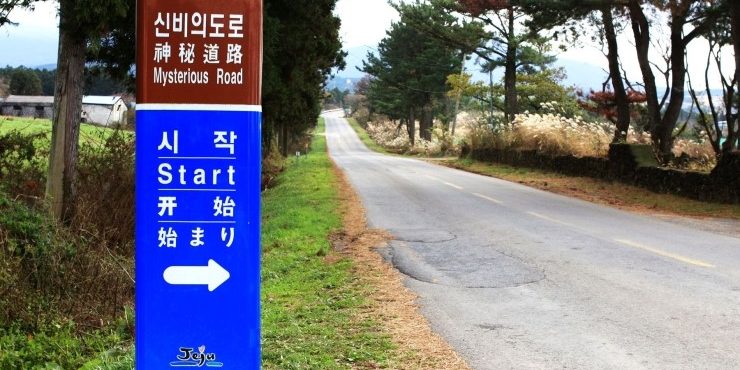 Mount Hallasan
Hallasan National Park is a very popular hiking attraction located in the center of the island. It's the highest Mountain in South Korea, know for its amazing views. Hallasan is a dormant volcano that is listed as a UNESCO World Natural Heritage site. Once as the top, you can be rewarded with a huge beautiful crater lake as well as breathtaking views of Jeju.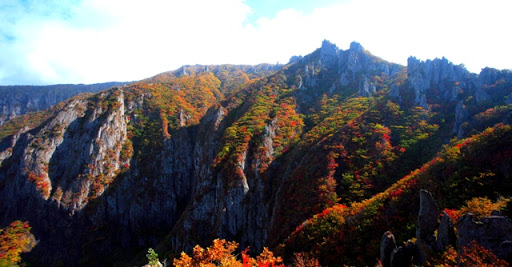 Jusangjeolli Hexagon Lava Cliff
Jusangjeolli Hexagon Lava Cliff are imposing stone pillars that are so incredibly hexagonal that you'd be baffled to know that these are works of nature and not man! The place was formed when Hallasan Mountain erupted into the sea of Jungmun. You will see how the waves throw against the imposing stone columns, it is a unique natural spectacle!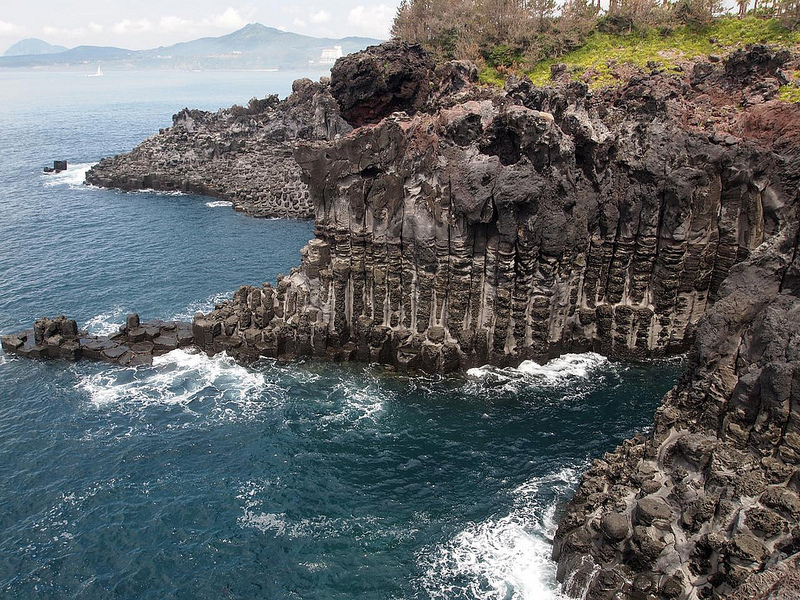 Oedolgae Rock
Oedolgae Rock is lonely rock located near Seogwipo city, not far from Sammaebong Peak. The rock is surrounded by small island such as Bum Island, Sae Island and Seonnyu (fairy) Rock creating a perfect background for hiking. It's a Rock with a circumference of 10 meters and 20 meters in height, also known as Janggunseok Rock.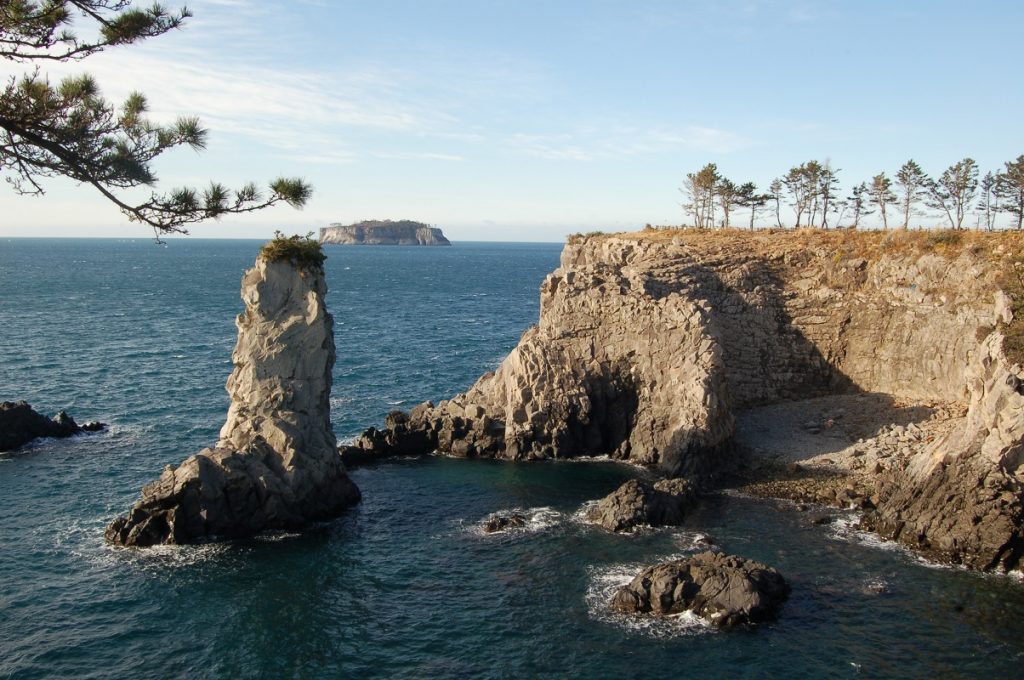 Jeongbang Waterfall
Jeongbang Waterfall, situated at a 23 meters-high cliff by the sea, is the only waterfall in Asia to fall directly into the ocean. Furthermore, it's very accessible and one of the main natural attraction of the island. The sound of the water falling there is similar to that of thunder, and combined with the natural decor drawn by the pines and cliffs, the landscape is spectacular!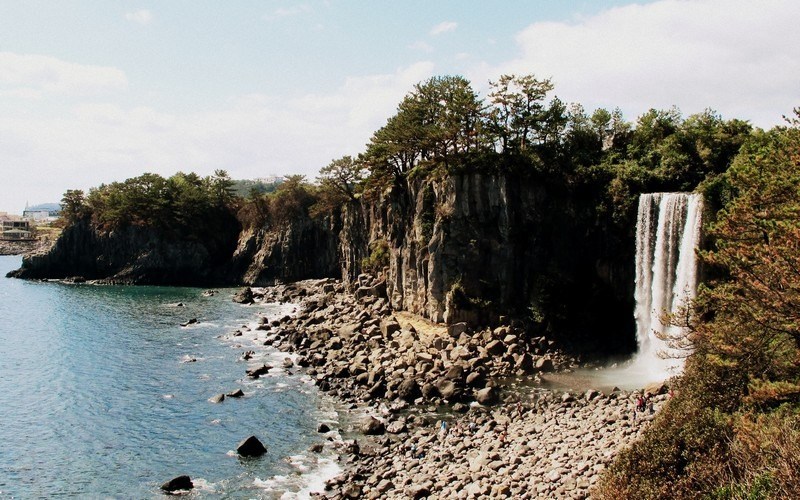 Day 10 – Jeju Island
Seongeup Folk Village
Seongeup Folk Village is one of Jeju Island Folklore Cultural Heritage, holding a wide amount of Korean culture folk. The village have been handed down from generation to generation and include treasures such as residential houses, Confucian shrines and schools, ancient government offices, stone statues.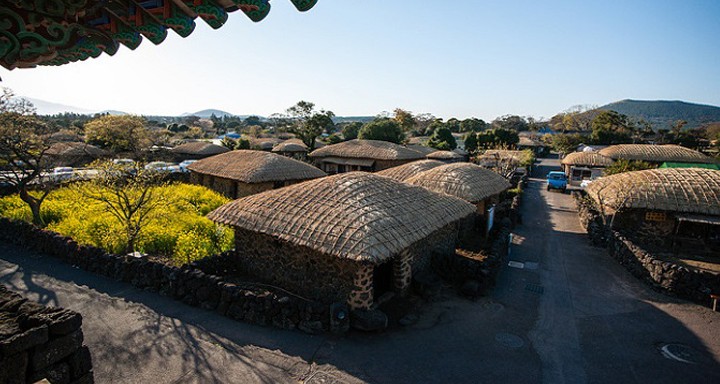 Seongsan Ilchulbong Peak
Known as Sunrise Peak to non-Korean, is another extinct volcano with a huge crater at the top. It's one of the most famous geographical features of Jeju Island that rose underneath the sea in a volcanic eruption over 100,000 years ago. His name comes from 2 different aspects, "seongsan" is a hill in the shape of a castle, and "ilchulbong" is a high point with a view of beautiful sunrises.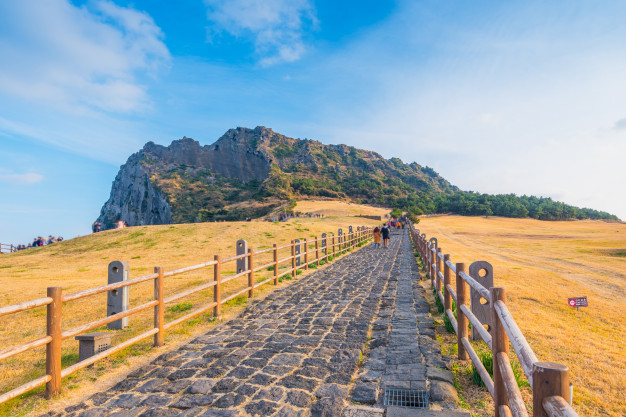 Manjanggul Cave
Another UNESCO World Heritage site and natural monument, Manjanggul cave is one of the finest and longest lava tunnels and lava tubes caves in the world. The total length of Manjanggul Lava Tube is about 7.4km. The Cave was formed thousands of years ago, and is still very well preserved. Interesting structures can be found, in particular stalagmites.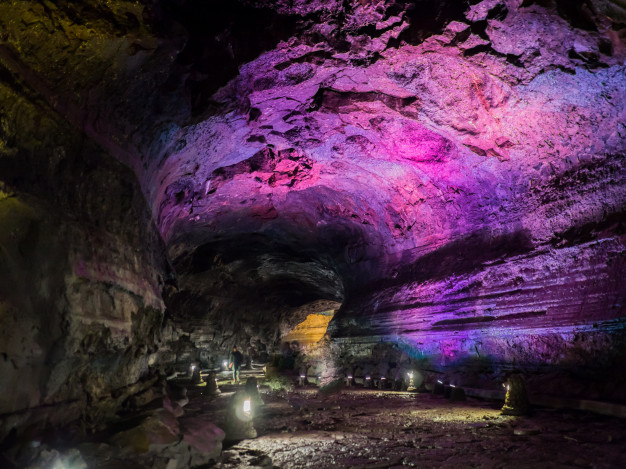 Jeju Stone Park
Jeju Stone Park is a museum and an ecological park inspired by Jeju's culture and applications of stones. The main theme of the stone lies from Grandmother Seomundae's legend, where she created Jeju Island and the stones of Obaek Janggun (Five Hundred Generals). In the park, you can see various stone structures, formations and special features and enjoy the beautiful scenery.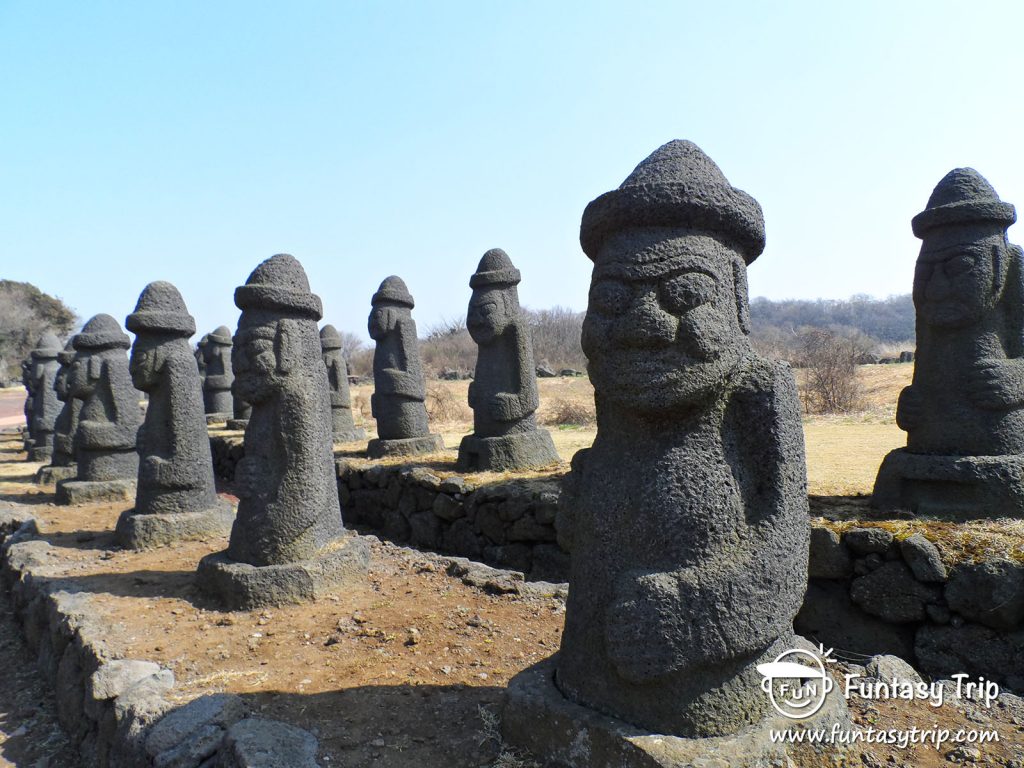 Now I hope everything was helpful for your next visit to Korea, where fun and beautiful spots are waiting for you! If you have any questions about Korea, don't hesitate to send us an email and we will reply to us as best as we can. Let's try to create the best Korea Tour itinerary in Summer with you!!
Korea Tour Itinerary in Autumn
Written by Laura Caillebotte