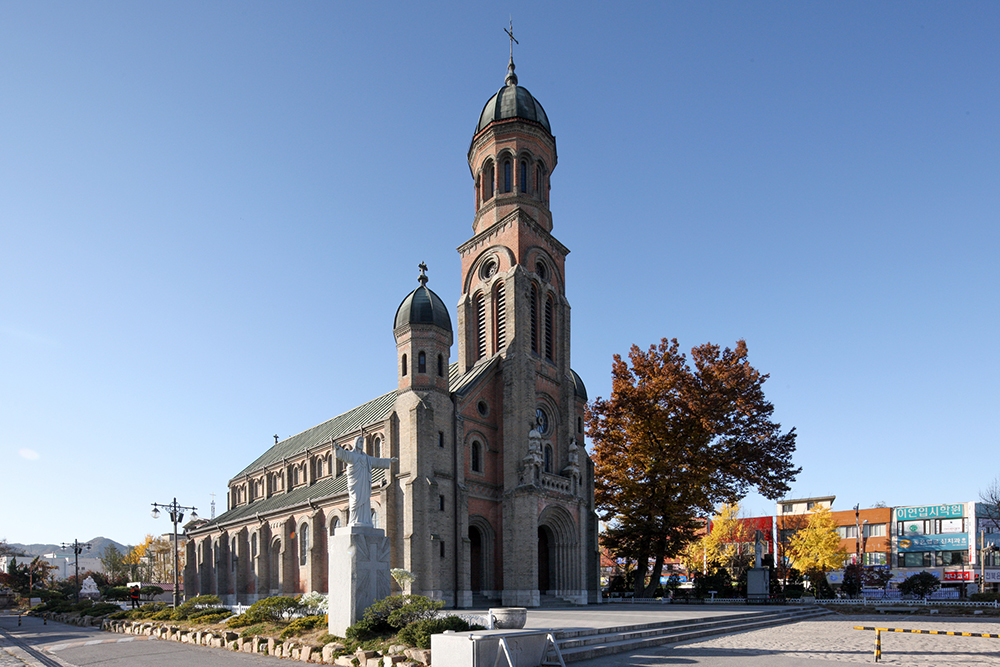 Jeondong Catholic Church in Jeonju (Historic Site No. 288) was built in honor of Roman Catholic martyrs of the Joseon Dynasty on the very same spot the martyrs lost their lives. The land was purchased by French Priest Baudenet in 1891 (28th year of King Gojong), but construction of the church did not begin until 1908. The church was designed by Priest Poinel, who also designed the famous Myeongdong Cathedral in Seoul. Construction was completed in 1914, a time during which Korea was under Japanese rule. Though originally built just outside of Pungnammun Gate, the site of the martyrs, the church was later moved to its current location for expansion.
The first Romanesque building in the Honam region, the Jeondong Catholic Cathedral is made of gray and red bricks and bears a striking resemblance to the Myeongdong Cathedral in Seoul. Not only considered one of the most beautiful Catholic churches in Korea, some even go so far as to say it is one of the most beautiful structures in all of Korea, citing the church's unique combination of Byzantine and Romanesque architectural styles. The rectangular building is topped with three Byzantine bell towers (to the right, center, and left) and boasts arched ceilings, several of which meet in the form of a cross.
It is interesting to note that some of the bricks used in construction of the church were made using materials from the Jeonjueupseong Fortress, which was torn down by the Japanese. It is also said that the cornerstone of the church came from a wall of Jeonjueupseong Fortress near Pungnammun Gate.