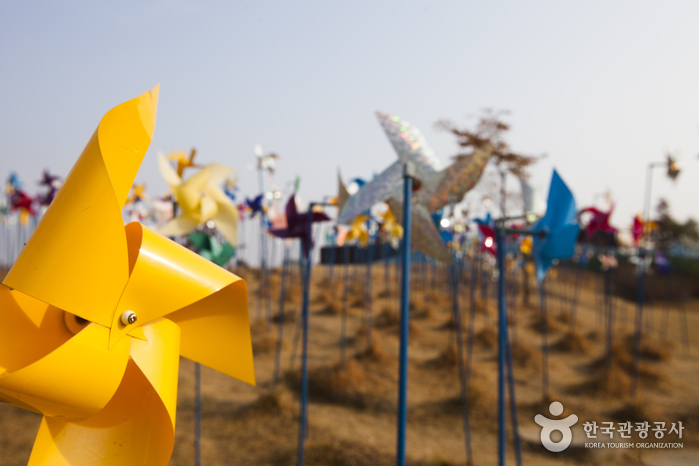 Imjingak Resort, located 7 km from the Military Demarcation Line, is now at the forefront of tourism related to the Korean War. Imjingak was built in 1972 with the hope that someday unification would be possible. The three-storied Imjingak is surrounded by several monuments, Unification Park and North Korea Center.
Over 400 photos and documents showing the stark reality of North Korea are displayed in the North Korea Center of Unification Board. Outside Imjingak, there are 12 unique tanks and warcrafts on display that were used during the war.
Mangbaedan Alter, which stands opposite Imjingak, is famous as the place where Korean's separated from their families in the North visit to perform ancestral rites by bowing toward their hometowns every New Year's Day and Chuseok (Korean Thanksgiving). The Bridge of Freedom, which South Koreans crossed when they came back to their mother country from North Korea after the signing of the Armistice Agreement, stands behind Mangbaedan Alter.
In front of Imjingak is the Gyeongui Train Line which was destroyed during the Korean War in 1950. It has been under reconstruction since 2000. Every year many events for unification are held at Imjingak. It is now one of the more famous DMZ tourist spots for foreigners because it is possible to visit without going through any security check points.