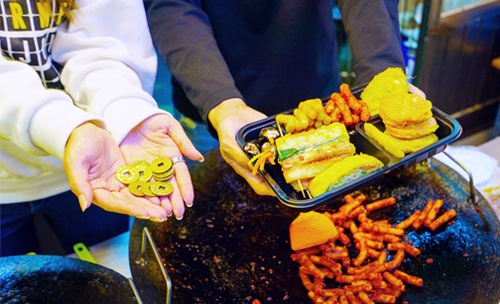 Tongin Market dates back to June 1941, as a public market set up for Japanese residents near the Hyoja-dong neighborhood when Korea was still under Japanese rule. After the Korean War the nation experienced a swift rise in population, which led to a natural increase in consumption and demand. As a result the area's street vendors and stores used the former Tongin Market area as their marketplace. Now, Tongin Market consists of 75 stores, most of which are restaurants and grocery stores. The most interesting thing about this market is the old coins. You can exchange KRW 5,000 for old coins and a lunch box. With the old coins, you can buy foods to fill in your lunch box.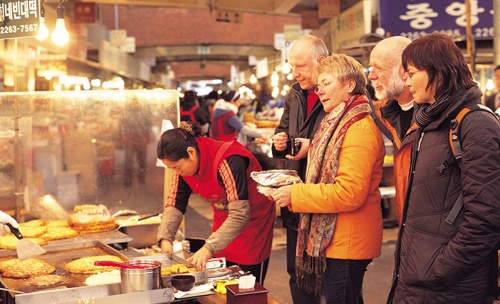 Gwangjang Market was the first permanent market in Korea and continues to thrive as a popular tourist destination today. The second floor of the market is filled with silk, satin, and linen bed-sheet stores, which are the largest and most famous in Seoul. Many of the stores in the area even have their own factories supplying fabrics to the Namdaemun Market, Pyoung Hwa Market, and even to some department stores. Even though the goods are not brand-name products, the wide selection of high quality goods at inexpensive prices makes it an enjoyable shopping experience. Like most other markets, Gwangjang market is also filled with amazing street foods. Also, one of the good things about here is that there are chairs for you to seat and eat. Don't miss famous Mayak Kimbab (which literally meaning narcotic Kimbab because it is that good) and try other famous local foods.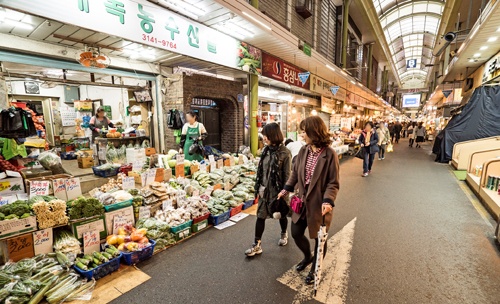 Mangwon Market is also one of traditional market in Seoul. There is less tourists here compared to famous Gwangjang Market or Noryangjin Market. It is located near Han river park and Hongdae street, so feel free to drop by when you are around. If you are a big fan of gourmet tour, this place could be the right choice for you. There are more wide variety of foods to choose from and even better prices. You can try out foods with about KRW 3,000 for each menu. One of the good things about Mangwon market is that they also offer delivery service, so that you don't have to worry about carrying your luggage with you the whole time.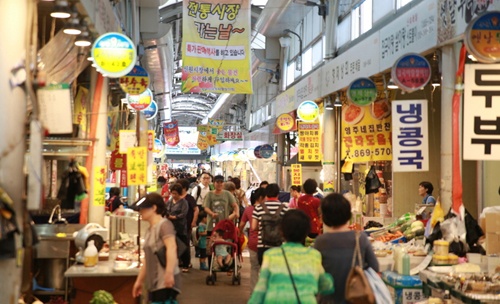 Image sourced by Local today news
Sinwon Market started with street vendors in the vicinity of Dorimcheon and developed into the traditional market of today. It is located between residential areas, and there are Slim Station and Dorim Stream nearby, which is a large commercial area with an average daily population of 10,000. The arcade has been installed so that you can conveniently use the market not having to think about pouring rain or cold weather. There has been various improvement in service such as free shipping service, co-coupon issuance, and public parking lot operation. This traditional market is also rising its popularity among locals and still less known to tourists.
$

52.6 –

$

147.6
6 Pax
5 Pax
4 Pax

$ 52.6

/pax

$ 62.1

/pax

$ 76.4

/pax
3 Pax
2 Pax
–

$ 100.1

/pax

$ 147.6

/pax
–
This is for FOREIGNERS ONLY
The price is same for adults and children
No charge for under 24 months

(ID verification)

For 1 Pax & more than 7 Pax, please contact us via email