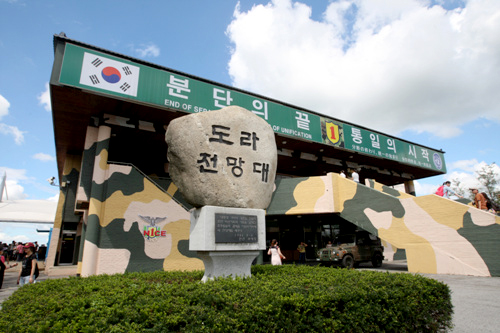 Situated in Paju-si, Gyeonggi-do and at the northernmost point of the Military Demarcation Line, Dora Observatory replaced the previous Songaksan Observation Post. From the observatory, visitors can overlook North Korea and various locations including Gaeseong, Songaksan, Kim Il-Sung Statue, and Cooperation Farm (Geumamgol). The observatory offers 500 seats, VIP rooms, and abundant parking space. It was first opened to the public in January 1987.
Near the observatory is the Third Underground Tunnel, built by North Korea and found in 1978. It stretches over 1.6km with a height and width of 2m, capable of mobilizing 30,000 troops in one hour. In front of the tunnel are a variety of attractions such as the DMZ Media Hall (offering the history of the divided country and flourishing ecosystem in the Demilitarized Zone), DMZ Exhibition Hall (displaying relics and documents related to the Demilitarized Zone), sculptures, and souvenir shops. Visitors can see inside the tunnel by either walking or riding the monorail.
Because civilian access is restricted in this area, visitors must participate in the DMZ Peace & Security Tourist Program (implemented by Paju-si) to visit the observatory. Conducted by a shuttle bus either from Imjingak Resort or Dorasan Station, it goes through the Dora Observatory, 3rd Underground Tunnel, Dorasan Station, and Unification Village. Visitors must carry their passport, which is examined at the checkpoint just beyond Unification Bridge.