DO NOT MISS THESE 10 KOREAN FOODS WHEN YOU COME TO KOREA
Today we will introduce you to 10 kind of korean food that you shouldn't miss when coming to korea. We picked up 10 of the most famous dishes but there are way more ! Take a look at what we are going to introduce you !
KIMCHI :
This worldwide known Korean dish has been around for more than 2,000 years, back to the Shilla Dynasty. Kimchi consists of Korean cabbage, radish, pumpkin, onion, ginger, and scallion with chili powder, crushed garlic and salted seafood, which is then left to ferment.
With more than 200 variations available in the country, this traditional cuisine is eaten on its own or with white rice, and added into porridges, soups, and rice cakes. Kimchi is also the basis for many derivative dishes such as kimchi stew (kimchi jjigae), kimchi pancake (kimchijeon), and kimchi fried rice.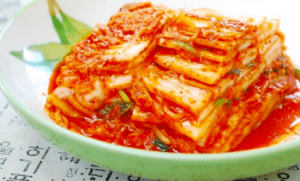 BIBIMPAP  :
Another must-try during your visit to Korea is bibimbap, a filling and nutritious dish that's widely available in restaurants, food courts, and street markets. Depending on region and ingredients used, bibimbap can be served as a meat-based or vegetarian dish.
The most common bibimbap consists of warm rice topped with mixed vegetables, beef or chicken, and raw egg, as well as soy sauce and a dollop of chilli pepper paste for seasoning. Ideal for seafood lovers, there's a variation of this Korean mixed rice dish called hoedeopbap, which replaces meat with raw seafood such as salmon, tuna, or octopus.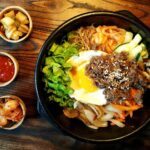 TTEOKBEOKKI :
Tteokbokki is a traditional Korean food that's made with thick slices of boiled rice cake, fish cake, onions, diced garlic, salt, sugar and assorted vegetables that are stir-fried in sweet red chili sauce. Distinguished by its bright red-orange color, this popular snack is usually sold at street vendors and independent snack bars.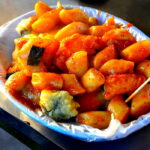 JJAJANGMYEON :
This Korean-Chinese fusion dish called jajangmyeon uses thick handmade wheat noodles topped with raw cucumber slices and a mixture of salty black soybean paste, diced pork and vegetables. This hearty noodle dish is great for when you need a quick meal that doesn't break the wallet.
It is also usually eaten by singles on Black Day, which takes places each year on April 14th. Those who do not receive gifts during Valentine's Day wear black attire and gather to consume black-colored food such as jjajangmyeon.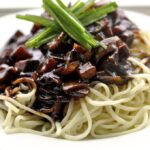 => Visit a traditional market to enjoy korean street food : Korea street food is known worldwide to be one of the best ! To try as various food as possible you have to go to a traditional market in Seoul such as Gwangjang market or Namdaemun Market !
SAMGYEOPSAL :
Samgyeopsal is another famous Korean dish that requires little culinary skills, where chunky slices of pork belly are cooked on a grill at the diners' table. It's then wrapped in lettuce or sesame leaf with dipping sauces and accompaniments such as button mushrooms, green chili peppers, green onions, raw onions and garlic, as well as kimchi.
A popular dish among young adults in Seoul, samgyeopsal is usually paired with a shot (or 2) of soju liquor.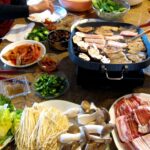 KOREAN FRIED CHICKEN :
Korean fried chicken is coated with a sweet and spicy sauce (some restaurants add green pepper inside the batter for a spicier kick) before double frying it in vegetable oil.
As a result, the meat is very juicy on the inside, while the lightly battered skin is crunchy with very little grease. It is a popular late-night snack that's typically served with beer.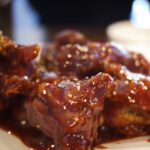 BULGOGI :
Bulgogi consists of thin slices of marinated beef that are cooked alongside sliced onions, green peppers, and garlic using a charcoal burner, resulting in a distinctive smoky flavor. Prior to grilling, the meat is marinated between 2 and 4 hours in a mixture of soy sauce, sesame oil, black pepper, garlic, onions, ginger, and sugar to enhance its flavor and tenderness.
This dish is also served with a side of leafy vegetables like lettuce and spinach, which is used to wrap a slice of cooked meat.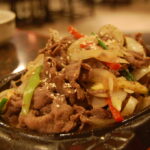 SPICY COLD NOODLE :
Bibim nengmyun is served in a stainless steel bowl with a cold broth, julienned cucumbers, Korean pear slices, boiled egg, and slices of cold boiled beef. The long and thin noodles are made from flour and buckwheat or sweet potatoes, though seaweed and green tea are also used for other variations.
Symbolising longevity of life and good health, the noodles are traditionally served without cutting, but diners can request for waiters to cut the noodles according to their preference.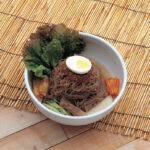 SAMGYETANG :
Locals believe that the body's energy must be replenished during summer, so it is a common practice for them to consume a piping hot bowl of samgyetang (chicken ginseng soup) between the months of June and early September.
This nourishing soup consists of a small spring chicken stuffed with chestnuts, garlic, dried jujubes, ginseng, glutinous rice, and gingko nuts. The ingredients are then slow-cooked until the meat is very tender and the thick broth permeates a slightly bitter yet fragrant taste.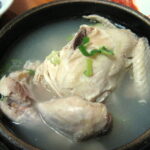 JAPCHAE
Often served as a side dish during lunch or dinner, japchae is a traditional Korean noodle dish made up of stir-fried sweet potato, thinly shredded vegetables, beef, and a hint of soy sauce and sugar. Depending on the chef, additional ingredients like mushrooms are added to the mix. Japchae is known for its sweet and flavorful taste and its soft yet slightly chewy texture.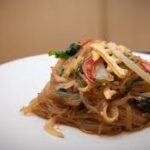 Thanks for reading ! 🙂 
Soukaina from Etourism,