Day trip to Busan, South Korea
Where is Busan located and how to get there ?
Located in the South East of the country, Busan is Korea's second largest populated city with a total of over 3,4 million of inhabitants.
To get there you can either take a bus ride from Seoul of around 4 hours, or get on a plane from Seoul to Busan for less than 1 hour. The airport of Busan is not that far from the center and there is a subway line that can get you anywhere from the airport.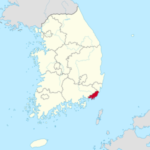 Busan's beautiful beaches :
=> Haeundae : Known as the most famous beach of Korea, Haeundae is a very nice spot to enjoy the sea, and water activities as well. The sand is very large and it's a crowded with people enjoying the weather. There are many restaurants and snacks nearby. Many festivals are held all along the year.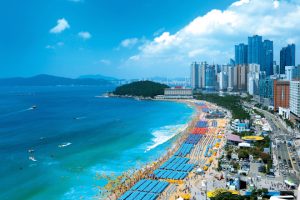 => Gwangalli beach : Famous for its fine sand, Gwangalli beach is a very nice spot to enjoy the view of the sea and enjoy the sight of Gwangandaegyo Bridge. Especially at night, the lights are so beautiful. It Is a beach surrounded with beautiful cafés and restaurants with a great view on the ocean.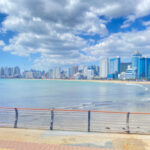 Some water activities
=> TheBay101 : In both beaches there are many water activities such as banana boat, surfing, paddle, and jetski as well. But the most famous water activity to do in Busan is surely the yacht tour!
For that you have to visit Thebay101 club, which is a very beautiful marina with café, restaurants and bakeries. There, you can get tickets for a yacht tour of about an hour. This activity is really worth it ! Lately the prices are reduced to 20,000 won per person for an hour ride.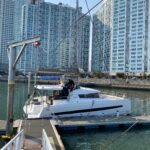 Some art in Busan
=> Gamcheon Village : Gamcheon Culture Villiage is formed by houses built in staircase-fashion on the foothills of a coastal mountain, earning this village the nickname "Machu Picchu of Busan." Many alleys that cut through this community are vibrantly decorated with murals and sculptures created by the residents. It is a great spot for colorful pictures to post on your social media.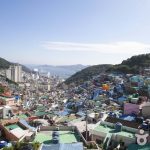 Breathtaking view
=> Oryukdo Skywalk : Oryukdo was opened in 2013 and is made of Iron columns that were set up over a 35-meter-high coastal cliff, and a 15-meter glass bridge. The glass flooring was made by four layers of 12-millimeter glass panels coated with a bulletproof film for a total thickness of 55.49 millimeters, making the structure quite safe. Visitors will be thrilled with the view of the waves while looking down through the transparent floor. The sea stretches out ahead of the skywalk, perfect for a photo op.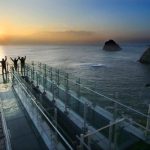 Kpop related visits
=> BTS Jimin's Dad Café « MAGNATE » :
For any Kpop fan, visiting Magnate café is a must do activity. As you may know, this is Jimin's dad café where you can enjoy some delicious drinks and deserts. It is a very large place that can fit more than 100 people! You can also see a collection of the artist's hats displayed in the restaurant.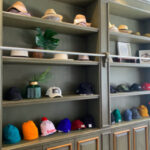 Busan's cherry blossoms
=> Just by walking in the streets you can see very beautiful cherry blossoms almost anywhere in Busan in spring, especially when you walk down from the subway station to the bay 101 you get to see incredible cherry blossoms and literally everyone stopping to enjoy the view.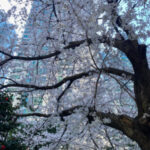 Thanks for reading ! 🙂 
Soukaina from Etourism,